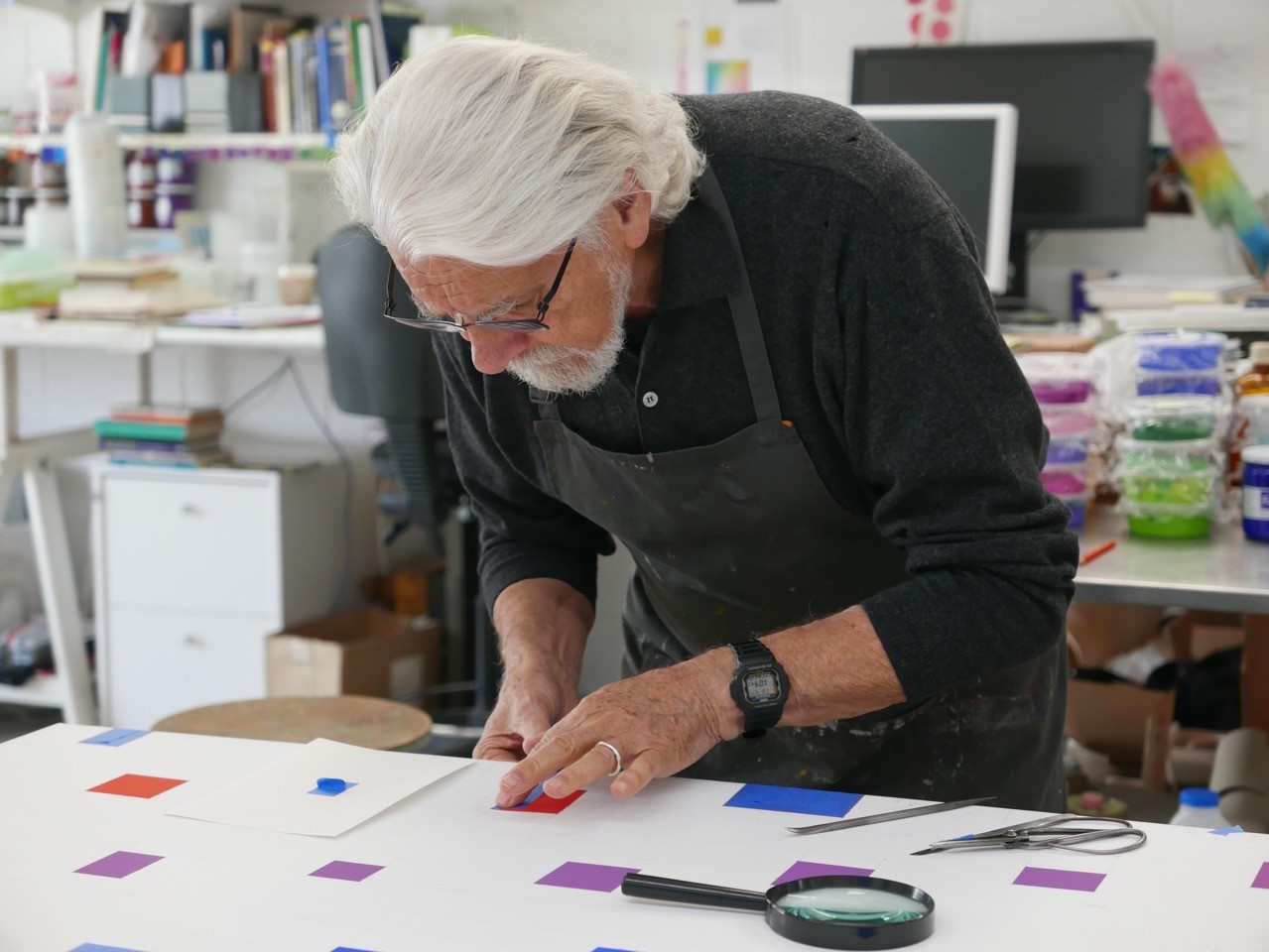 With a friendship spanning over 30 years, Robert Owen and Sue Carr have shared an unwavering and mutual respect for one another's craft. We caught up with Robert to hear about how they first met and to discuss his latest exhibition, Blue Over Time: Robert Owen – A Survey.
If there's one thing to learn about Robert Owen, it's that he's constantly curious. "Growing up…In the heat of summertime if we couldn't sleep in the house, we'd all sleep out on the lawn. It was amazing to sleep with the stars above [and] my mind wondered: What's going on out there? What are we doing here? Who am I?"
Reflecting internally and observing externally, Robert's current exhibition Blue Over Time: Robert Owen – A Survey, presented by Heide Museum of Modern Art, takes you on a journey through his extraordinary life strung together in a daisy chain of moments around the world that have inspired him and his works of art.
Through mediums spanning painting, sculpture, installation, photography, and drawing, over Robert's 60-year career, he describes that his purpose is "to express the intangible and find links between art and the cosmos in his bid to penetrate life's mysteries."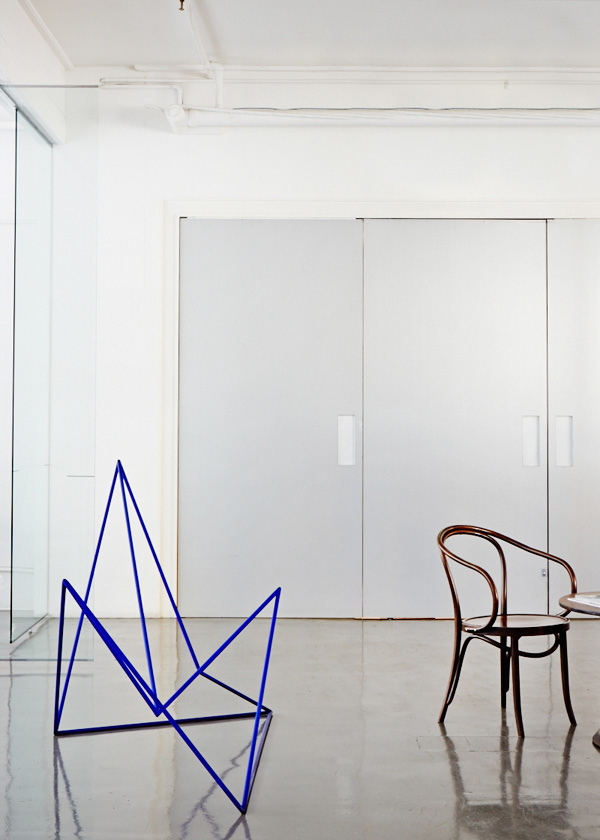 When Robert met Sue
Robert laughs when asked this question and replies, "Well, that was a very long time ago." On reflecting the first time when Robert met Sue Carr he recalls "Sue was one of those very game people in the industry that bought one of my sculptures in the mid-90s. These sculptures were very striking back then and a little difficult for the public as they were almost empty drawings." Of course, if you have visited the Carr studio on Flinders Lane, you will know the sculpture as it sits pride of place in the lobby; Robert's signature Ultramarine Blue popping out among the surrounding monochrome layers. From then on, as esteemed peers in Melbourne's creative industry, Robert and Sue have formed a professional friendship that exists to this day.
"Sue has always been very supportive. She understands the work in a way that others don't quite see it." Robert equates this to the similarities between his work, which is grounded in geometry and mathematics among other things, and the 3D forms and structures in architecture and interior design.
Their mutual admiration for each other is evident when they each speak of one another, with Robert saying "She's part of the artworld fraternity. She's like family." A sentiment whole heartedly echoed by Sue.
The university of nature
Robert's art career stretches 60 years and began in Wagga Wagga, roughly 370 kilometres south-west of Sydney. As a child he taught himself watercolour painting by copying Albert Namatjira out of a book. He confesses "I didn't know anything about art then."
His innate interest and curiosity about the world, his place in it and what it all means, has inspired him to follow an unmarked road, "My life in practice, primarily as an artist, has been very nomadic." In the 1960s and 1970s Robert lived in Greece and London, and travelled Europe extensively for inspiration, before returning to Australia in 1975.
No matter his location in the world – wandering a medieval town in Italy or lying under the stars in rural New South Wales – Robert explains "It's been my university to be in nature and that's given me access to be free. This has allowed me to follow who I was at any time and has helped me to understand who I am."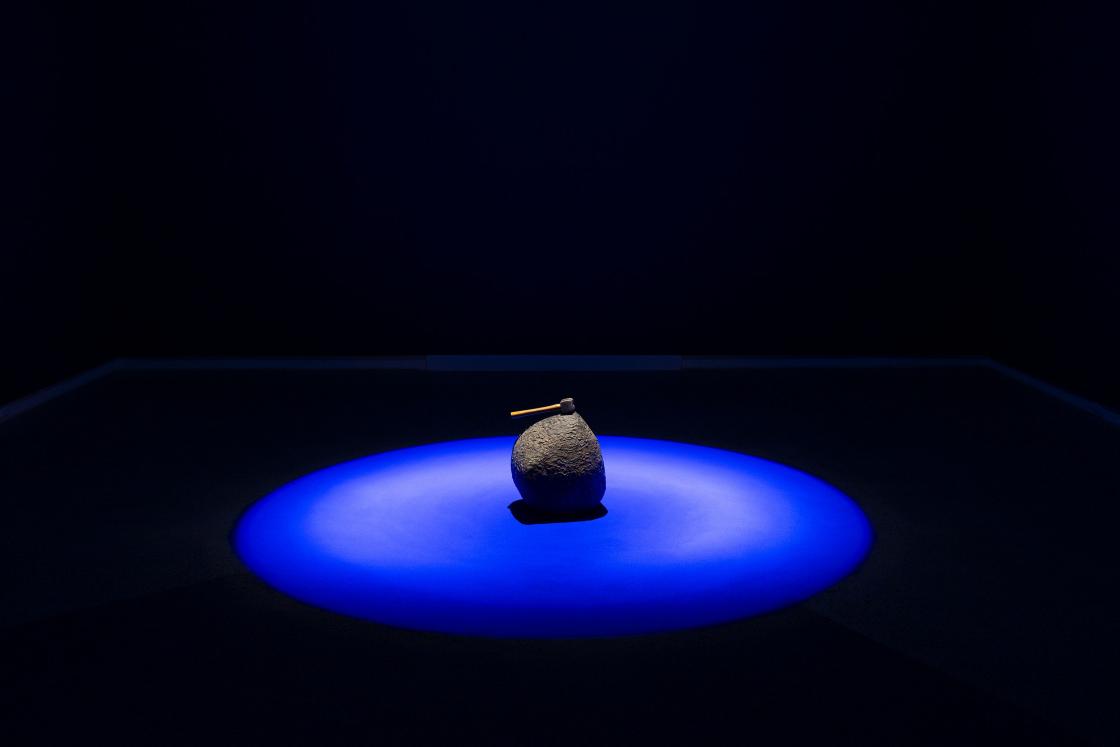 The makings of Blue Over Time
Robert's diverse practice traverses an ambitious and far-reaching range of mediums and contexts. For Blue Over Time, 30 key works are presented from Robert's lifelong career and introduces you to him in a way words cannot.
"In this exhibition I wanted to show different ways of being. I wanted to open up the dialogues between the art – between the sculptures, installations, drawings and paintings." When explaining the inspiration behind the exhibition Robert recalls that it all started with his book, 'A Book of Encounters', which gives a different representation to his works across different periods, as well as his friendship with the curator, Sue Cramer.
This is strongly felt when wandering the exhibition. While walking through the first gallery room, you can hear the faint sound of a gong, methodically and peacefully vibrating through the walls. It sets a meditative tone over the gallery and brings about a spiritual mood. It's only when reaching the second room that you discover the source of the gong: Hammer on Rock.
Robert explains that the rock, which is surrounded by a sea of bright blue pigment powder, suggests Australia, while the piece of technology on top, the hammer, suggests us. Through this installation Robert invites viewers to contemplate another way we can behave, "Are we going to smash this rock we're all living on? It's indigenous cultures?" and urges "I think these are the kinds of meditations we should be seriously taking on board."
While the audible Japanese gong belongs to Hammer on Rock, originally shown in 1982 in Coventry Gallery, Sydney, the gong reverberates through the whole exhibition and between all artworks within, creating a dialogue that is, perhaps, unexpected.
When making art, Robert actively seeks "to raise the level of one's consciousness by attempting to show how we can aspire to do better and by asking, how can we be more inclusive?" These works give us time to meditate on how we might do this.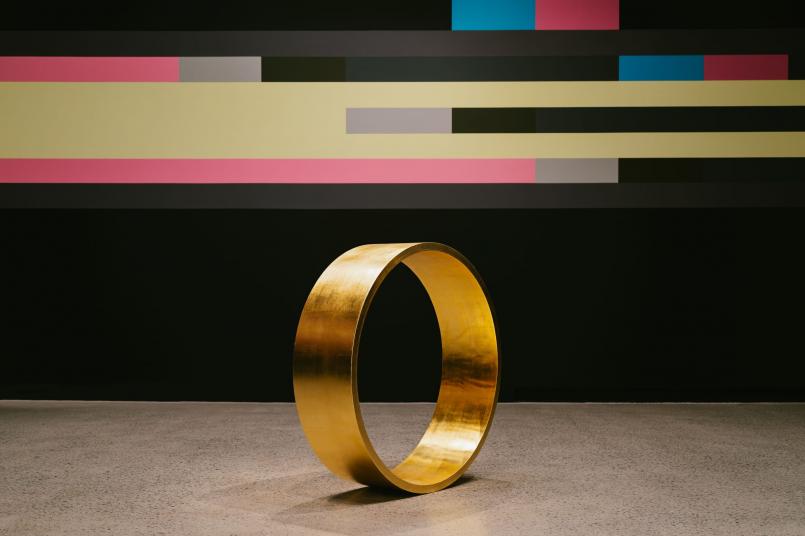 Getting unstuck from rationality
Drawn to a wide range of interests from philosophy and psychology, mathematics and science, nature, music and literature, Robert's work is underpinned by his poetic and intuitive exploration of the expressive potential of light, colour, and space. Striking pieces include Cadence #1, which is on show in its entirety in Melbourne for the first time. Measuring just over eight meters wide, it encompasses a vast array of bright colours confined to orderly rows and equal squares. In making this work, Robert sought to record his feelings over an eighty-day period, intuitively matching colours with moods to create a perceptually transfixing inventory of his inner experience. "We seem to get stuck in rationality more than exploring our other sensitivities" Robert explains, and that this process allowed him to show a natural bodily rhythm through his intuitive choice of colours that removed rationality.
Looking ahead
The curiosity that sparked Robert's mind as a child continues to drive his thoughts and motivation.
"There's always something new to explore and learn from being in the world, because the world is constantly changing so we have to be constantly open to new experiences and new understandings so we can find ways to solve the challenges of our community and our cultures" Robert explains.
This mind set is powerfully summed up when he says "There's only one world, this is the only one we've got. We need to get very serious about these problems so we can negotiate a way of being able to survive as a human race. I'm interested in regeneration, rebuilding, reconstructing, and inventing new ways of being."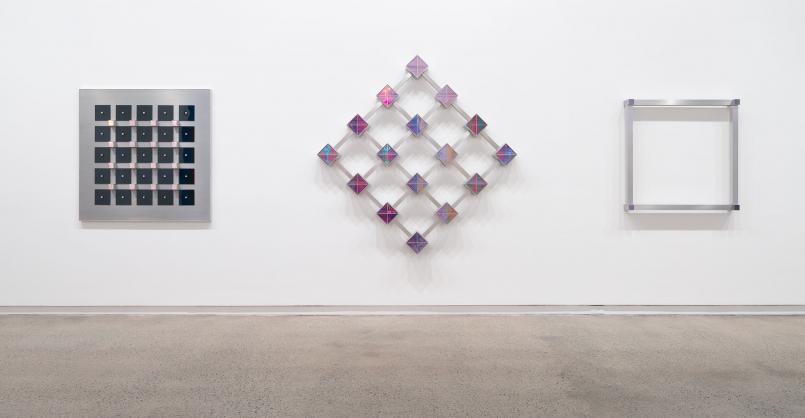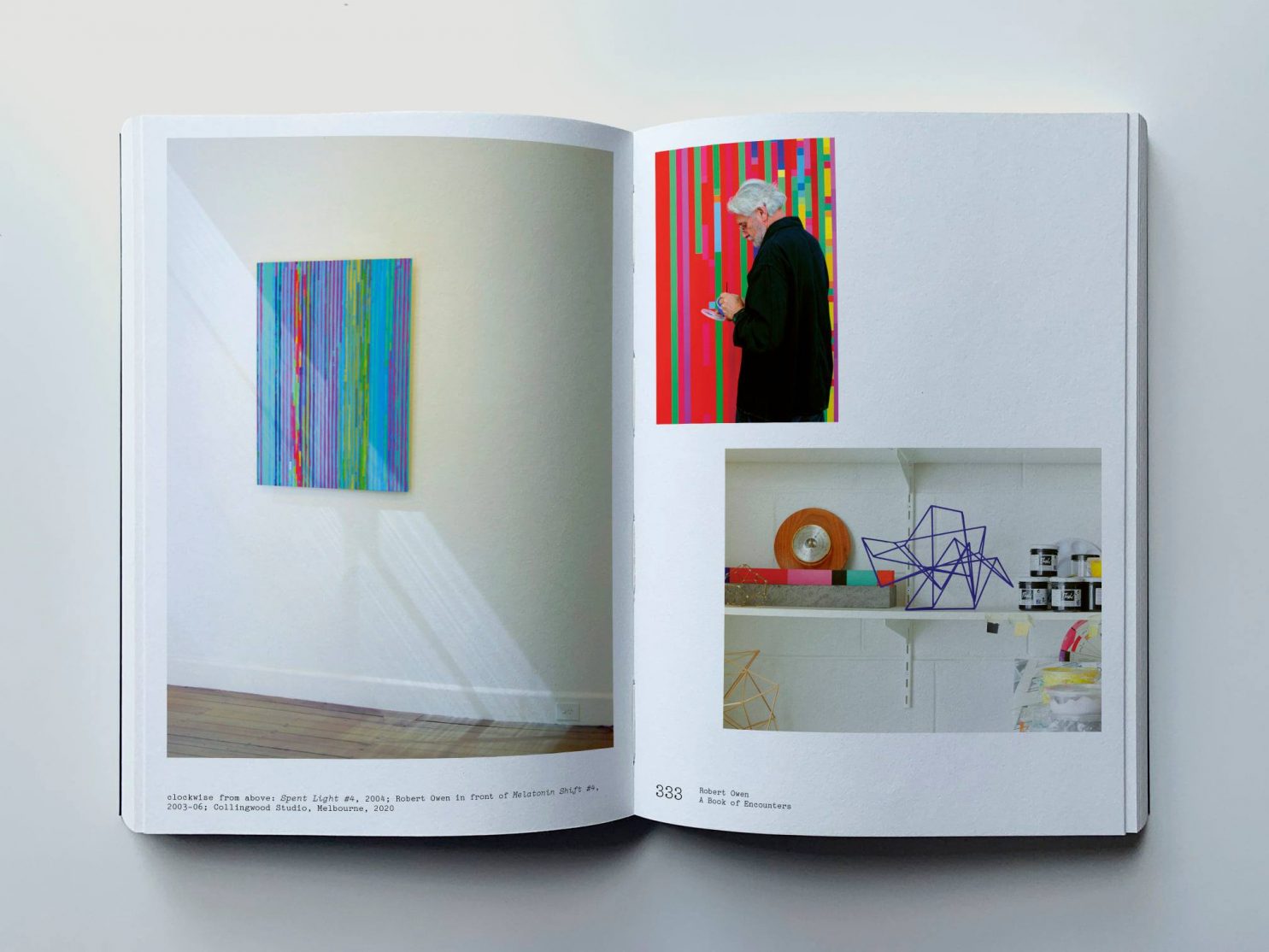 Blue Over Time: Robert Owen – A Survey is on show at Heide Museum of Modern Art until 23 May, 2021. Visit their website for more details and to book tickets.
'Robert Owen – A Book of Encounters' is his first major monograph and can be purchased in the Heide bookshop or online via Perimeter Books. The book examines Robert's nomadic practice and expands into his wider interests in philosophy, psychology, science, mathematics, music and literature.