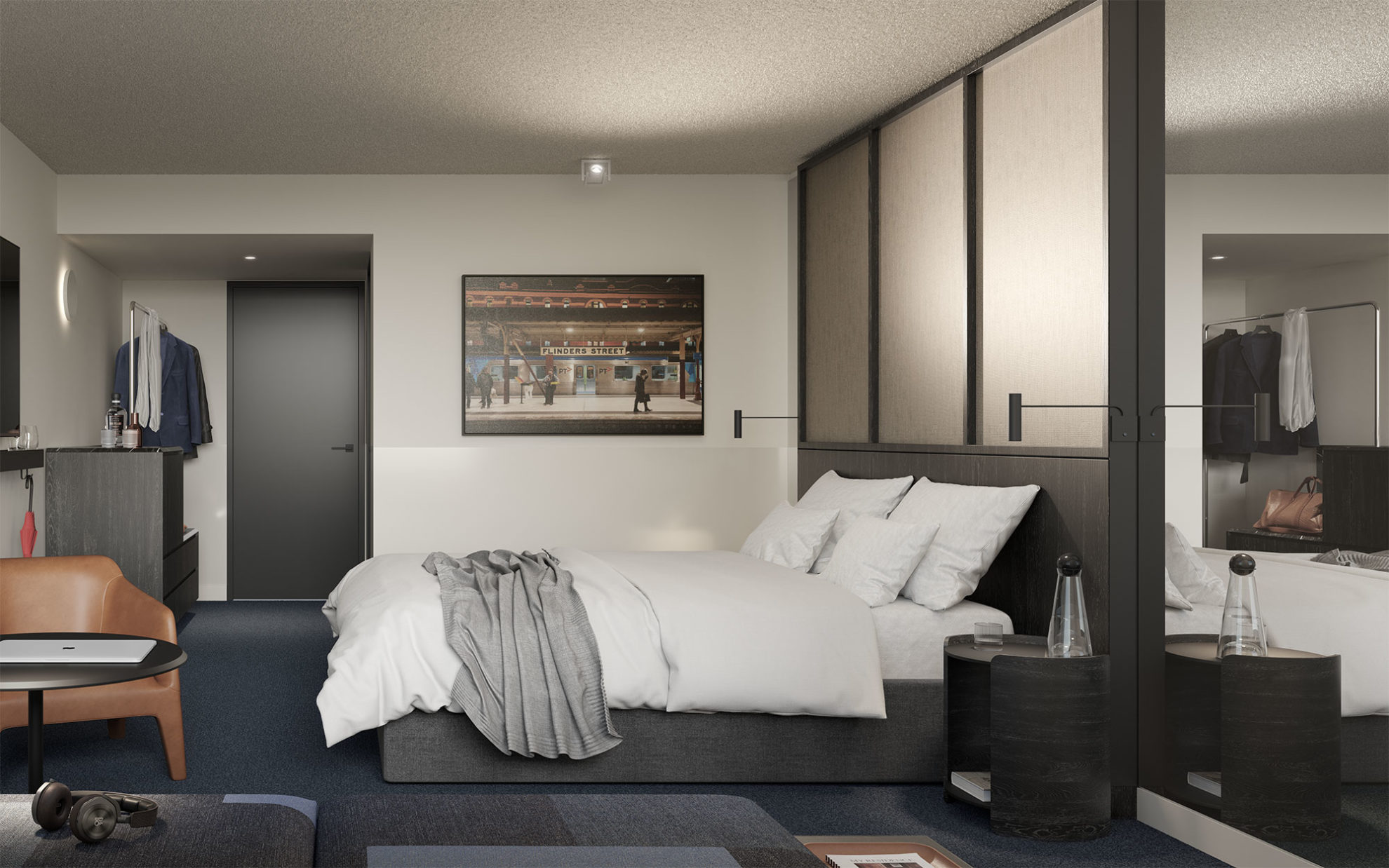 Yet to open, the Crossley Street Hotel by Lancemore has gained lots of attention in the media. Here we take a look at the latest reports. Stay tuned for the official opening of this inspiring, cultural hotel, set to swing its doors open in March 2020.
Broadsheet
Melbourne-based design firm Carr Design is responsible for the design of Lancemore Crossley St, aiming to imbue the modern hotel with a sense of history by taking inspiration from the stage, without straying into kitsch territory.
"We were very aware of the local area, so the theatre was a concept we wanted to explore without becoming a themed hotel," Clark says. "The lobby is probably my favourite space if I'm honest."
Plush materials and mixed textures, such as velvet and slate, will give the hotel's lobby and shared spaces an opening-night feel with guests invited to mingle and socialise under bright lights.
The Hotel Conversation
Working with award-winning design firm Carr, Crossley St is the seventh property in Lancemore's portfolio, and a prominent 'onstage' and 'offstage' theme is featured throughout the hotel, which speaks to Crossley St's location between the Paris end of Bourke Street, the Theatre District, restaurants and the tempting sights and sounds of Chinatown.
The hotel's walls will be hung with bespoke commissions from emerging artists along with captivating public spaces, including an eye-catching foyer where a stunning repurposed chandelier will hang.
The Nibbler
Previously named Romeo Lane, the Crossley Street property aims to be "the pinnacle of Melbournian culture", according to Lancemore. Working with award-winning design firm Carr, Lancemore Crossley St. will be the seventh in the company's portfolio. The hotel is currently undergoing a $10 million transformation, with its interiors reimagined by Carr, whose design portfolio also includes hotels Jackalope Mornington Peninsula and United Places Botanic Gardens.
Melbourne Convention Bureau
"Lancemore Crossley St. will be richly layered fusing art, theatre, architecture and urbanism to provide the sensory experience of being 'onstage' or 'offstage'," said Dan Cox of Carr.
"The guest is drawn in to become the ultimate insider, retreating offstage from the performance of the city to an uncluttered, yet assuredly considered and tactile space.
Accomnews
Design firm Carr will lead the $10 million transformation of the former Romeo Lane venue at 1A Crossley Street in the heart of the city's trendy theatre and dining district.
Other stories
Another article via The Hotel Conversation
Spice News reported on the redesign in September
And Hotel Management posted a story earlier in the year