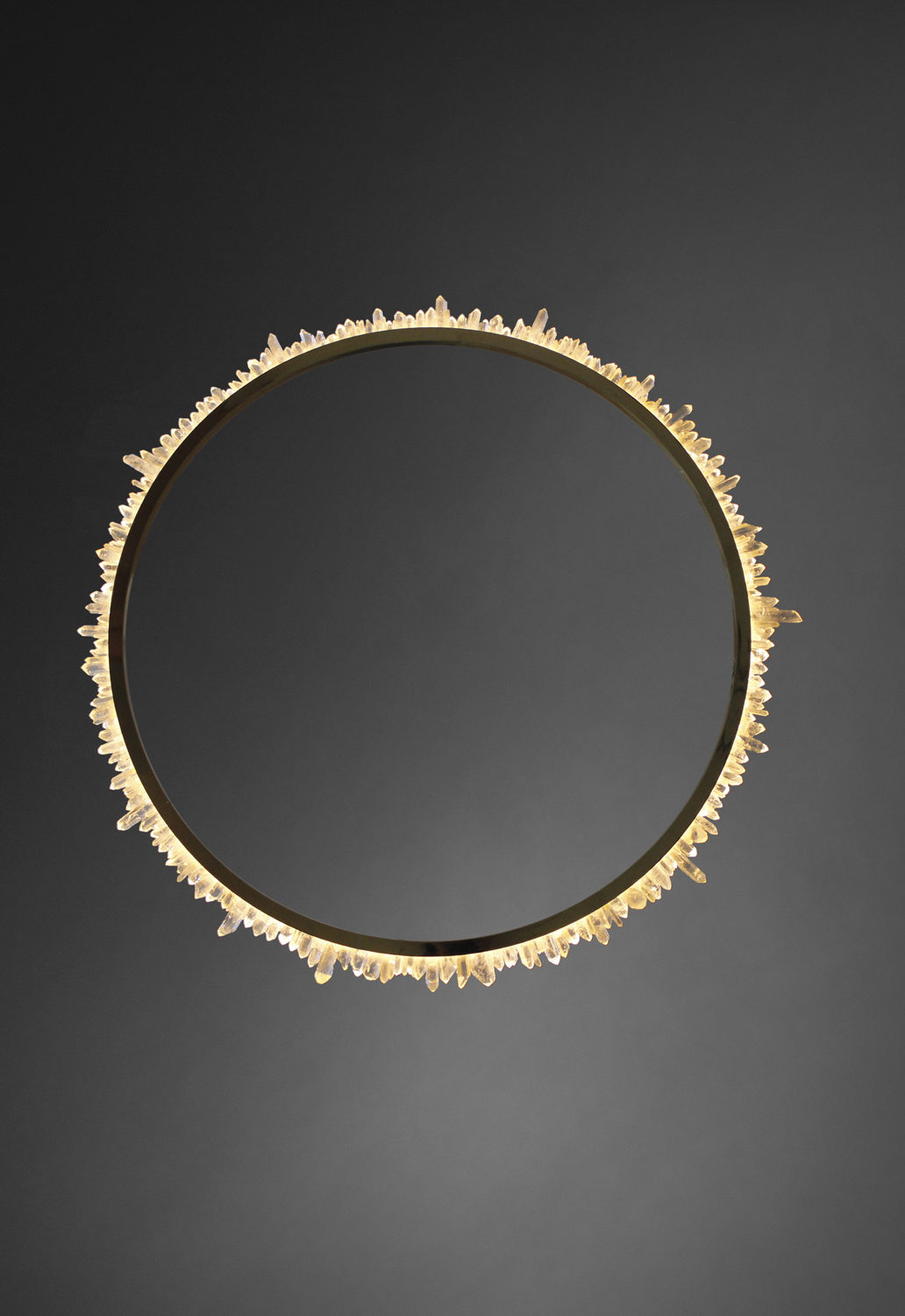 Christopher Boots is an Australian lighting designer that has built a world-class following through his handcrafted, artisanal approach. We dive into the mind and creative vision of this designer to uncover materiality, Australian design aesthetics and future-proofing.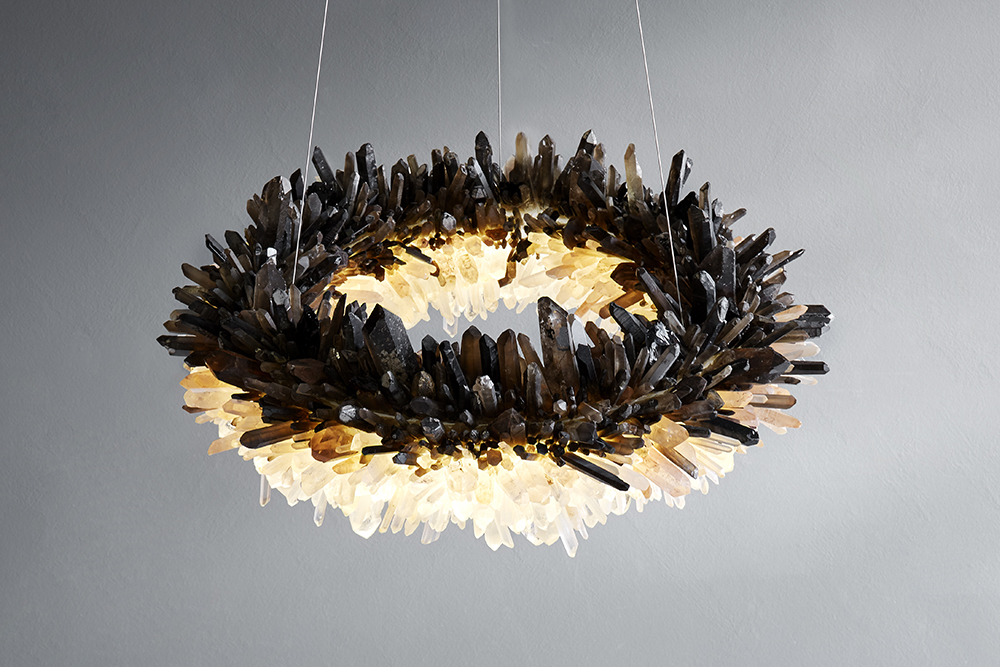 Carr: How would you describe your design process?
Christopher Boots: When approaching a custom design, we first investigate the space in which our lights will inhabit. Often, the architecture immediately informs what is the right piece to compliment and honour the space. Here the scale, proportion, orientation and potential combinations become our focus.
At other times, the room's decor will inspire the direction that our design will take. Again, design basics are the principal starting point, but colour, natural light, intended use of the space, and flexibility for future options all inform the design.
For example, we created a custom Diamond Ring using both natural and smoky quartz in a very feminine space. The room is awash with soft and dreamy blush tones, and yet our Diamond Ring – even with its hard faceted crystalline structure – evokes a different feminine element, reading as ruffled feathers. It is a deliberate and purposeful interpretation of the overall design.
By comparison, the three Diamond Ring chandeliers installed at Australia 108 are the opposite. The multifaceted quartz crystals, here in natural white and colourless form, elicit a much stronger and more compelling presence. This is achieved through the larger scale of the chandeliers, complementing, rather than detracting, from the undulating and curvaceous 'draped' walls which command one's overall attention.
What inspires you?
Nature. Classical and metaphysical worlds. Textures, the way that light reflects, refracts or diffuses. Materials, minerals. Precision (a hint of OCD.) Colour. Things that catch my eye are all there in the work that we do here at Christopher Boots. They will be there in the work to come.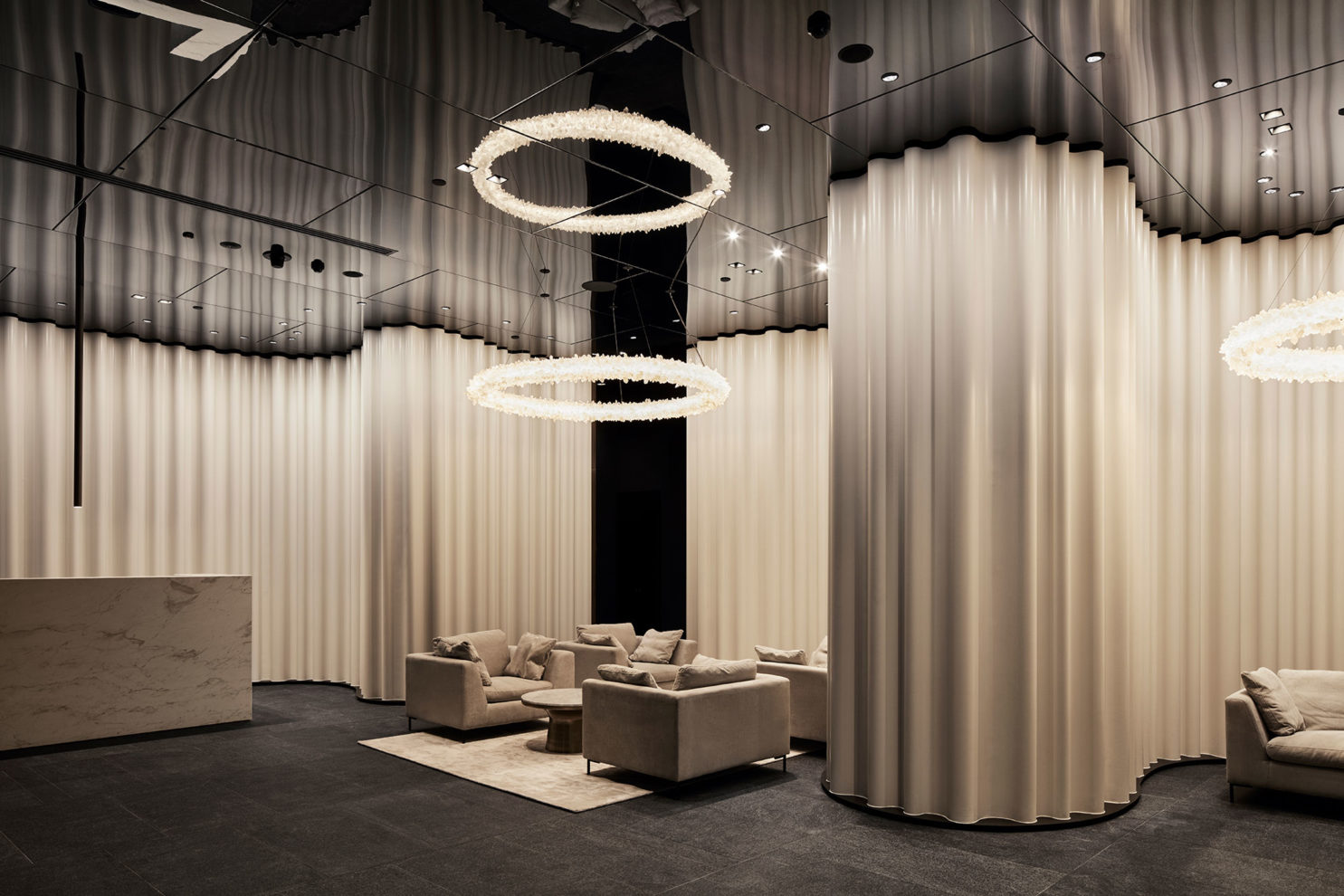 You work with a range of materials, quite often including crystals, what is the thought process and testing that goes into choosing a particular material for a product?
My work explores the relationships between architecture, symbology and the geometry found in nature. Through interpretation of pattern, structure, symmetry and the occupation of space, our design evolves. Applying elegant proportions, precise details and careful material selection creates beauty.
Come to my workshop and watch one of our artisans create a Diamond Ring – standing in the middle of this structural form where wires and componentry are tucked away inside. Surrounded by trays of crystals offering differing hues and dimension, each crystal is carefully considered for selection before being placed upon the underlying structure. The finished result is extraordinary and unique.
Lighting has the power to change a space, what does lighting mean to you?
The ability of light to affect our perception is a profoundly invisible quality. But I like to think of my lighting works in terms of their emotional qualities: warmth, comfort, serenity.
Take the Prometheus III chandelier used in Jackalope – when illuminated, its outward-pointing quartz crystals are like the sun's corona during an eclipse, dangerous, majestic, and primal. Yet in the design of Prometheus I, with a crown of upward-pointing crystals, these placements suggest smouldering flames and embers – hence the naming of Prometheus (Forethinker) having stolen fire from the Gods and giving it to humans – is poetically appropriate.
Both pieces use identical materials and technologies, yet the direction and placement offer differing perceptions of fire and warmth; elements that have always drawn people to gather together, to huddle against the cold, to join the campfires. This is where we collectively come from, and this ancient need for connection will always remain an archetypal human need. We've just created a fire more suited to our times.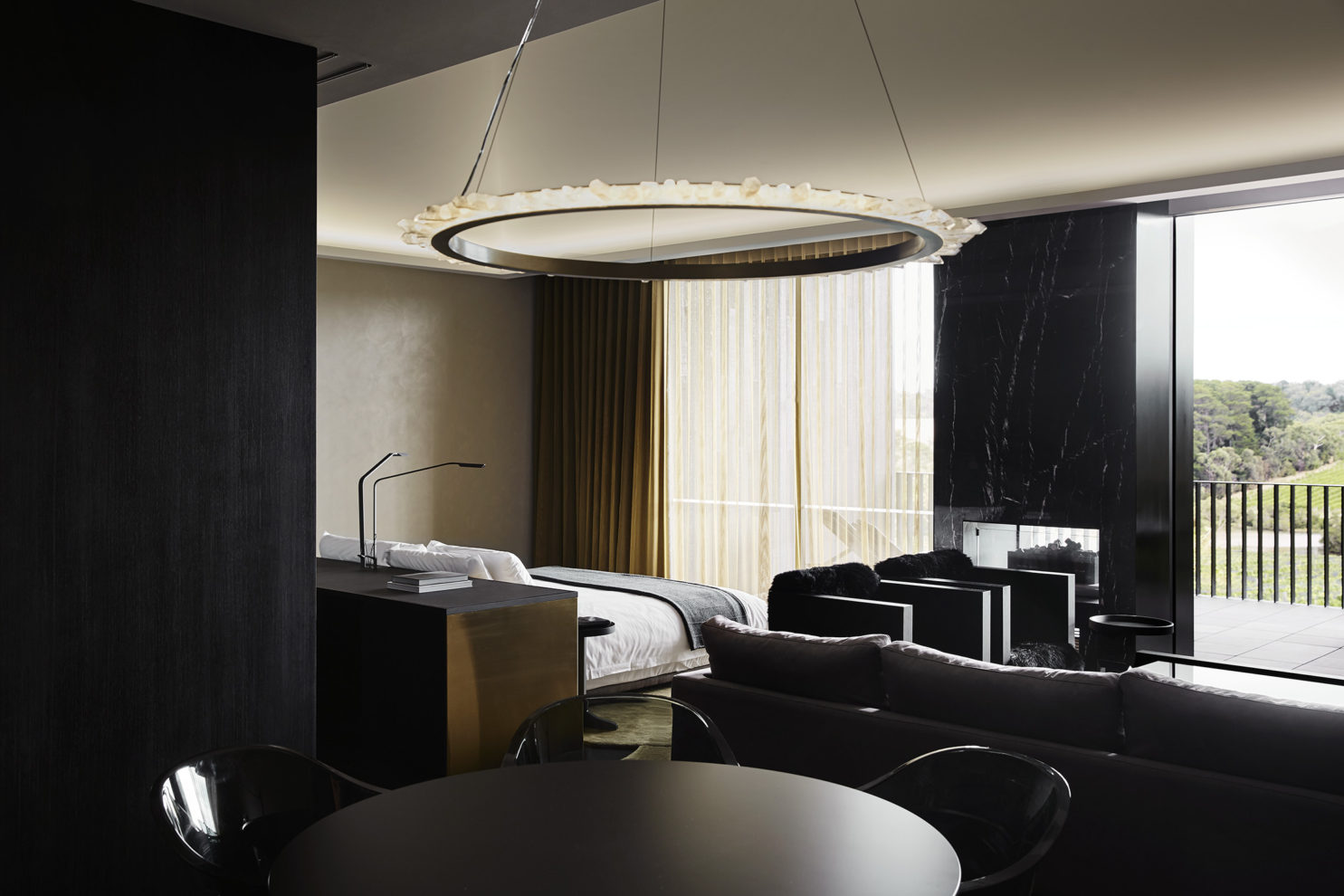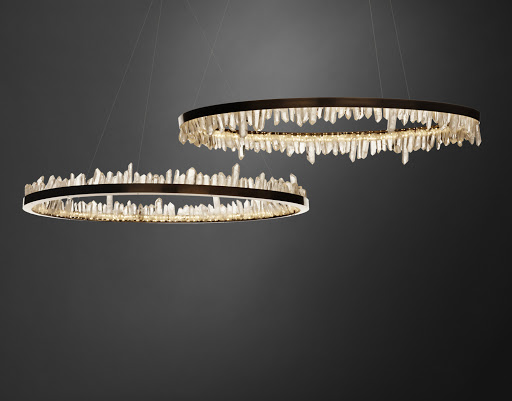 What drew you to lighting design/product design?
I was at university studying for an arts degree (linguistics, literature, cinema), early on I realised I was bored. I moved across into industrial design and then was very fortunate to have my first design job at Geoffrey Mance. Geoffrey was described as an enfant terrible, a visionary, a pioneer. He made bespoke lighting with an artist's touch. We designed and made lighting by hand from his extensive background in architectural lighting. Sometimes the studio would turn a hand to restoring classic pieces from Barovier & Toso, Serge Mouille, and Fontana Arte. This was a perfect education in a sense of a guild, with a master and apprentice. This experience had a profound effect on my life, and my career. 'Christopher Boots' might never have coalesced into what it is today without his influence and guidance.
What defines Australian design?
Geographical isolation is a sword that cuts both ways; the distance emboldens us to explore and define our own aesthetic; we don't need nor desire to conform to more traditional interpretations that we might find amongst our peers in the northern hemisphere, who often struggle with the cultural baggage of how things are supposed to be done. We're a can-do culture that solves problems with the resources available to us. The adage that necessity is the mother of invention rings true for the ways that Australians have resolved design challenges (wifi, ultrasound, electric drills to name a few) and created a leading edge.
At Christopher Boots we design, prototype and build in our Melbourne studio, honouring traditional elements of form, proportion and scale, marrying traditional and cutting-edge materials using various techniques. The handmade element of all pieces in our collections ensure a commitment to quality, it also underscores our investigative sensibility, where exploration can give birth to a new and unexpected aesthetic.
At Carr, we believe in timeless design, and Christopher Boots products fuse forward-thinking with a timeless quality, what driving principles underpin your work?
Our core principles are based on artisan skills, creativity, innovation, quality and refinement. The expression of these principles is illustrated through our choice of material and process, with new methods and material exploration continuing daily.
Our materiality consists of natural elements paired with man-made components. Those components obviously have a carbon footprint attached to their production, manufacture and supply. We are currently on a campaign to become a net carbon-negative organisation, reviewing strategies internally to mitigate our carbon density in the creation, transport and lifespan of the works we create. We're installing solar, offsetting emissions with planting programs in biodiversity corridors, we participate in local recycling and composting programs, use recycled materials where possible and choose reusable packing materials. Our predominant packaging is made from timber, cardboard, calico and jute.
Thinking about how we can improve every little element and the impact on our environment implores us to explore rigorous design thinking in our product development and design. Once our lighting leaves the studio, it remains to speak for itself. It is my dream to have my work sold at Christie's in hundreds of years time; in order to achieve that dream I will never see, the works we produce must be designed for longevity, with consideration for repair and electrical upgrades beyond our years. Future antiques; heirlooms with materials designed to age with grace and create value beyond our years. Not much to ask is it? But these are my principles.
Read more about Christopher Boots.