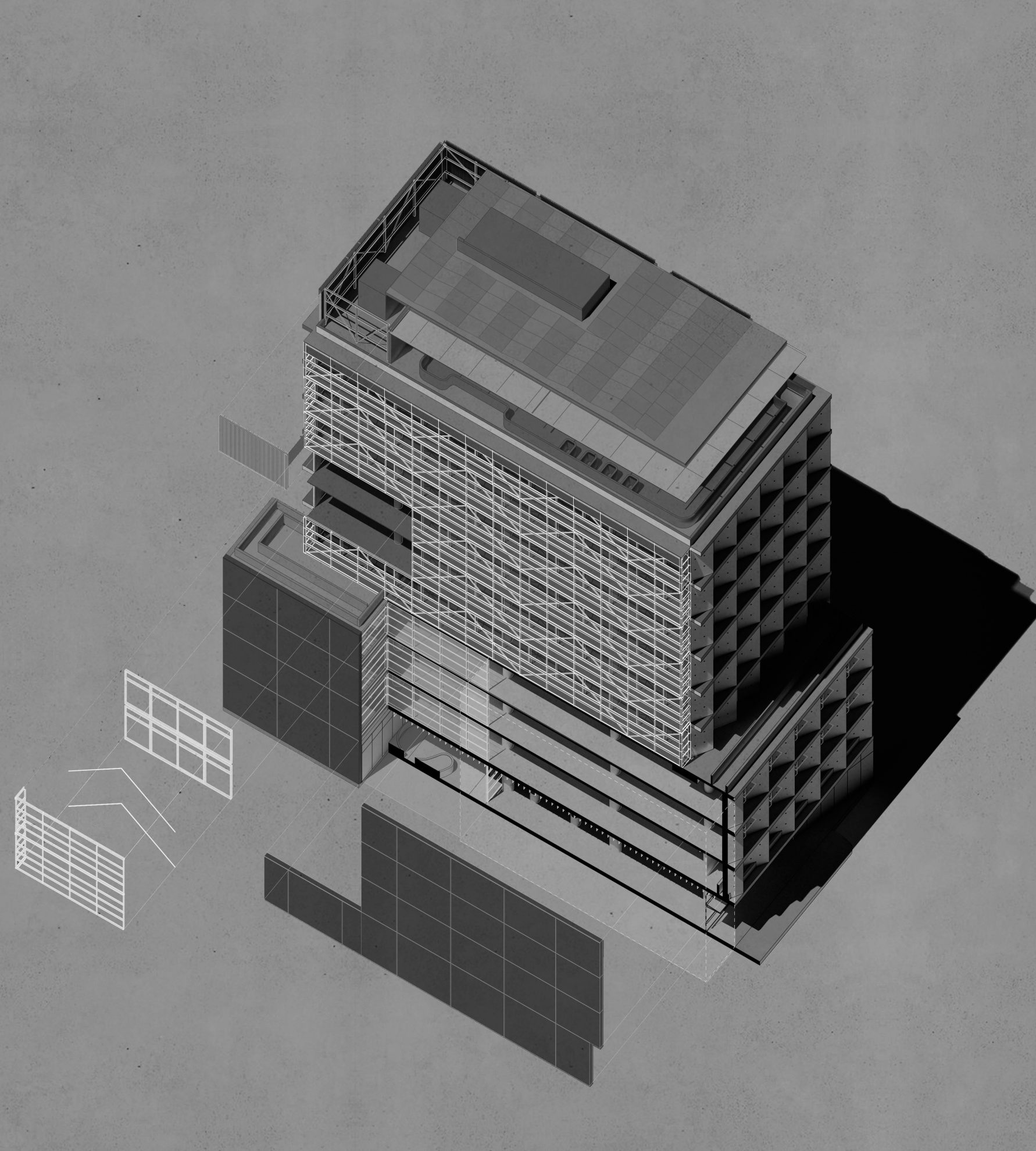 Environmental and wellness design consciousness underpins 116 Rokeby, offering a workplace with a rigorous approach to sustainability.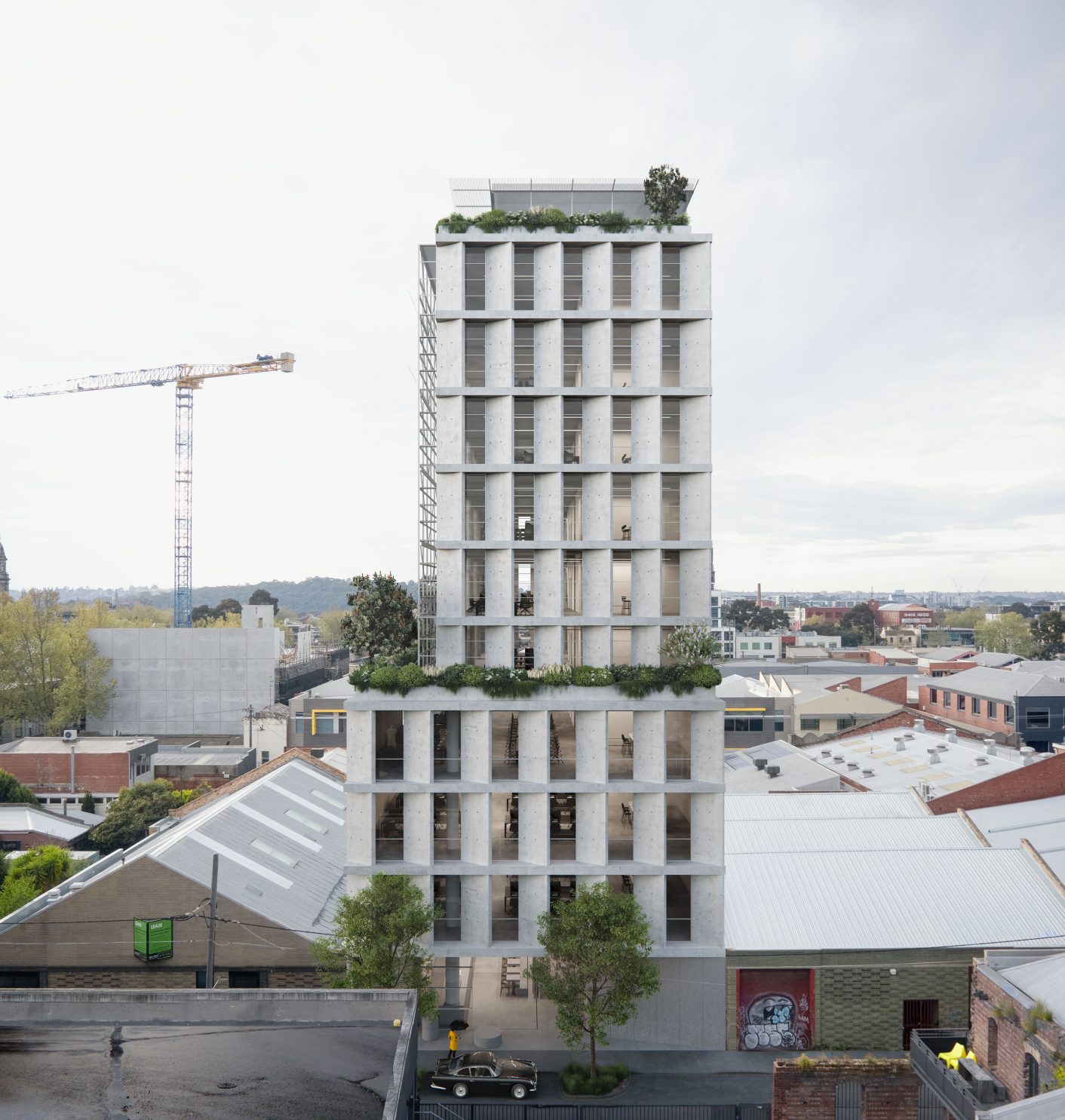 Designing buildings that have a positive impact on the environment, as well as its people, are principles we at Carr are committed to. The ambitious 116 Rokeby in Collingwood is an example of this. In addition to the deeply passive approach to sustainability, the vision for this project is to be a 'breathing space', while also targeting a Platinum Level WELL rating. These measures are inherent elements woven carefully into the fabric of the building from the outset of the project.
Fundamentally 116 Rokeby is carbon neutral, as Associate Director Stephen McGarry shares, "From conception, we have been working towards designing a gas neutral, all-electric building in response to what we see as a climate and bio-diversity emergency within the industry – locally and globally."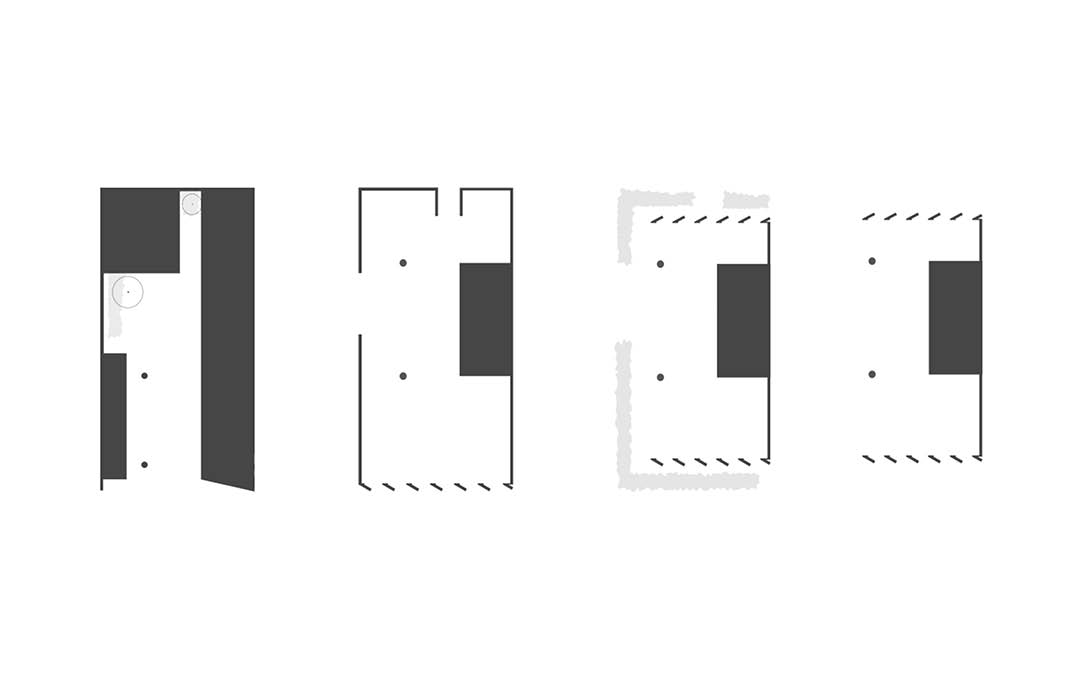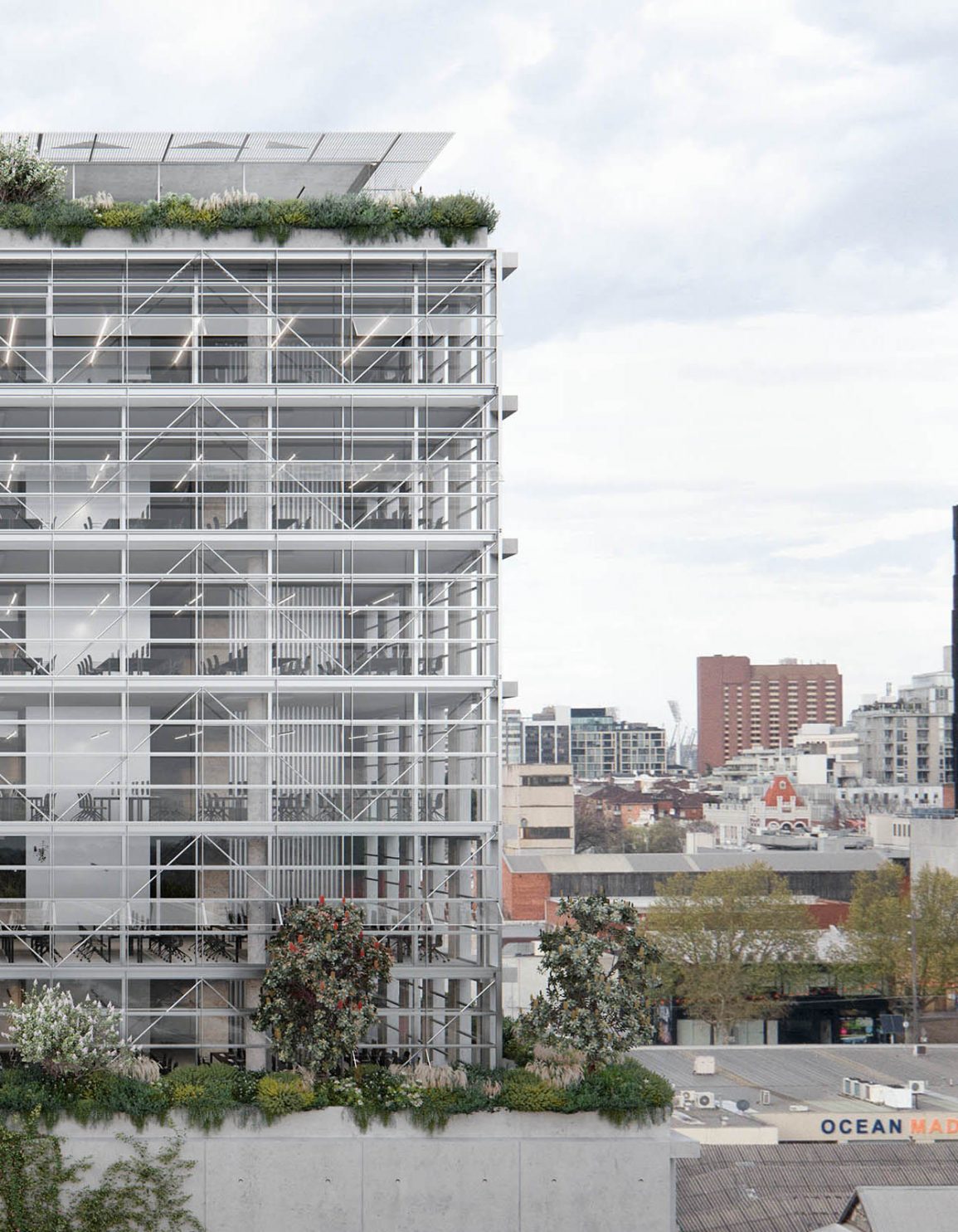 Inherent to the design is a passive approach to the building's massing and articulation. We have worked closely with ESD consultants within Arup, specifically to maximise passive methods of heat gain and loss, shading and natural ventilation. With a fully glazed northern façade allowing for maximisation of daylight to the floorplates, a double skinned façade has been applied. While the skins operate independently, together they contribute to a high-performing, environmentally sustainable building.
On the east and west façade, solid in-situ panels are positioned and angled to reduce head loads and provide a high shading factor. Glazed panels on the east and west allow for further cross ventilation to the floorplates, enabling cross-breezes across the tenancies. The desire is to create spaces that harness the fundamental characteristics of abundant natural light, controlled fresh air, adaptability in space, environmental sustainability, as well as that of a sustainable built form, all of which are attributes we believe are vital to the success of this commercial building. Durable materials, efficient lighting, smart controls, photovoltaics and an all-electric building approach further compliments 116 Rokeby's sustainable design.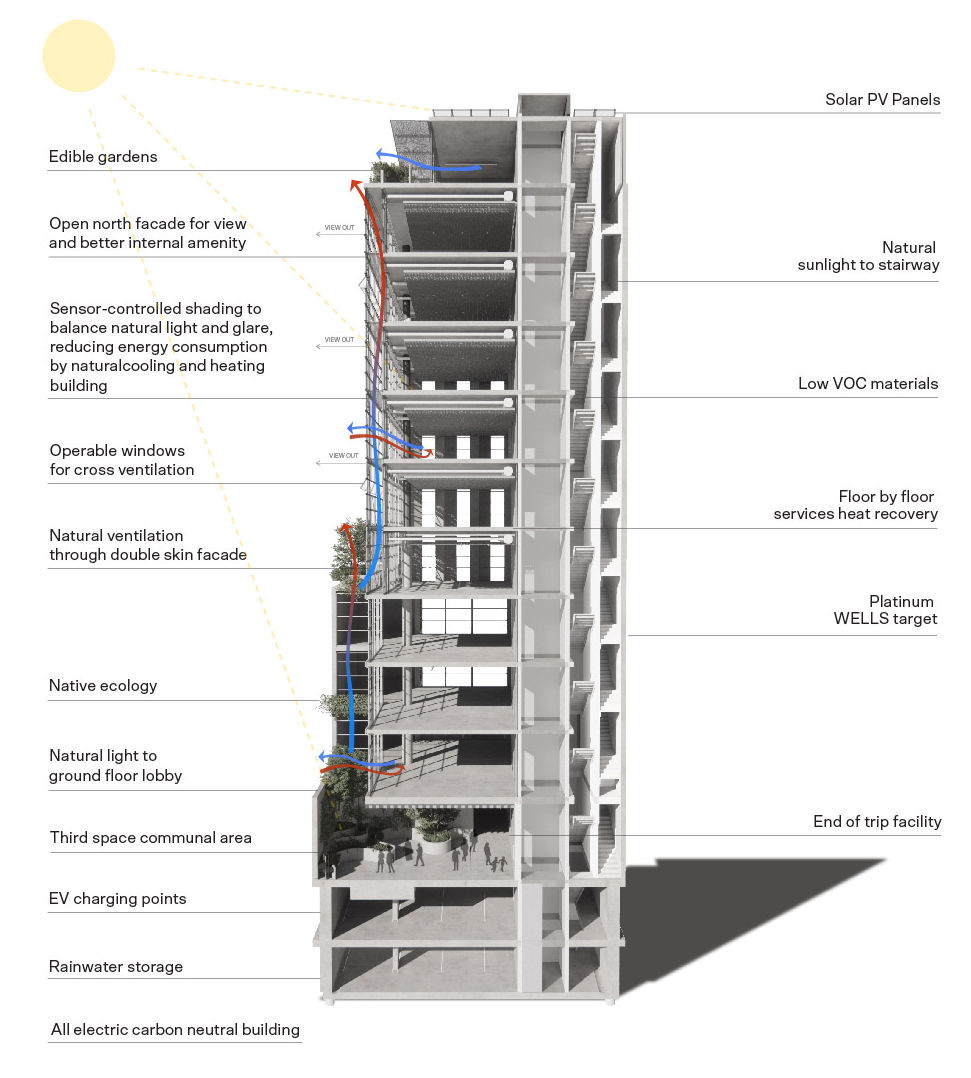 Believing that buildings need to create internal spaces that elevate the human experience, as well as having a positive effect on the environment, 116 Rokeby is targeting a Platinum Level WELL rating for the core and shell. With the effects of COVID-19 disrupting and dissuading workers returning to the workplace, enticing people back into the office is placing an even greater emphasis on wellness and third space initiatives within the building.
The WELL rating system is based on medical research and follows performance-based criteria that measure, monitor and certify parts of the built environment that have an innate impact on wellbeing and health of humans. The aim is to prevent chronic diseases by consciously designing buildings and spaces that have an inherent positive effect on its users.
Bringing light throughout the building was a critical factor. Punctuations in the podium slabs create a series of light wells allowing light to permeate through to the ground floor spaces. A range of shared amenities are located throughout the building, adding to the desirability and flexible functionality for the end user. The rooftop space has outdoor meeting areas, alongside a large communal kitchen and bookable space for tenants to socialise and enjoy views to the city and the Dandenong Ranges.
The ground floor includes a small but highly flexible retail tenancy, which will have the ability to adapt from day to night. Also situated at ground floor is an end-of-trip facility housing changing rooms, showers and bicycle storage to encourage bike and pedestrian commuting and exercising.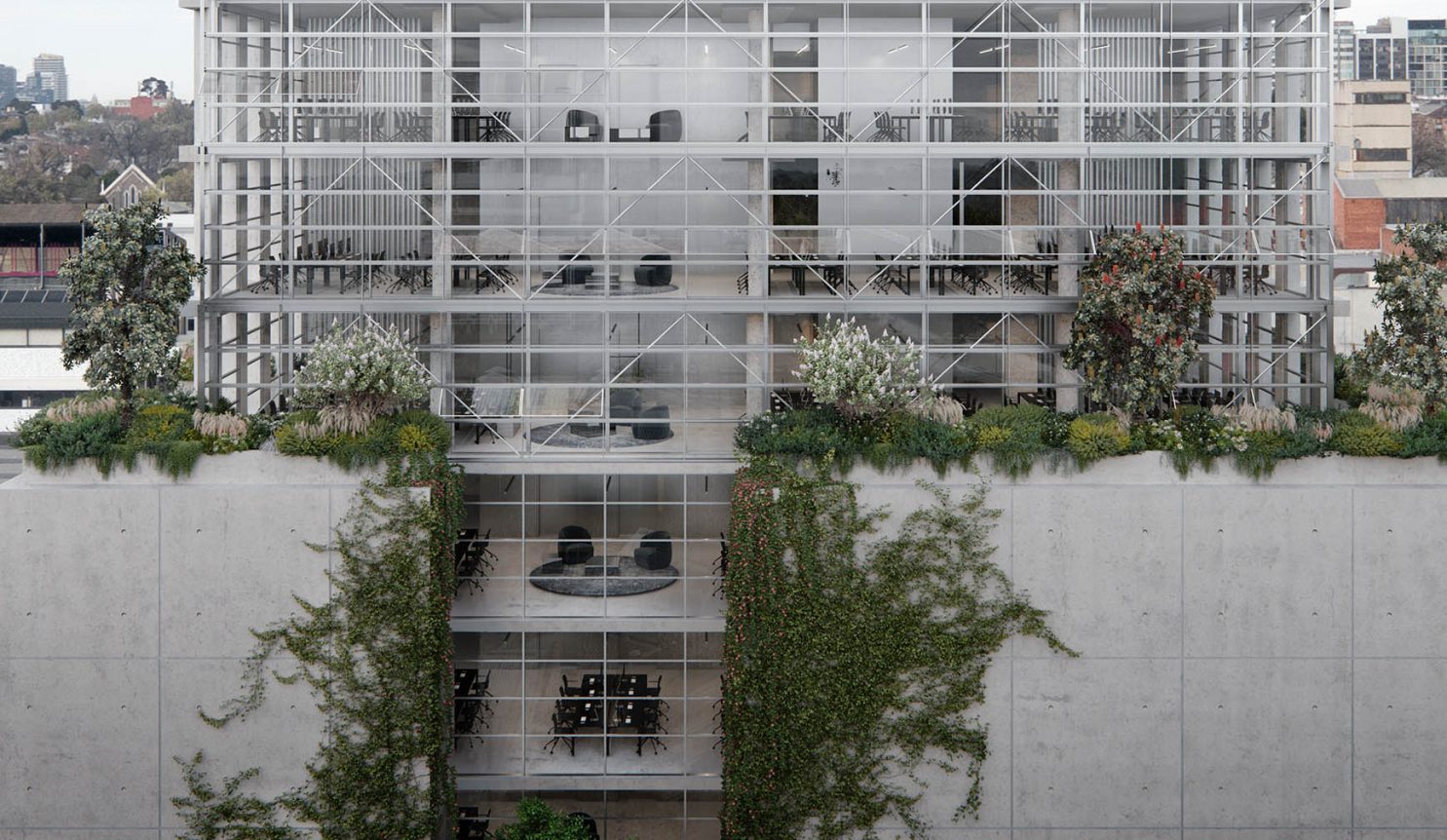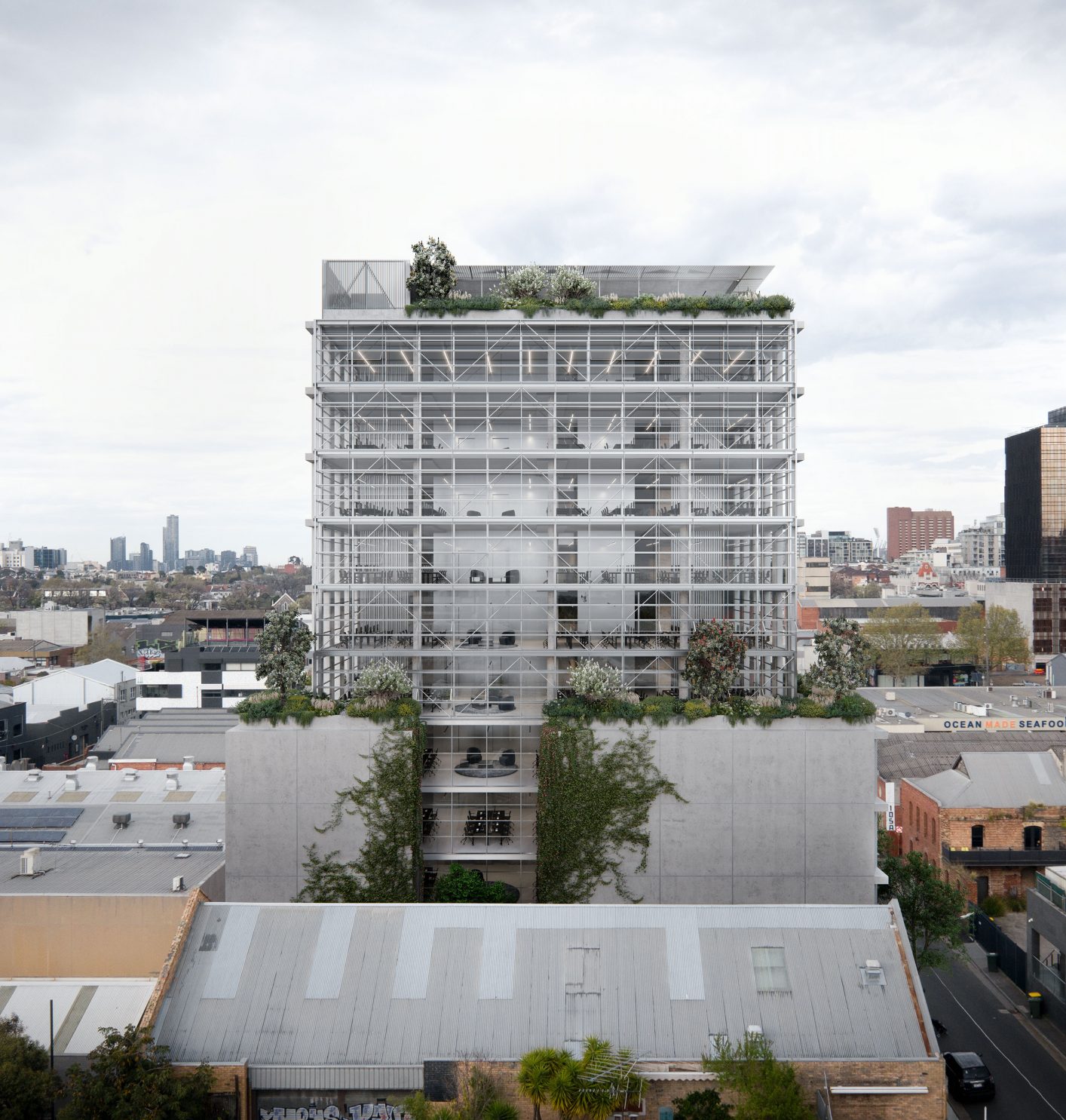 The biophilic strategy was another important consideration on this project, which was created in collaboration with Eckersley Garden Architecture. Despite the site constraints and minimal opportunity for deep soil planting, significant landscaping is proposed for the ground floor, podium and the rooftop levels, with a series of raised concrete planters, integrated seating and a layered native planting matrix.
116 Rokeby hopes to create a benchmark for commercial architecture and interiors by a conscious design that will have a positive impact on both the end user and the environment.
You can learn more about 116 Rokeby and its urban approach here as well as its wider project profile here.