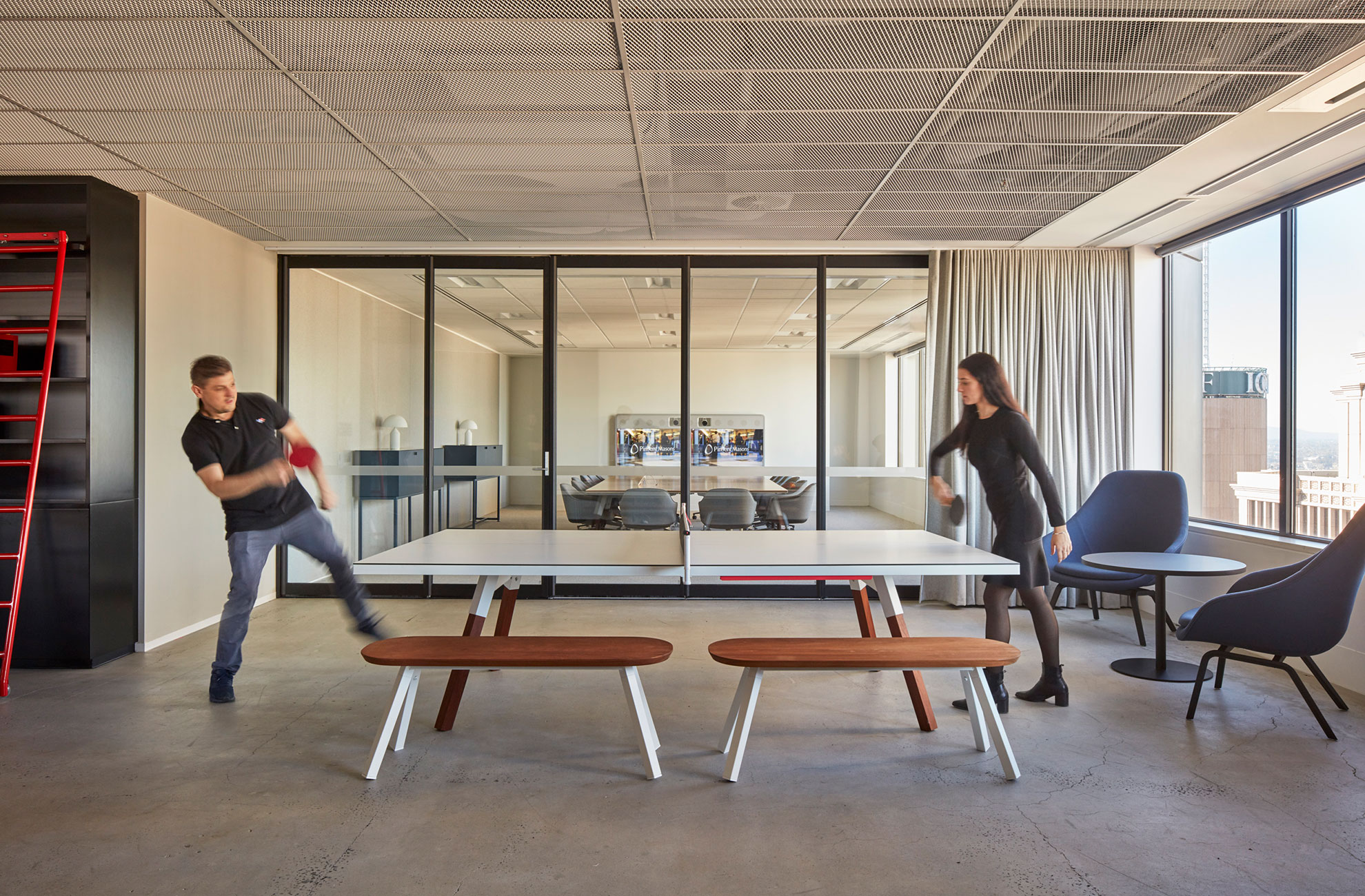 The professional services, the legal sector chief among them, have often been touted as more traditional or even slow-moving within the rapidly changing world of workplace design and strategy. The reality is far from this pretence. In the face of rampant technological and social change, the legal sector has seen the opportunities that lie in shaking up the old ways of working to ensure continued business success into an uncertain future.
Carr has worked on dozens of legal projects over the years, working alongside our clients to uncover new modes of working that are always individualised for every project. We have picked out a selection of work that shows an appetite for innovation and collaboration that led to successful design outcomes.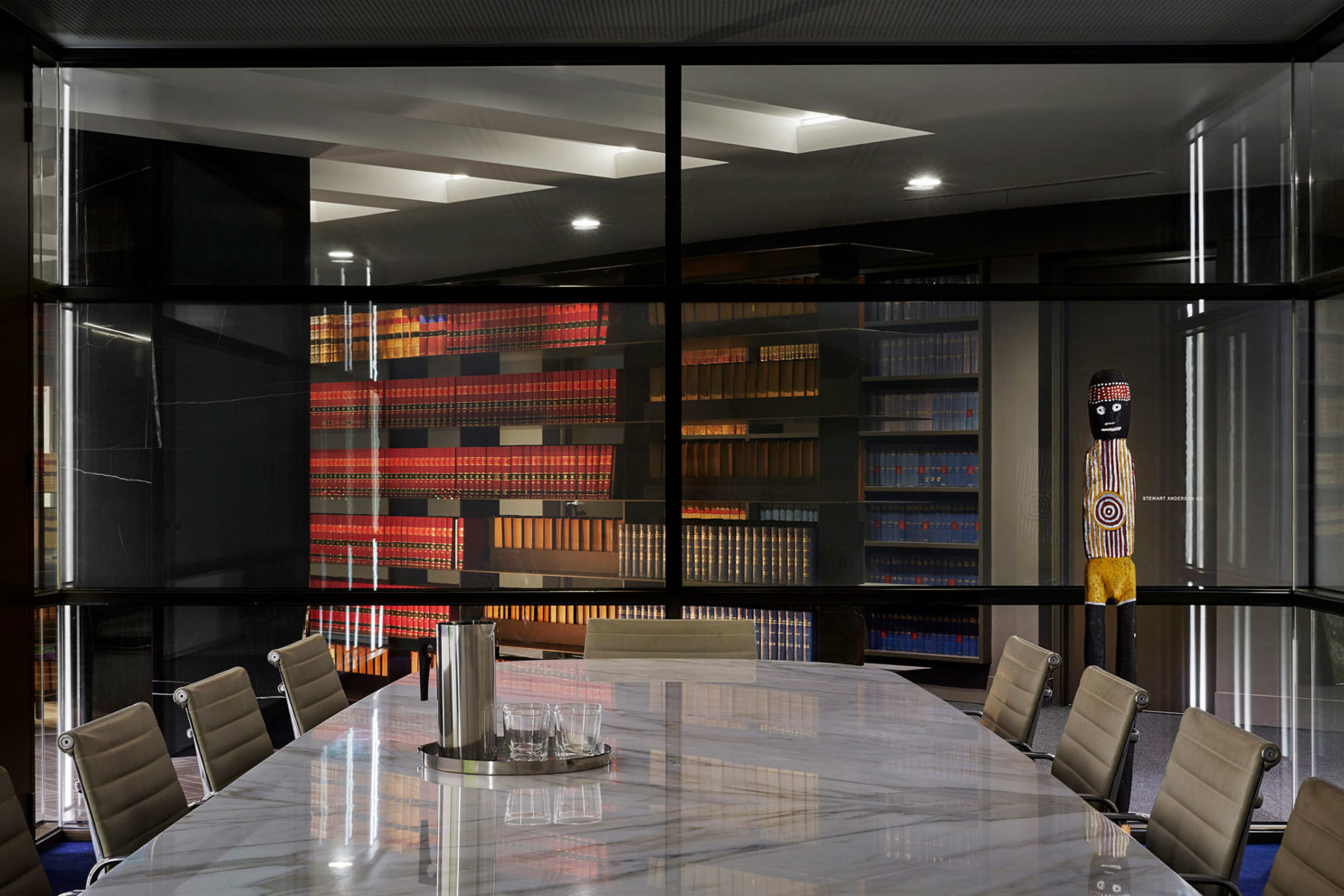 The legal market has been under unprecedented pressure the last decade. Fierce competition is unlikely to subside as firms contend with rapid shifts in technology and resourcing. The growing strength of in-house counsels are destabilising the traditional demand for firm-based services, while smaller firms are diversifying, providing accountancy and tax advice, maintaining high flexibility while absorbing the demand for transactional services. Within legal firms, traditional resourcing models are undermined by the major increase in legal provider outsourcing (LPO) shifting paralegal work offshore.
Legal services have been commoditised like never before, and as a result client procurement tactics and workflow management must be highly sophisticated in order to be sustainable, let alone competitive. Despite the misconception of the legal industry being traditional, all of these factors mean the legal sector has developed a fierce appetite to change traditional ways of working.
Legal teams require greater flexibility with more time required onsite with clients, or in different spaces within the office. Movement becomes dependent on the nature of the task at hand rather than being constantly bound to a fixed desk. Hyperconnectivity is crucial to provide seamless integration between practice groups and regional offices. Firms need to be readily accessible to clients. No longer can firms afford to close down at the end of the day as clients' needs transcend time zones and traditional working hours.
Legal offices remain complacent at their peril; clients want to be guaranteed their fees are directed to the most efficient resources, not unnecessary statements of grandeur. Tenancy fitouts are direct representations for what a firm stands for and so the design has been the subject of increased scrutiny.
Moves to open plan offices were radical for the legal sector, but single-minded overhauls rarely hit the mark for all objectives. Deep understanding of what a firm stands for, how a workplace operates and where efficiency can be optimised is essential for delivering a successful outcome that can see a practice into the future.
Design intelligence goes beyond aesthetics. It is an innate understanding of how a workplace can best drive innovation, attract clients, retain staff and position itself as a leader in a highly competitive global landscape. A one-size-fits all approach is a major liability. Customising workplaces across diverse businesses in the legal industry is something we have delivered time and again, and the work speaks for itself.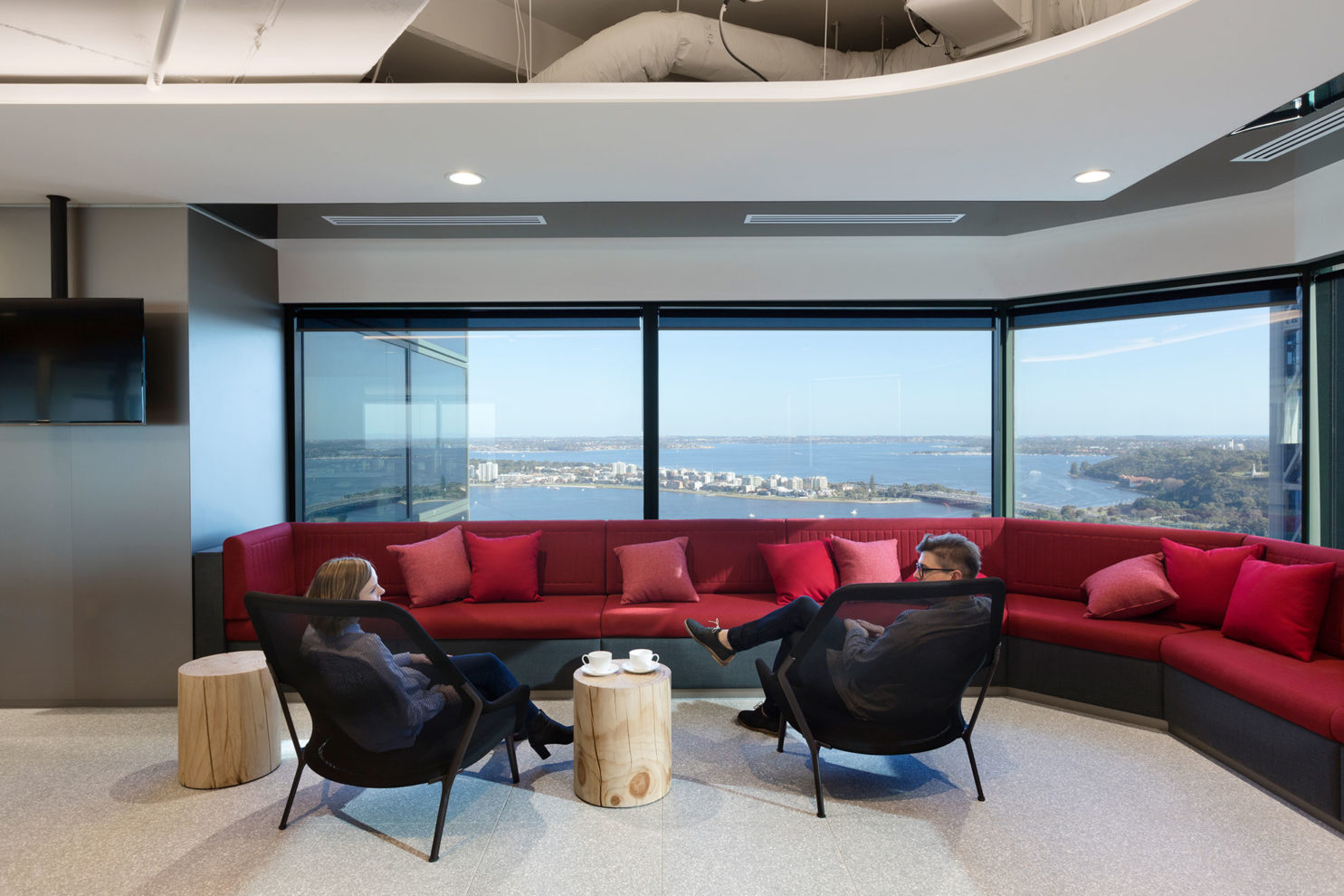 Norton Rose Fulbright Perth
108 St Georges Terrace, Perth
2,550-metres-squared
Norton Rose Fulbright is a leading global legal practice with offices across Australia and the world. Because of this dispersed mode of working at a global scale, connectivity between all the offices was a key priority.
The leadership of the Australian practice articulated a strong vision for the new Norton Rose Fulbright Perth office, reflecting their business principles of "Quality, Unity and Integrity". The new workplace in Perth's 108 St Georges Terrace was an opportunity to implement advanced technologies to transform their communication practices and advance client services.
There was a full review of the structure of the office, to not only ensure changing work habits were supported but to pre-empt shifts in client demands. The driving force behind the workplace strategy was that of constant collaboration within the Norton Rose Fulbright team. This meant that cellular, fixed workstations needed to be flexible and diverse, with connectivity being paramount throughout the office.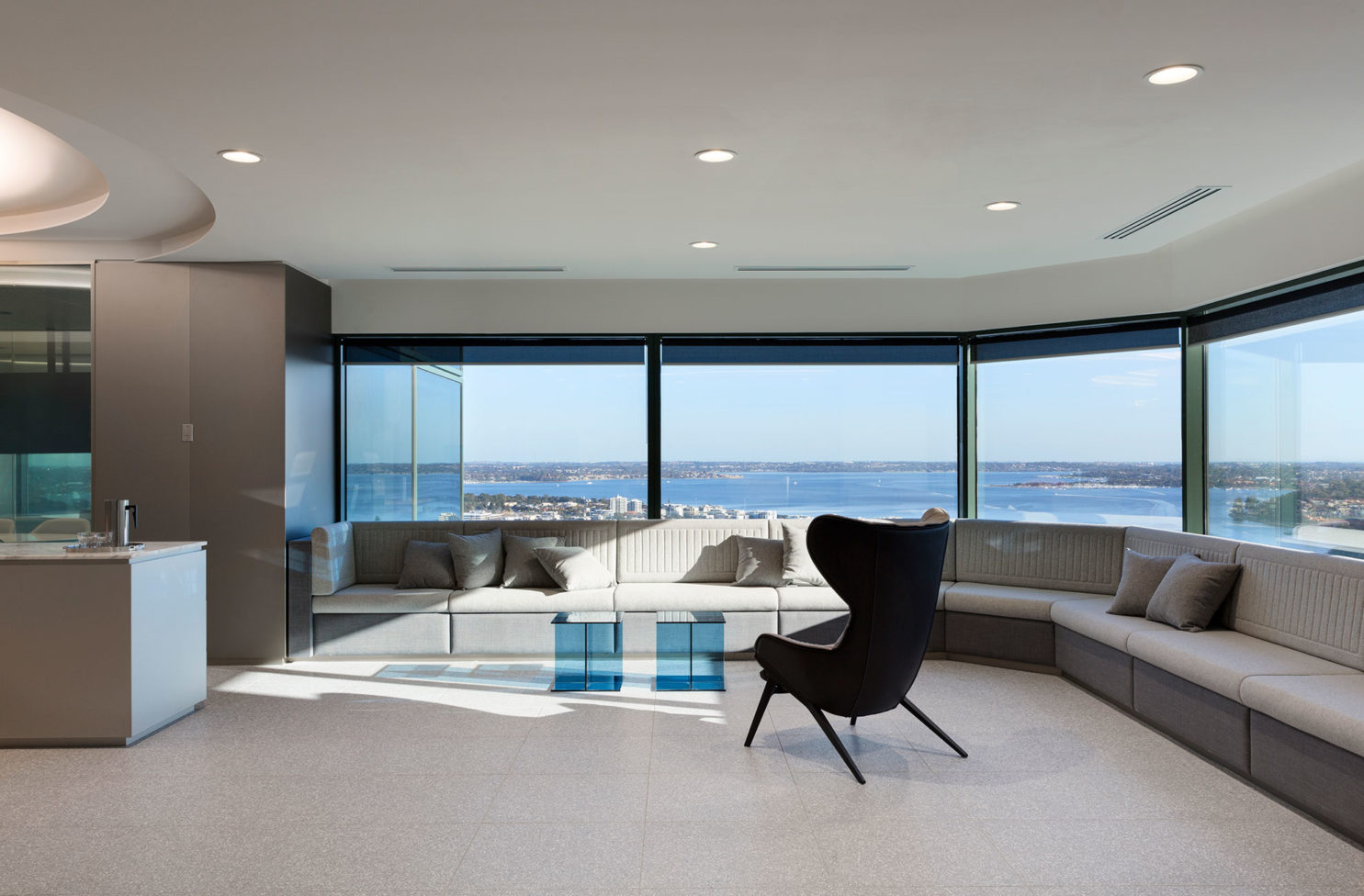 At the same time, it was important to recognise what worked in the existing arrangement and to make modifications to this where needed. For example, the space allocated to partner offices was increased to allow room for team meetings, essentially enabling teams to still collaborate in a private space. Meeting tables in partner offices are anchored around screens affixed to the wall with a malleable arm, allowing the spaces to be multipurpose and appropriately cater for different interactions. Files can be seamlessly shared and accessed throughout the workplace, facilitating cross-team collaboration in purpose-built spaces.
The legal team are situated along the glass perimeter of the tenancy, ensuring that access to the expansive views and natural light is given to those spending regular periods of time at their desks. Contrary to the original intention of 108 St Georges Terrace, the corner office is removed in the new design, giving the space back to the team and allowing light to reach further into the floor plate. Akin to a library space, this environment encourages contemplation; allowing solitary tasks to be completed with limited distraction and affording staff the visual perspective to promote intellectual creativity. The perimeter of the workspace is planted the whole way around, with 50 per cent of desks allowing electronic touch sit-to-stand working. Enhancing existing conditions went beyond workplace behaviour.
Up lighting was utilised to release natural light, rather than obstruct it with standard artificial lighting. Material selections were made based on the West Australian natural environment, with internal wall curves reflecting the expansive water views and complementing the façade's distinct architecture. Curved shapes have enhanced the feeling of movement throughout the workplace.
The client floor has moved away from being a corporate showcase to being a working space, in a move aligned with Norton Rose Fulbright's commitment to connectivity. Integrated technology allows the team to truly work with their clients in meeting spaces, digitally accessing digital files with ease. The functional meeting rooms are encased with switchable I-glass to give the flexibility of transparent glass or visual privacy. The natural light on the client floor spills through the meeting rooms, and alternatively concealed for darkened presentations.
Adjacent to the client meeting spaces is an area for multifunction events. The separation between team and client spaces is removed, with sliding walls being able to adapt to a variety of hospitality requirements – from a board meeting, to a whole team or office presentation, or a social function.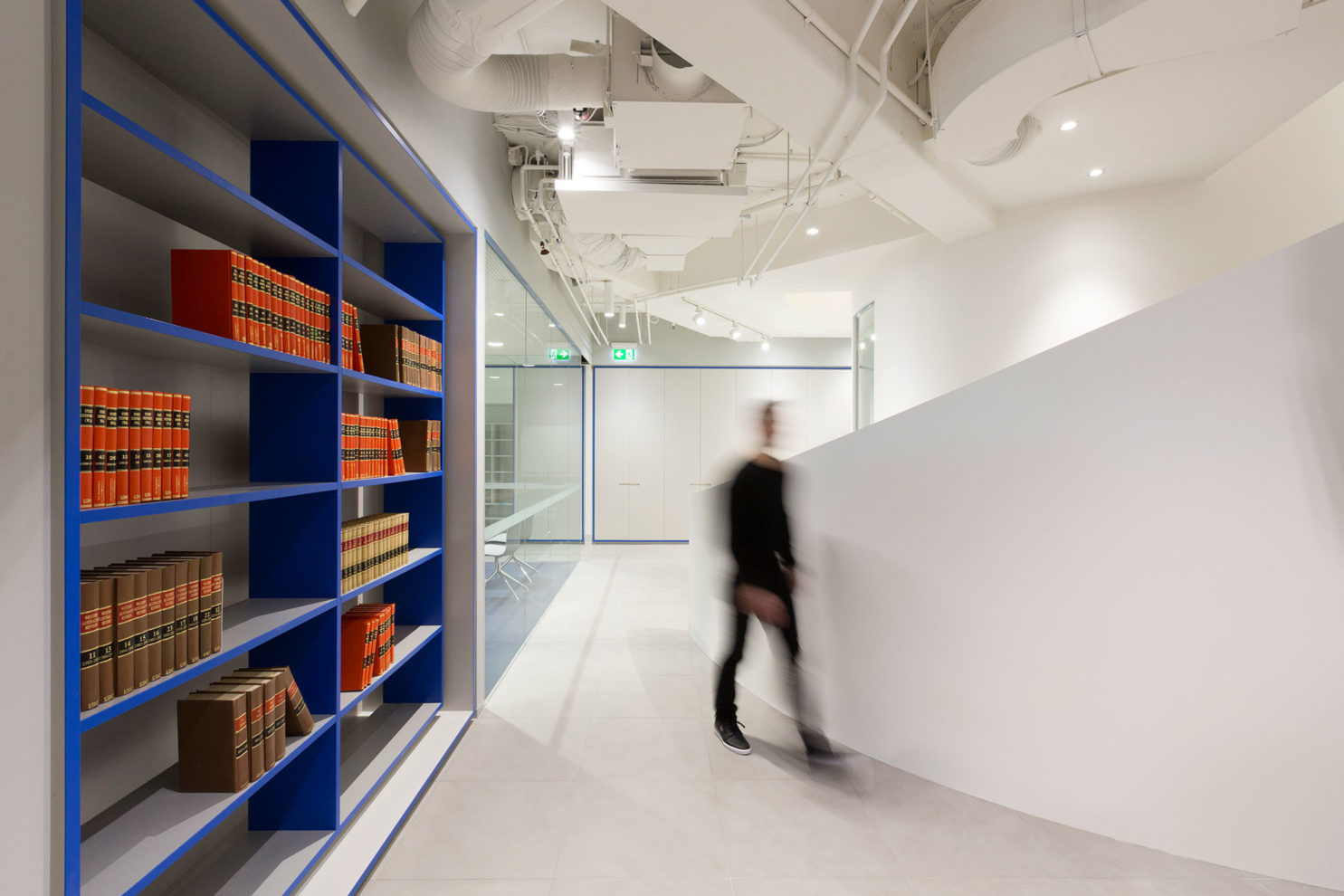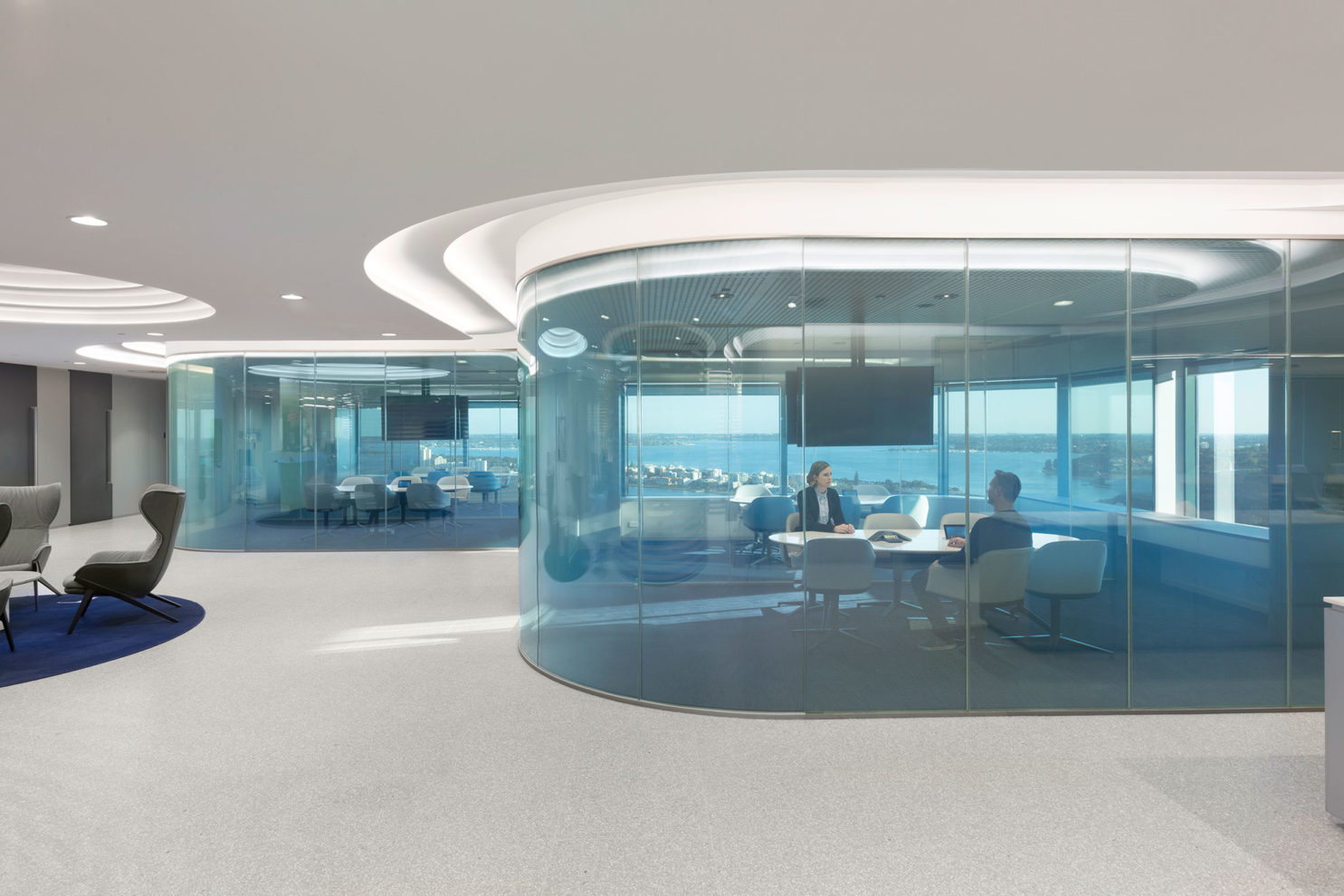 The cultural emphasis on fluidity is emphasised by the central stair, integrating the three levels of the tenancy, encouraging cross-team social connectivity in the central level breakout space. There are private pods enclosed within the staircase, which are available for both team and client meetings. The dynamic use of this space is a provision for overflow from the client floor, while also providing private meeting spaces to each of the work floors.
The new workplace also provides personal locker space for each member of the Norton Rose Fulbright team. Space reclaimed from file storage is given back to the team in recognition of their desire for flexibility. The locker spaces assist all areas of working life, balancing between formal commitments during the day and activities such as active commuting and lunchtime fitness.
Aicken Legal Chamber
200 Queen Street, Melbourne
868-metres-squared
Aickin Chambers is in a unique position. Steeped in the rituals and ceremony of court procedure, the chambers' barristers are routinely engaged at the forefront of legal reform. Scrutinising the currency of long-standing legal precedents became a framework we then applied to the workplace.
How barristers most efficiently use the space and how their environment represents their work to their clients was comprehensively analysed. Through a highly collaborative process engaging each of the 14 barristers, the brief was to create a new public face and central hub that would reinforce the themes of integrity, intelligence and innovation. Peter Jopling AM QC noted, "one of the key aims with the brief was a fitout that didn't age. We really wanted an interior that was timeless and had an international flavour. We wanted to differentiate ourselves from what most people expect from a barrister's chambers."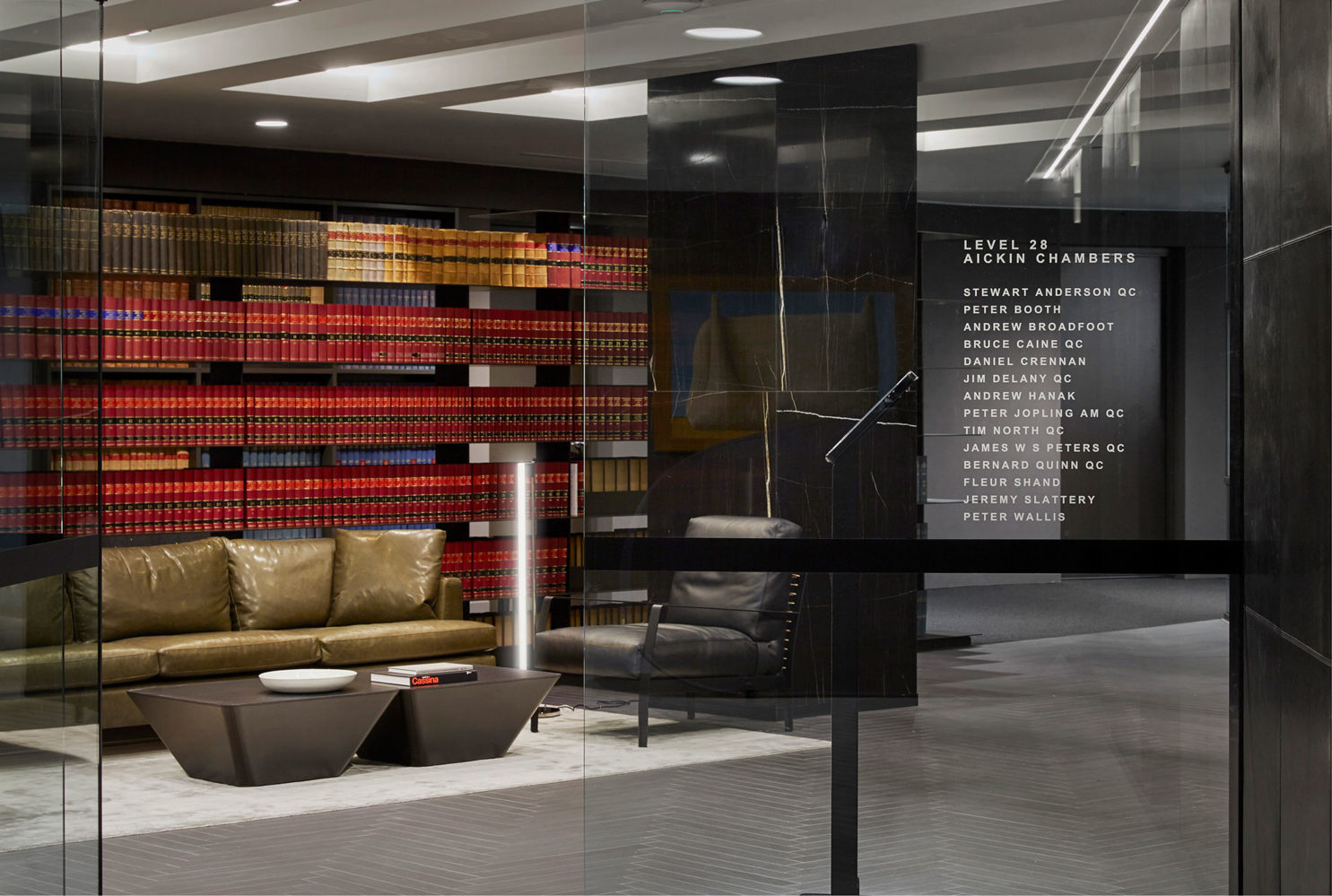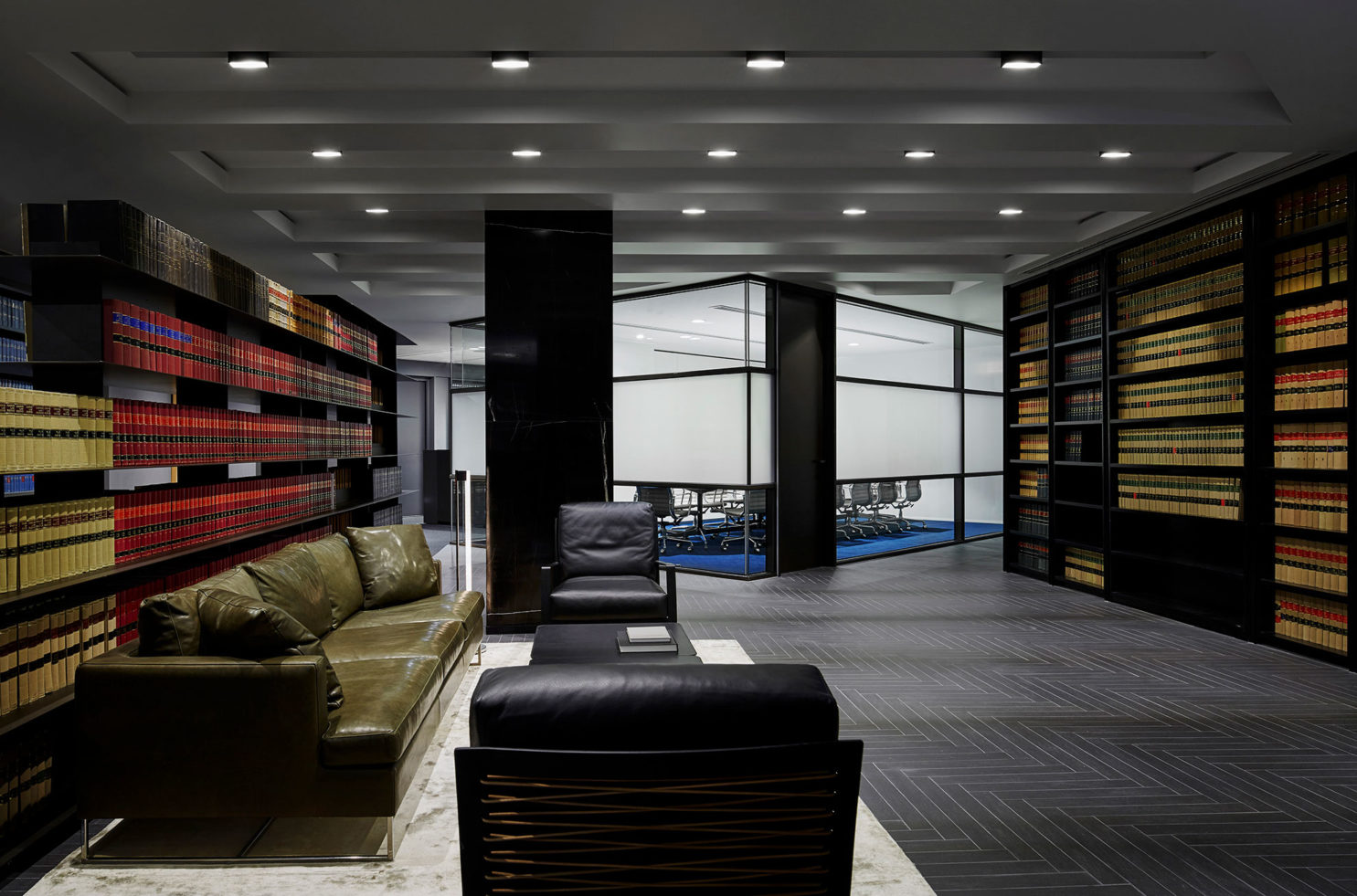 Constructed over a tight time period of just six weeks to coincide with the Supreme Court Christmas break, the new legal chambers are transparent and open to reinforce the profession's push for accessibility.
To create a point of difference, the new entry point has a virtual reception. A digital screen enables visitors to touch a photographic face of each of the barristers to let the executive assistant know they have arrived. Demystifying the visitor experience, Aickin puts a face to a name from the outset.
Juxtaposing the old with the new, the books are set against the boardroom – a visually arresting glass box inserted into the existing shell. Switchable I-glass and LED light ensures the boardroom can have full privacy when required. At the flick of a switch the outside glass is turned off, signifying confidentiality and focus. "I have always been very impressed by the professionalism of Carr," says Peter Jopling, who was on the workplace design advisory committee. "So many people of the design world have these wonderful ideas but they fail on the execution. Carr completely delivers on the execution. They understand how lawyers are obsessed with detail and time delivery and exceed these expectations."
Collins Square Events and Business Centre
727 Collins Street, Melbourne
4000-metres-squared
The appetite for change has seen consulting firms such as Maddocks and KPMG moving away from the traditional stronghold at the top of Collins Street and the traditional Melbourne legal precinct to the dynamic offerings in CBD's western precinct. Collins Square caters to the demand for variable commercial real estate costs. As firms look to offer their clients and their team more under the pressure of volatile revenue predictions, the option to access shared space within the base build is an attractive proposition.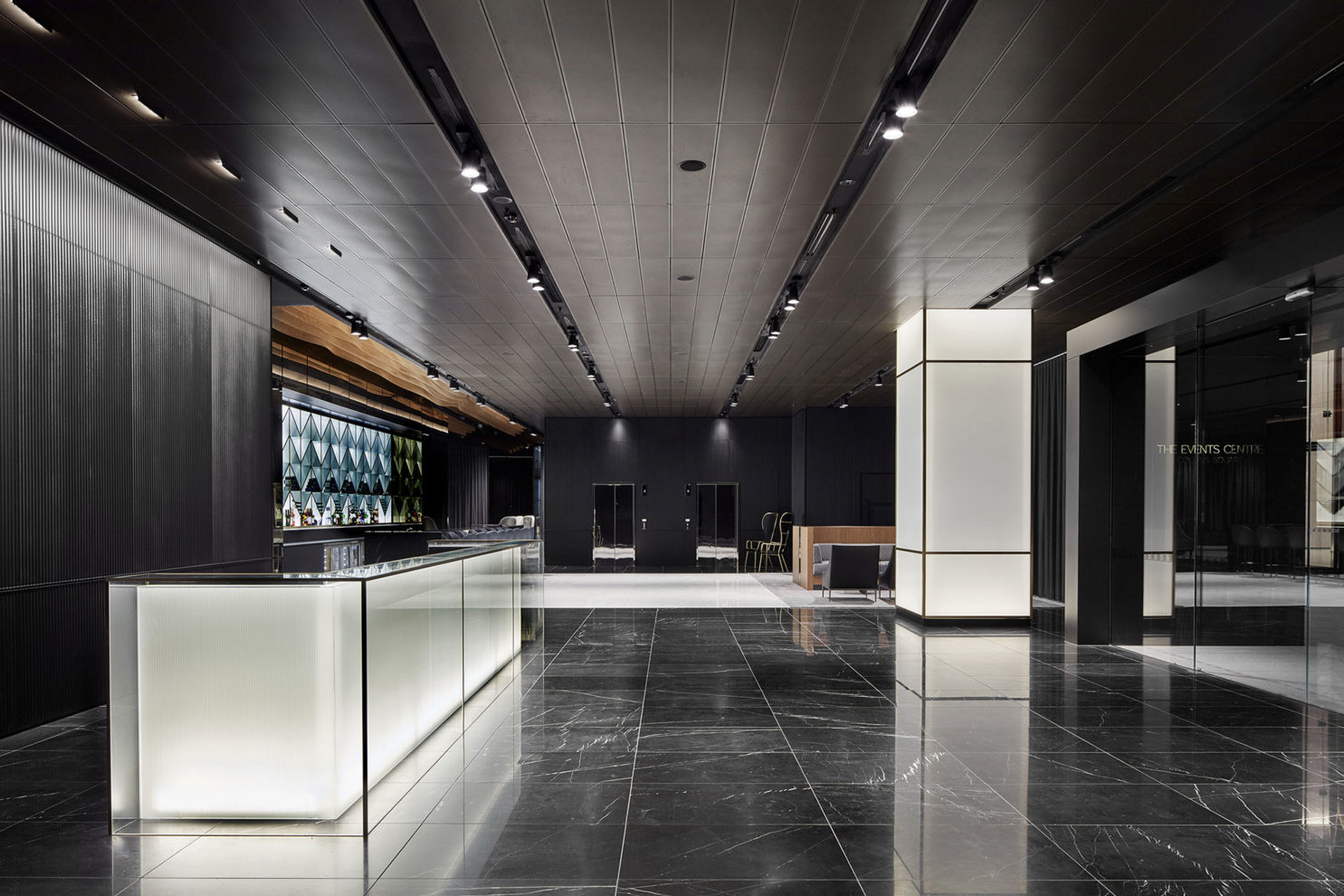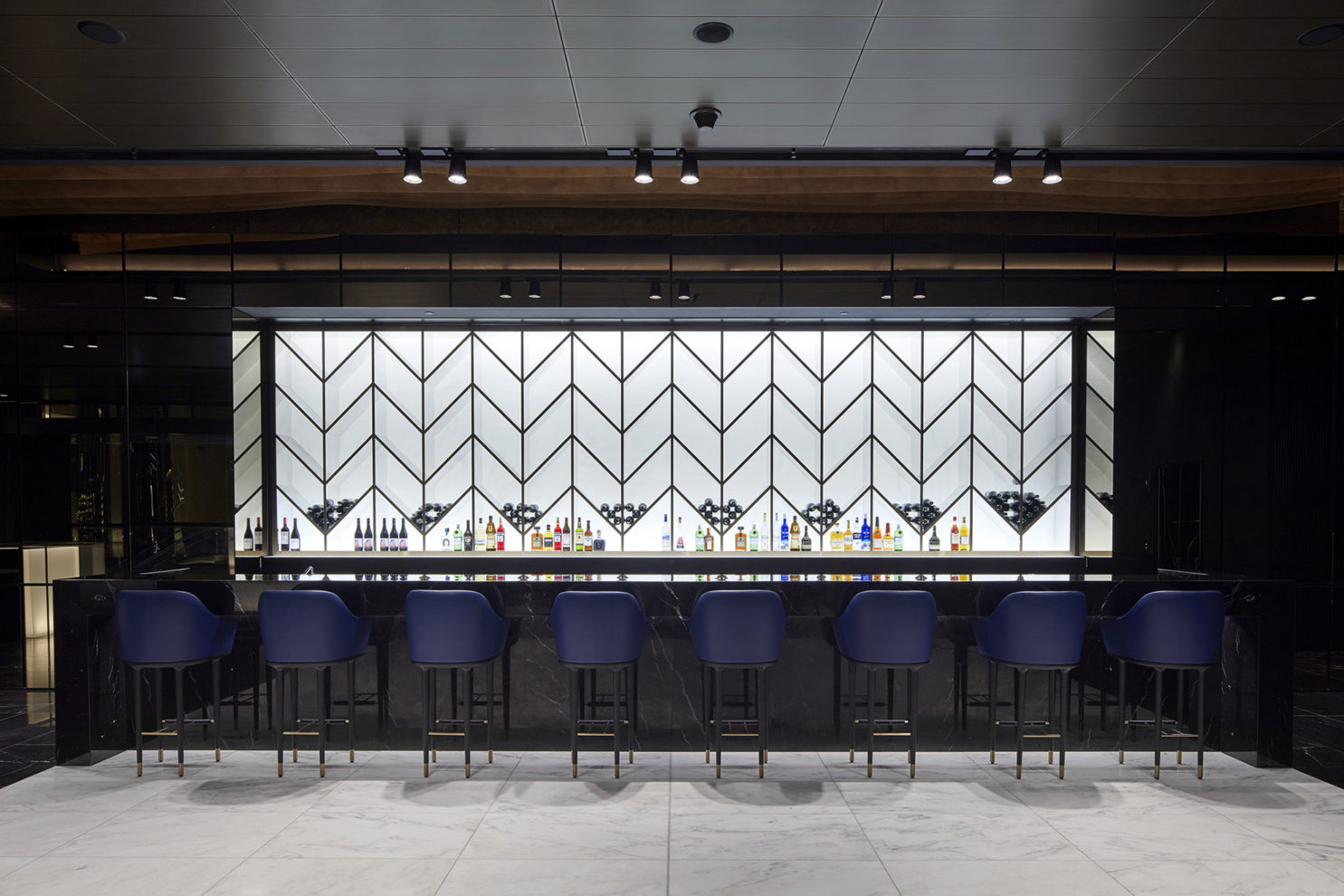 The Collins Square model, developed by Walker Corporation, sets a new benchmark in shared services. The model allows occupants to focus their tenancies on spaces that have high utilisation while maintaining the capability to hold seminars, business lunches and social functions. In many cases, shared facilities offer services beyond the capacity of an in-tenancy function space, with professional catering on hand to provide for a business' needs when required.
Room to present, meet and entertain is no longer an overhead luxury, but booked and paid for when required. Tenancy costs here are adapting to the pressures firms themselves are experiencing, where traditional fee modelling is very much subject to change.
Across two floors, the centre contains a series of large events and seminar rooms that have a dynamic architectural composition. Responding to the city landscape, the rooms are impressive both in terms of scale and aesthetic. In addition, the Centre includes a café and bar area, a lounge/pre-function space and back-of-house facilities.
Meeting rooms are set up with food and beverage amenities prior to each appointment. Connectivity again takes absolute precedence. Throughout the shared spaces, technology is integrated into every room. Individual tenant servers can be brought up immediately, providing swift access to files and communications. Despite being a shared amenity, the environment is designed to be a seamless extension of the tenant's workplace – where meetings are genuinely supported – rather than distracted by technological aids.
The centre has evolved through an ongoing demand for tenant's needs for flexibility and space optimisations. By providing these shared facilities on a pay-per-use basis, the Collins Street Events and Business Centre enables tenants to minimise their fitout costs and have total flexibility in how they use front-of-house facilities as organisational needs change over time.