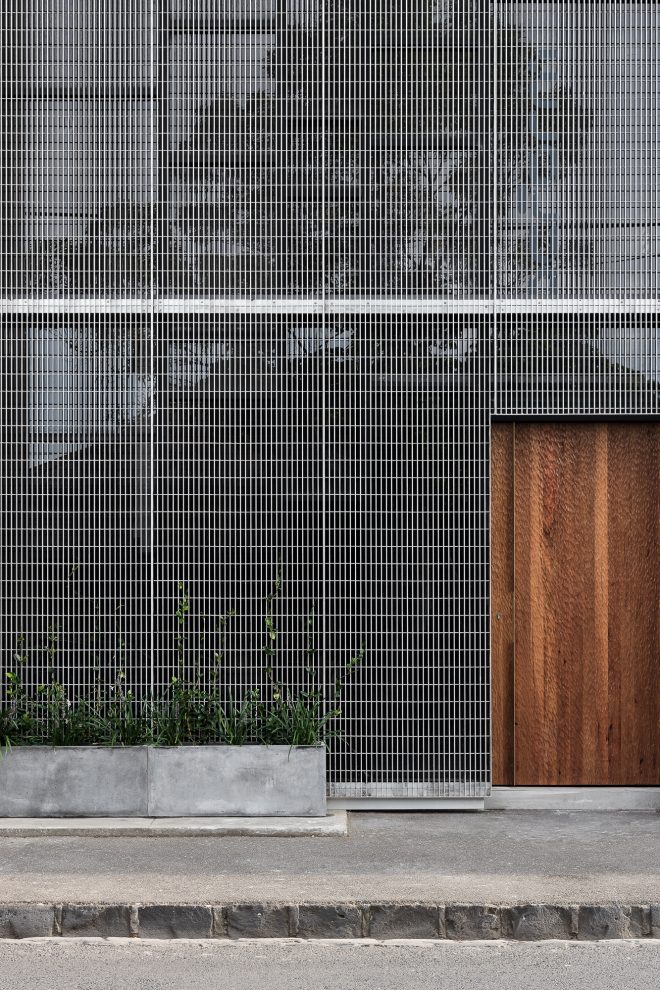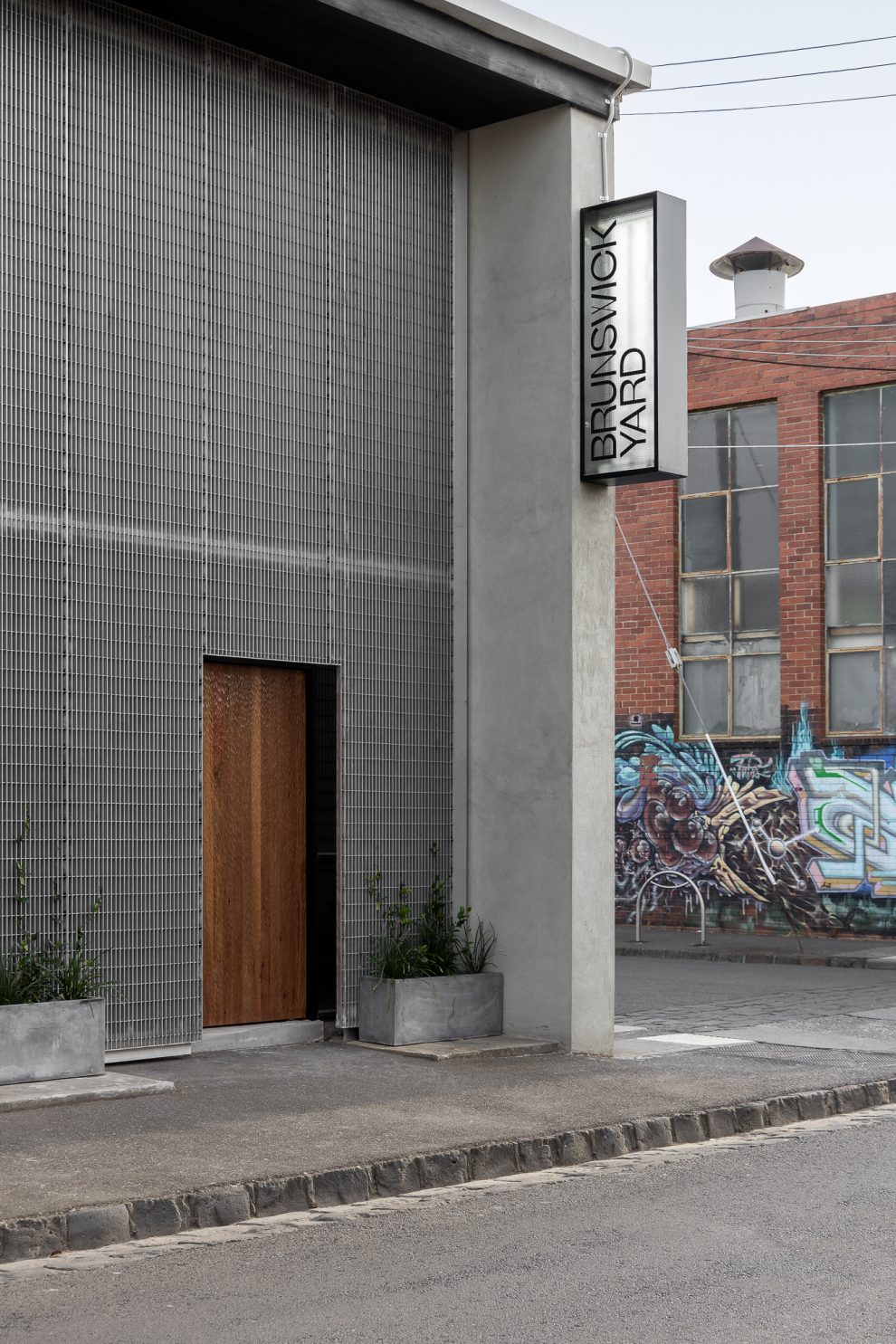 Set on the site where the 122 residences will be built between Brunswick train station and Sydney Road; the Brunswick Yard display suite uses the existing warehouse building as the shell for an experience-led retail sales display offer.
Drawing from the strong context of art and making within the suburb of Brunswick, the display suite is conceived as a gallery-like space. Potential owners meander between a series of deconstructed rooms with spaces defined by layers of sheer curtaining. Given that the space is large and cavernous, it has been broken down to a more intimate but no less dramatic scale through a series of fabric to contain the suite.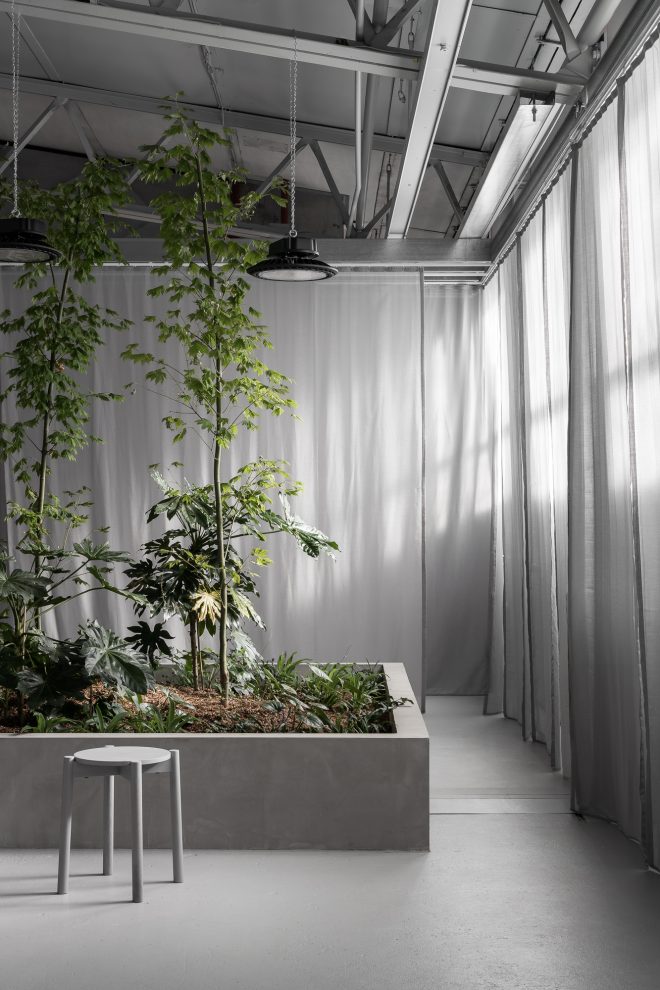 The base of the warehouse architecture is celebrated and unified with a consistent hue. Soft greys are layered across walls, floors and ceiling, further accentuating the inherent features of the warehouse with its clerestory windows. Together with the grey-curtained rooms, the warehouse forms a backdrop to insertions such as podiums and rostrums, offering an installation-like effect for the display of art, a model and materials.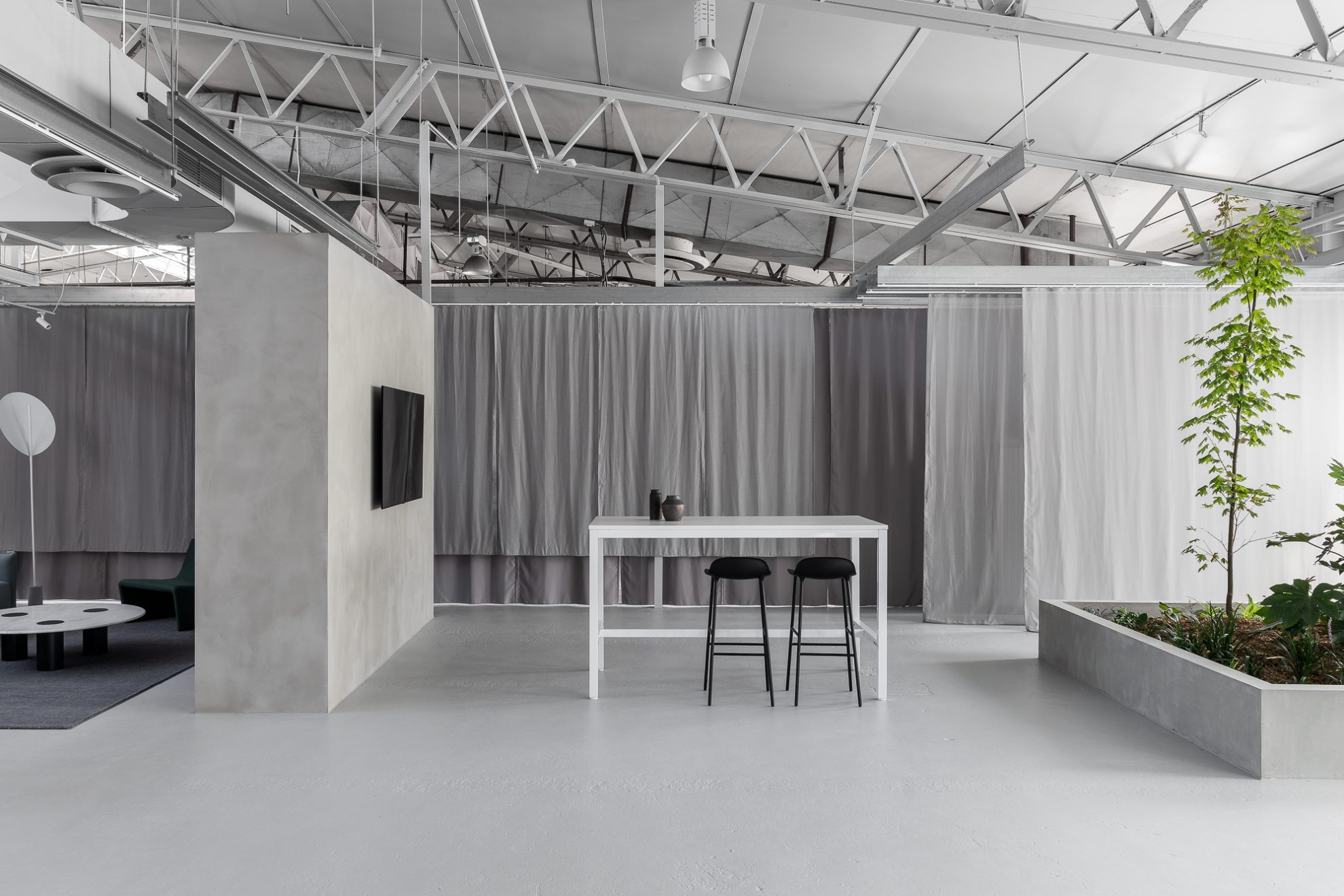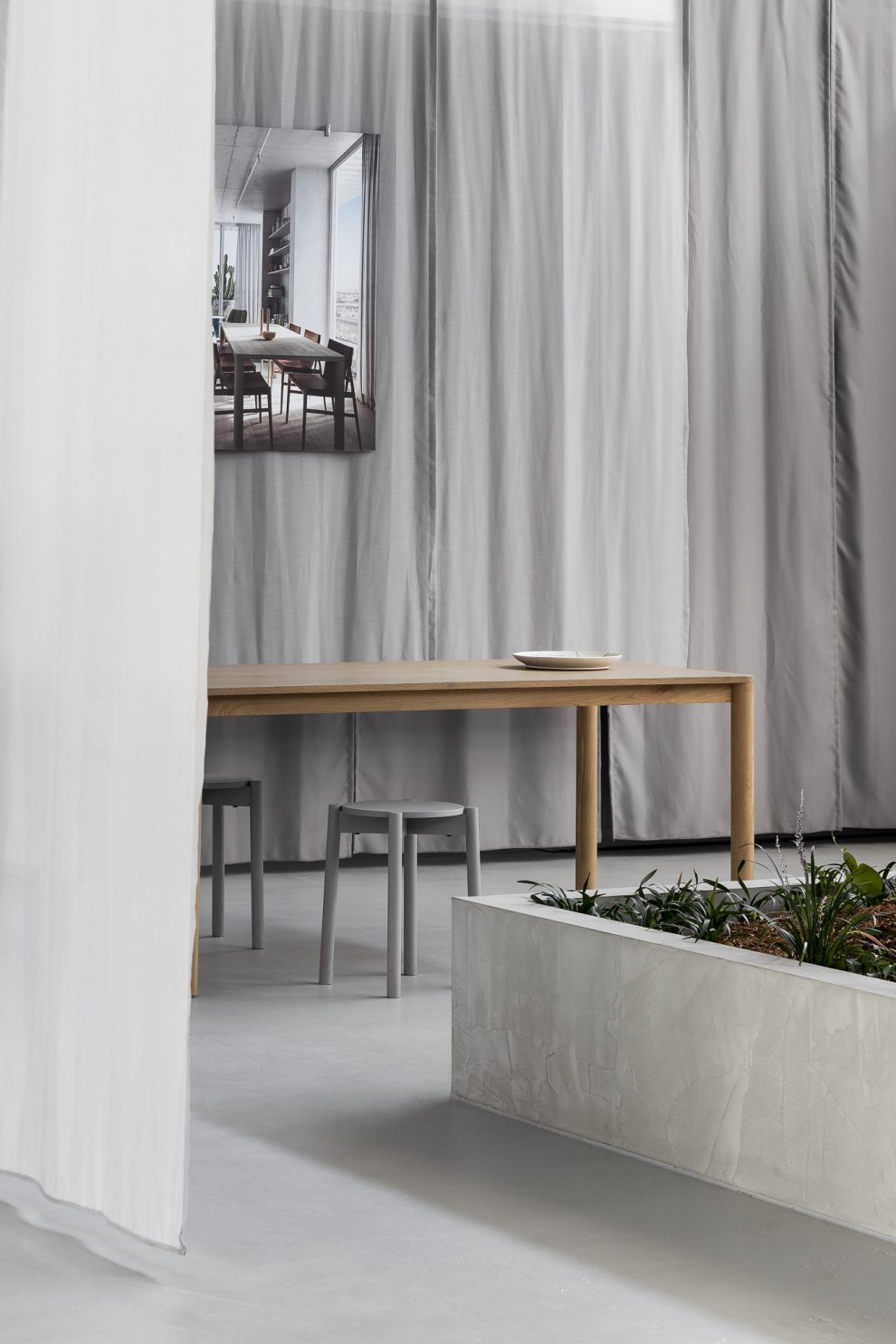 With vast apartment variability and views in the project, the display suite breaks down component parts to show the flexibility in a more holistic manner. A non-prescriptive approach allows potential buyers to envision their own life. Kitchen, living and bathroom modules sit perched on podiums, as a deconstructed installation to highlight the core components of the architecture and interior design.
Potential buyers can journey through the space but are not limited by the ways in which it was been zoned and demarcated. Sheer curtains, detailed as flat Toji-like screen panels obscure without blocking, allowing users to take in the periphery. Panels rise to a consistent height datum, referencing the proposed ceiling heights of Brunswick Yard, while some lift off the ground to offer a glimpse out to the space beyond.
Key components and ideas that are intrinsic to the design of Brunswick Yard are presented in an abstracted form throughout this display suite. Here, planted areas are a nod to the extensive landscaping of the courtyard and building planters proposed, while the distinctive mesh detail has been incorporated to the exterior, signifying the entrance to the space. Ceramic works from local studio SoCA are exhibited, alongside artwork by Modern Times and plants supplied by Plant Charmer.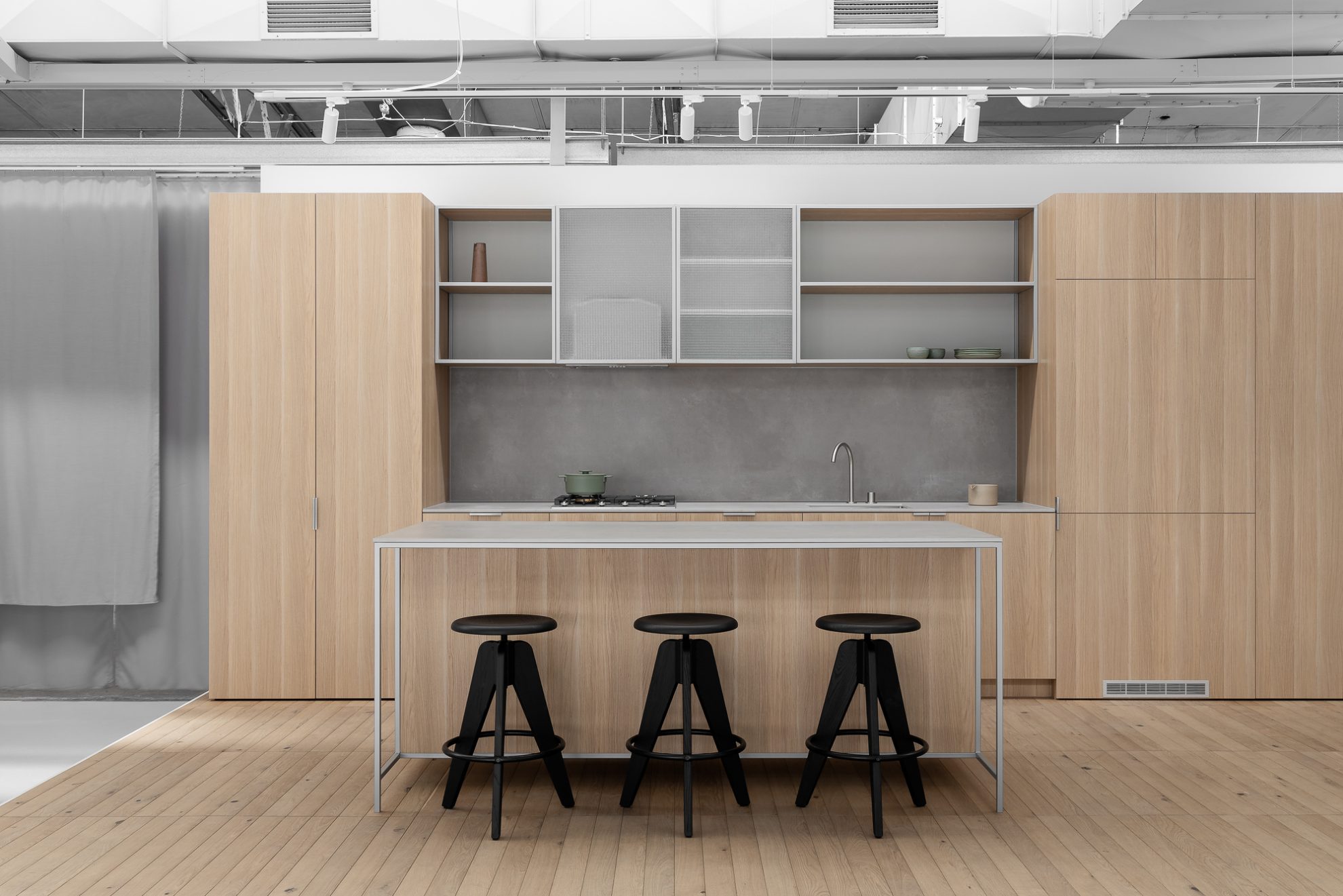 The display suite for Brunswick Yard uses experiential design to bring potential buyers on a journey. Through abstraction, implementation of detail, scale and nuance; the space reinterprets a traditional retail sales display into a unique buying experience.