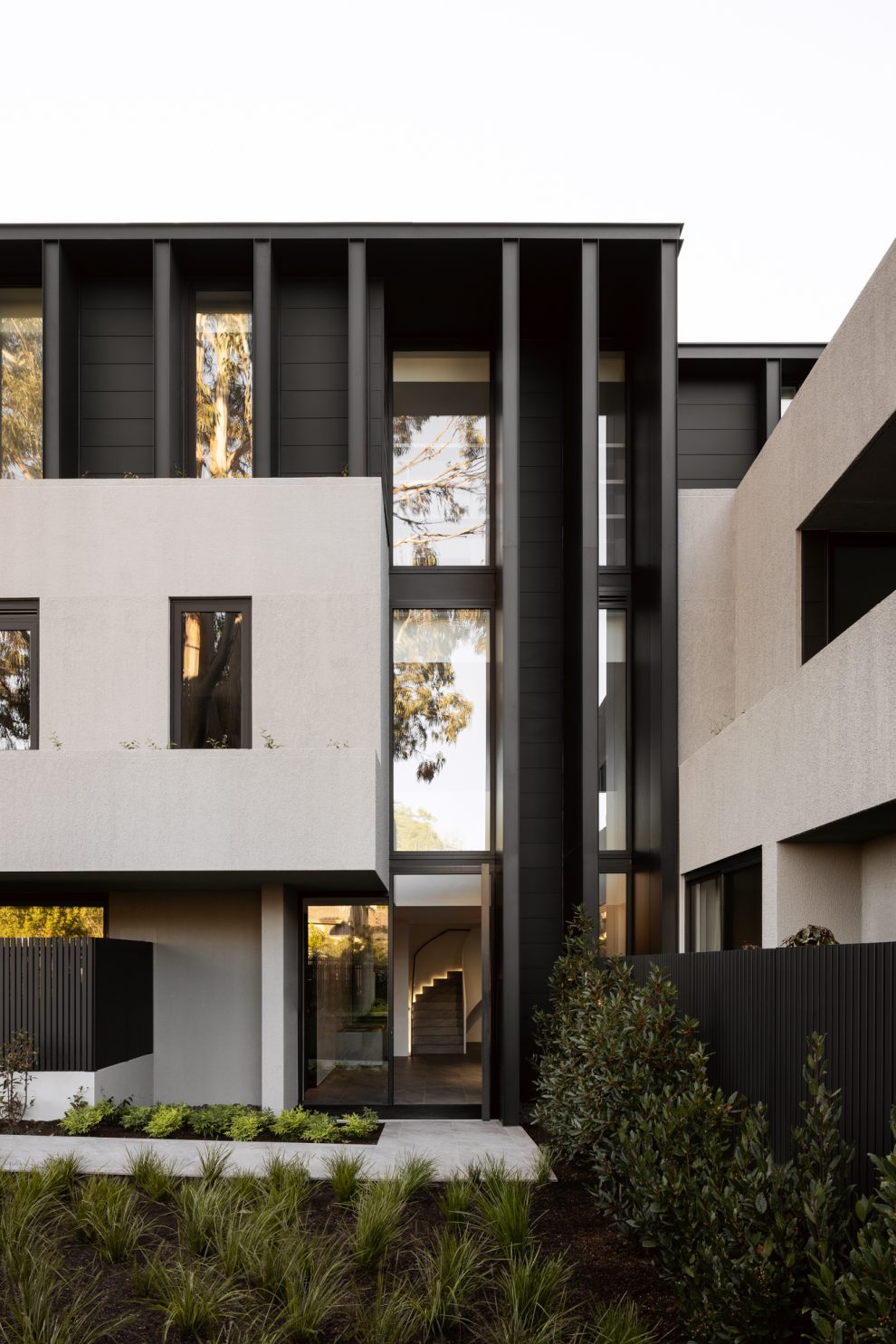 Sitting across a large corner site in Melbourne's Camberwell, Victoria & Burke brings a strong monumentality in its form, softened by generous greenery, all centred around a historic gumtree.
"The site wraps around this huge tree, which created a great opportunity to get a horizontality to the building form. It also means there is a large percentage of garden area, something that is quite rare and offers something completely unique to the project," explains Chris McCue, Director.
The concept of blending horizontal and vertical forms and materiality comes back to the surrounding urban context, drawing on the grand Victorian houses along Victoria street, as well as mid-century dwellings from the broader Camberwell precinct. The existing context also plays into the materiality, with the rough stucco used as a reference to both a Victorian-era palette, and the more common 1930s bungalows.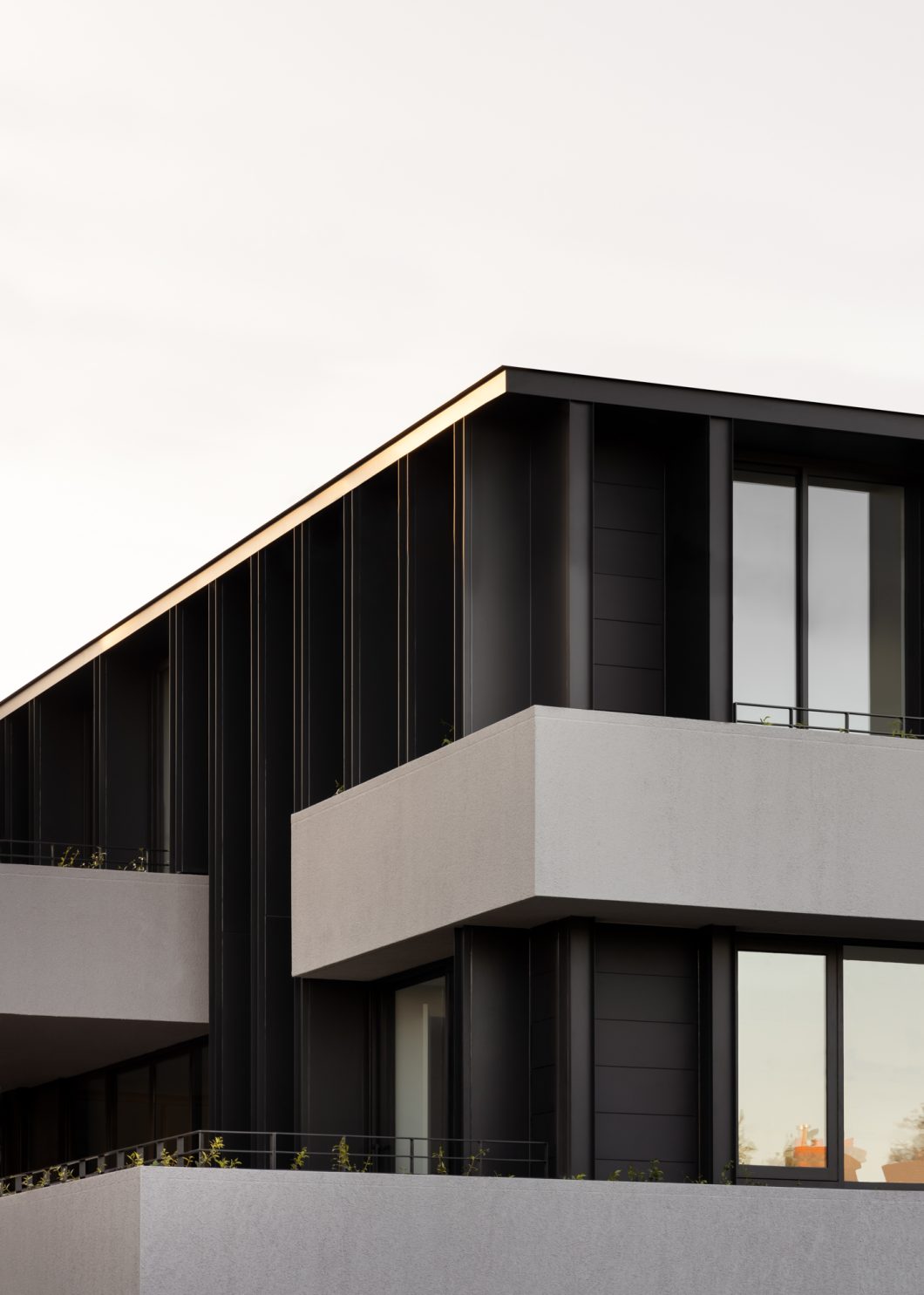 Along the façade is a rhythmic series of black metal vertical blades. Not only do these add to the conceptual expression of form in the architecture but they offer a practical solution to the need for sun shading while controlling views for privacy.
The apartments are planned across three levels with the ground floor encompassing larger square-meterage, plus garden spaces. The first-floor apartments are smaller in size but still bring in considered detailing and planning to ensure liveability, such as stepped balconies for open views, and floor to ceiling glazing. The top floor features the penthouses, with views across multiple aspects including back towards the city.
For Victoria & Burke, Carr offered their invaluable support during the sales and marketing campaign, which was particularly challenging due to interruption caused by Melbourne's numerous lockdowns. Their calm and patient approach, coupled with timely responses, clever value management and robust design excellence led to happy clients and great design outcomes. This is what keeps me coming back."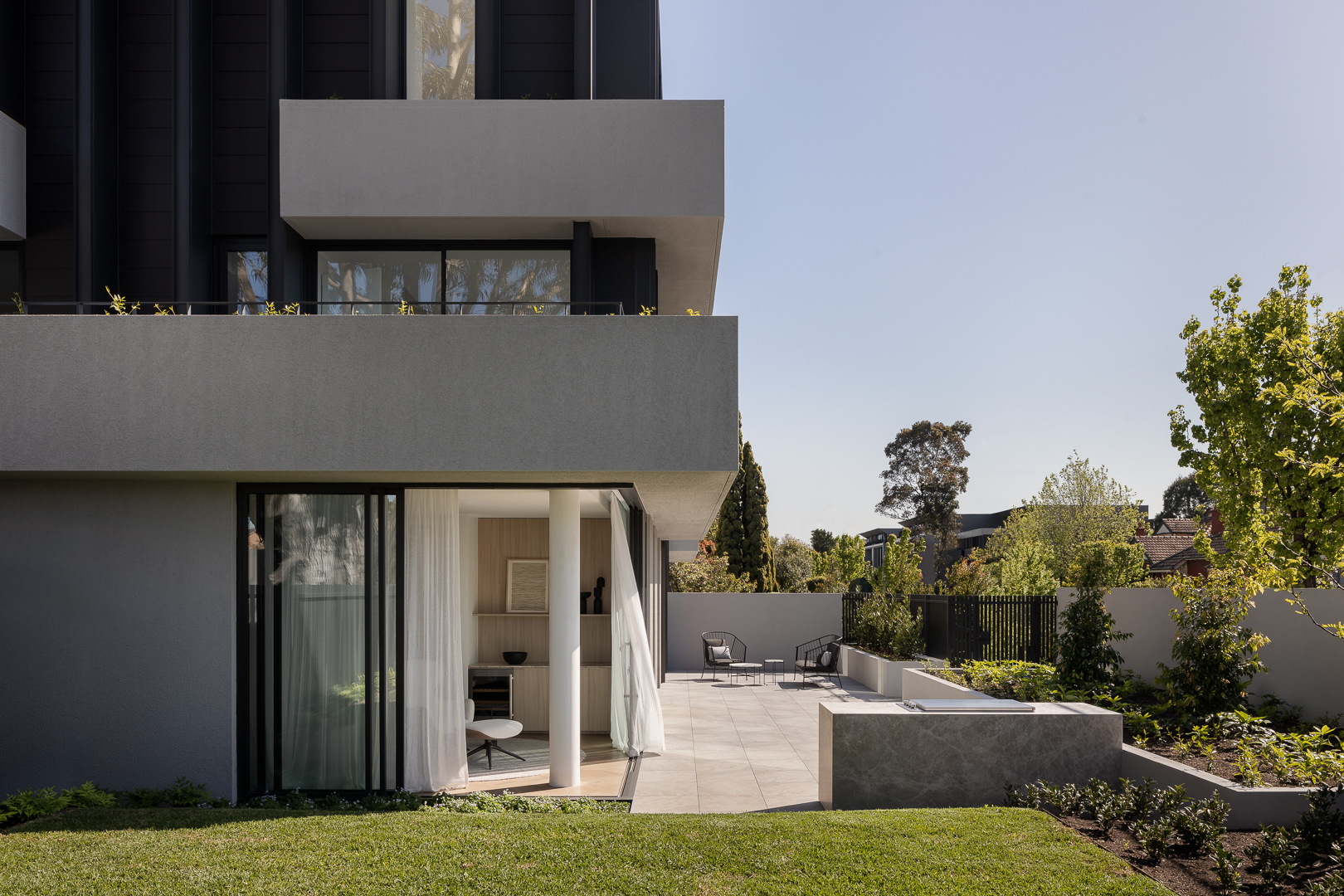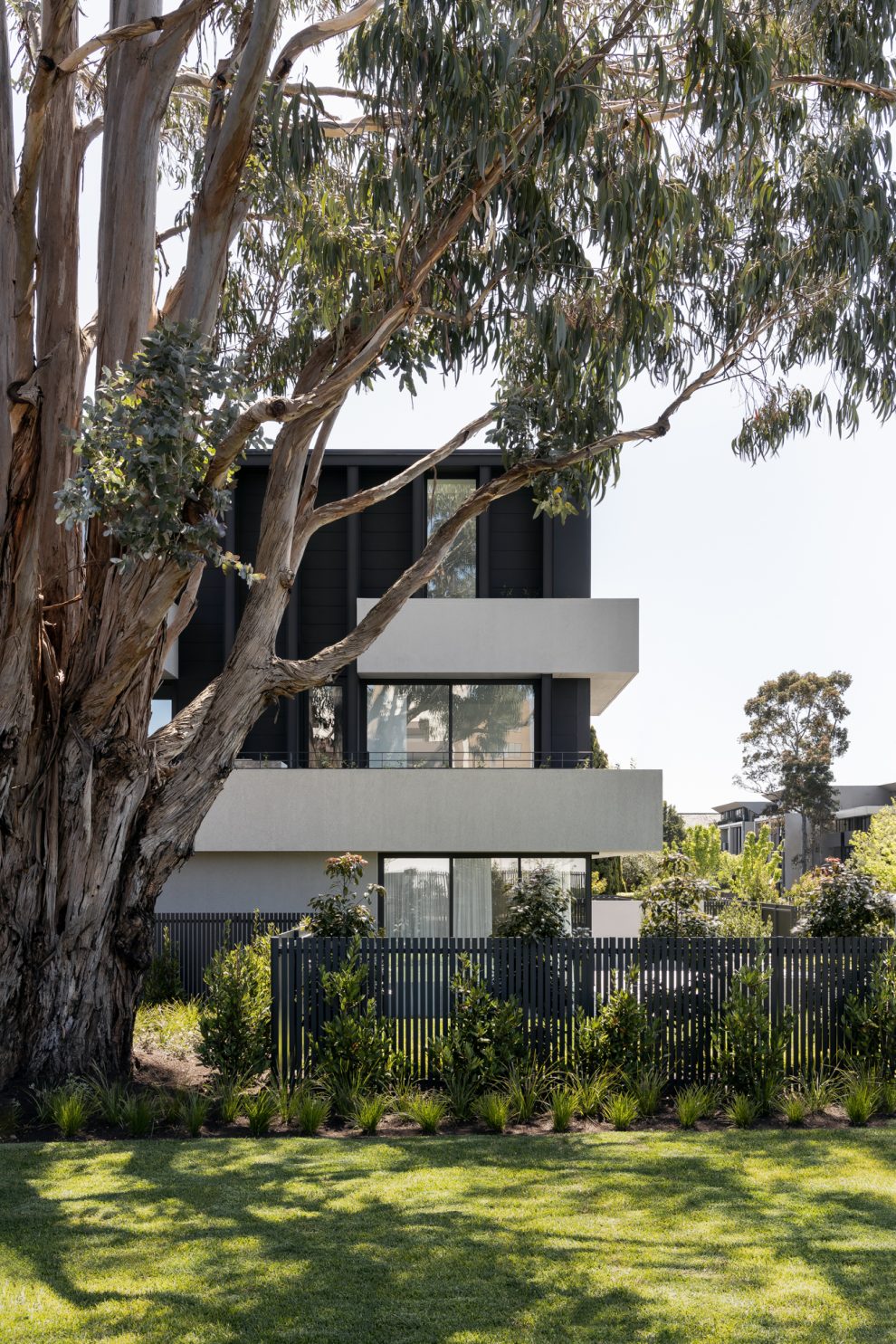 The main entrance for residents brings them on a journey traversing a large communal garden, which is strikingly punctured by the canopy of the gumtree. Landscaping by Jack Merlo complements the drama of the old tree. The brief was about layering the landscaping against the building with planters so that the foregrounded interior view is softened by greenery.
Working from the outside in and inside out, most of the apartments at Victoria & Burke feature dual aspects, offering natural cross-ventilation and light alongside ceiling heights between 2.7-3 metres.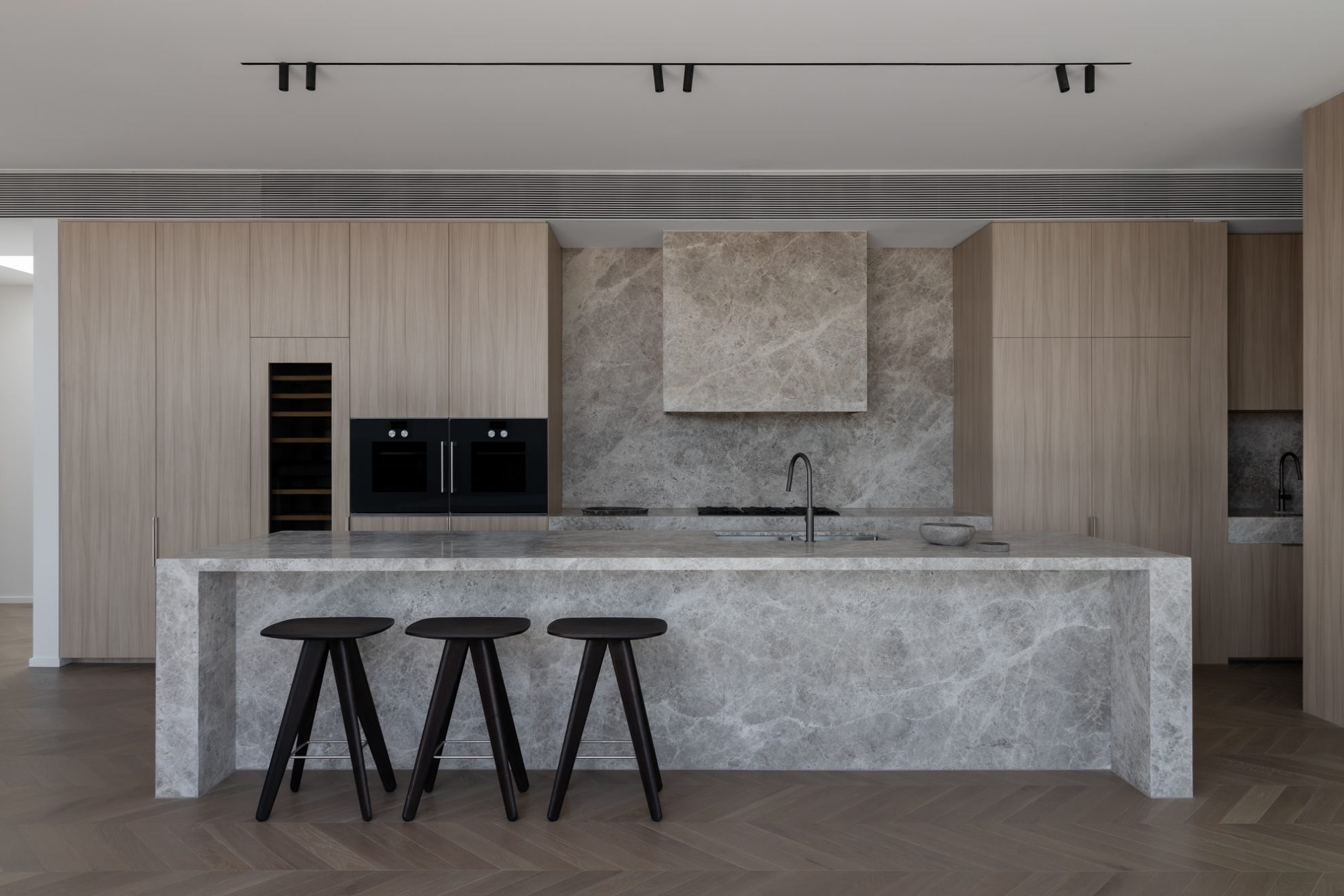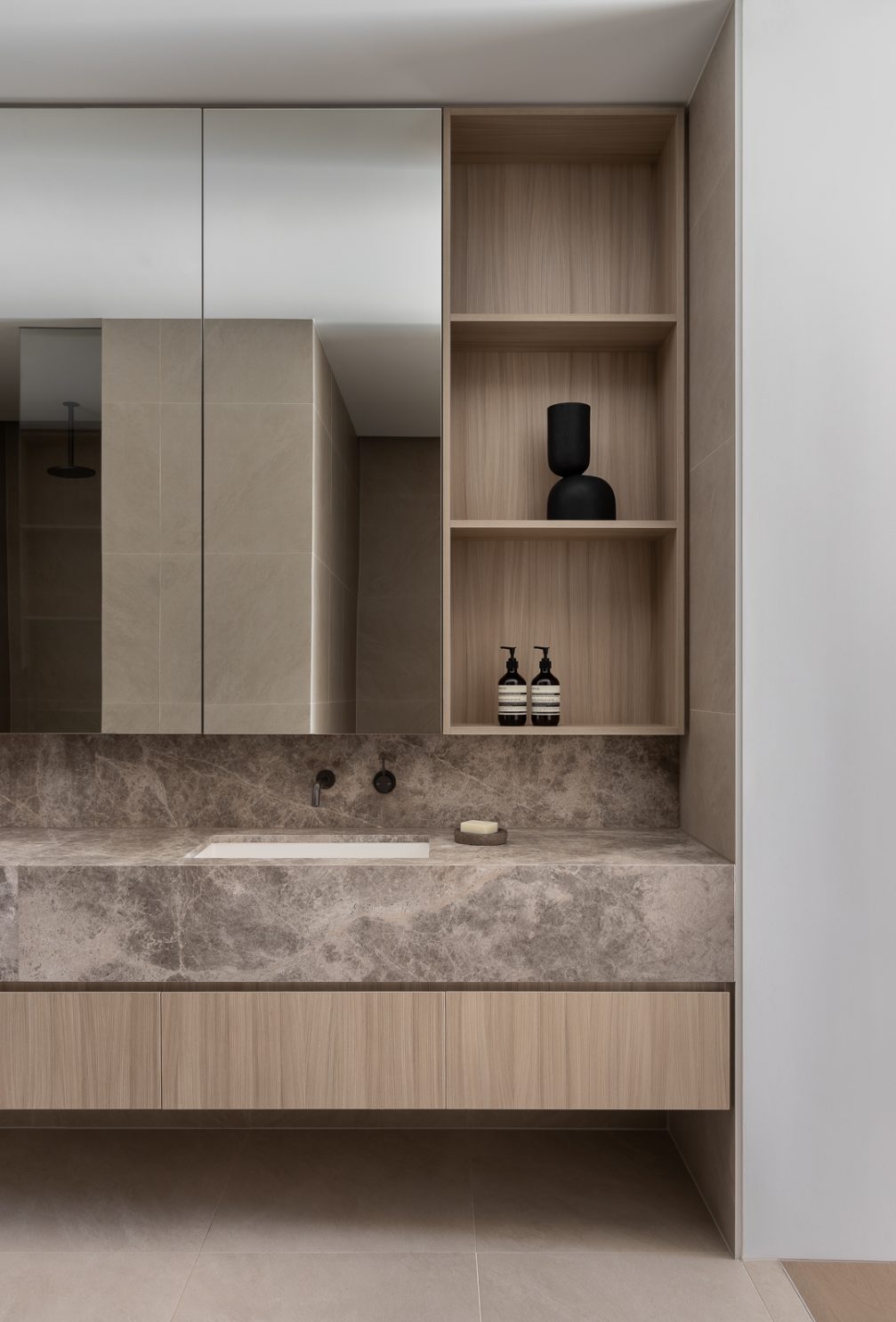 Internally, each apartment has been designed to bring a sense of spaciousness and liveability. Catering to the downsizing market, these residences are planned more akin to a single dwelling as opposed to an apartment. Following this approach, the living areas extend out to encompass dining, kitchen and scullery with European oak cheveron timber flooring throughout. An adjacent secondary living space creates a quieter place of respite for reading or escape. This space can also be utilised as a dedicated study or work from home area.
Gunmetal finish tapware from Phoenix is used throughout the bathrooms and powder rooms, and sit alongside tiles from Signorino and timber joinery.
Victoria & Burke is a unique project defined by its site but enhanced through a considered architecture and design response.