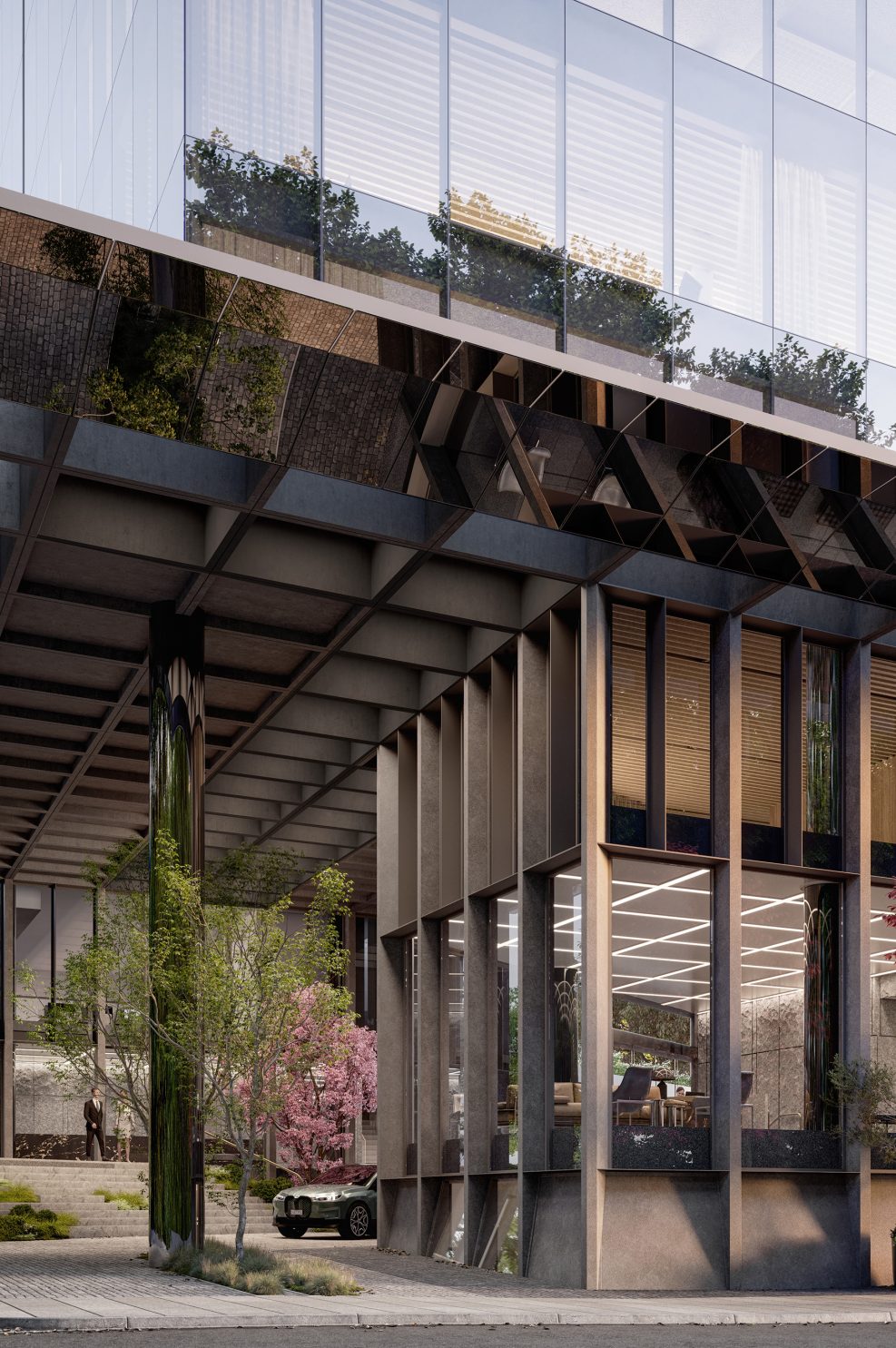 Situated off Toorak Road and tucked behind Chapel Street in the heart of South Yarra's shopping district, the main entrance is accessed from River Street. Offering over 7,000 square metres of net lettable area over nine levels, 10 River is an exclusive office building founded on flexibility, convenience and elevated luxury. Instrumental in guiding the brief, Carr undertook market research to identify unique positioning for 10 River's tenant profiling. This formalised the project's overall level of design quality and amenity, resulting in a clear set of design guidelines.
The street level is defined by a heavy, darkened sandblasted concrete podium capped by a black mirrored canopy that reflects the street's activity and the trees below. The use of weighty materials solidifies the building, offering a sense of permanence and arrival.
While the building's formality and detailed finishes would have it sit comfortably along Melbourne's Collins Street, as just a nine-storey building, 10 River clearly distinguishes itself from the CBD's soaring skyscrapers and office towers. From the west, the tower is defined by a curtain wall of folded glass creating a dynamic articulation of light play. Conversely, the u-shaped form to the eastern side is made up of stepped terraces that work to blend the building into the lower-rise character of South Yarra, while simultaneously offering views out across south-eastern suburbs.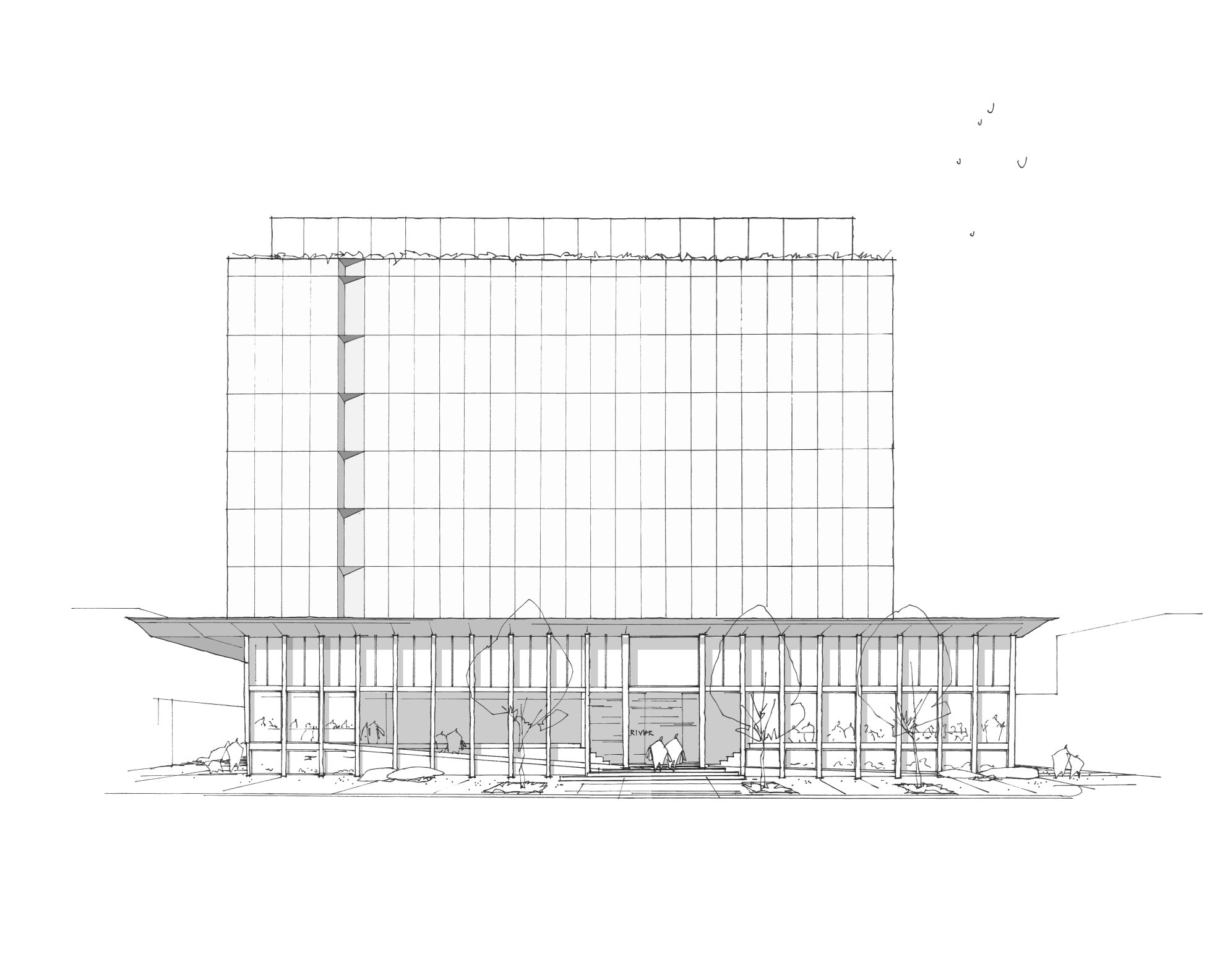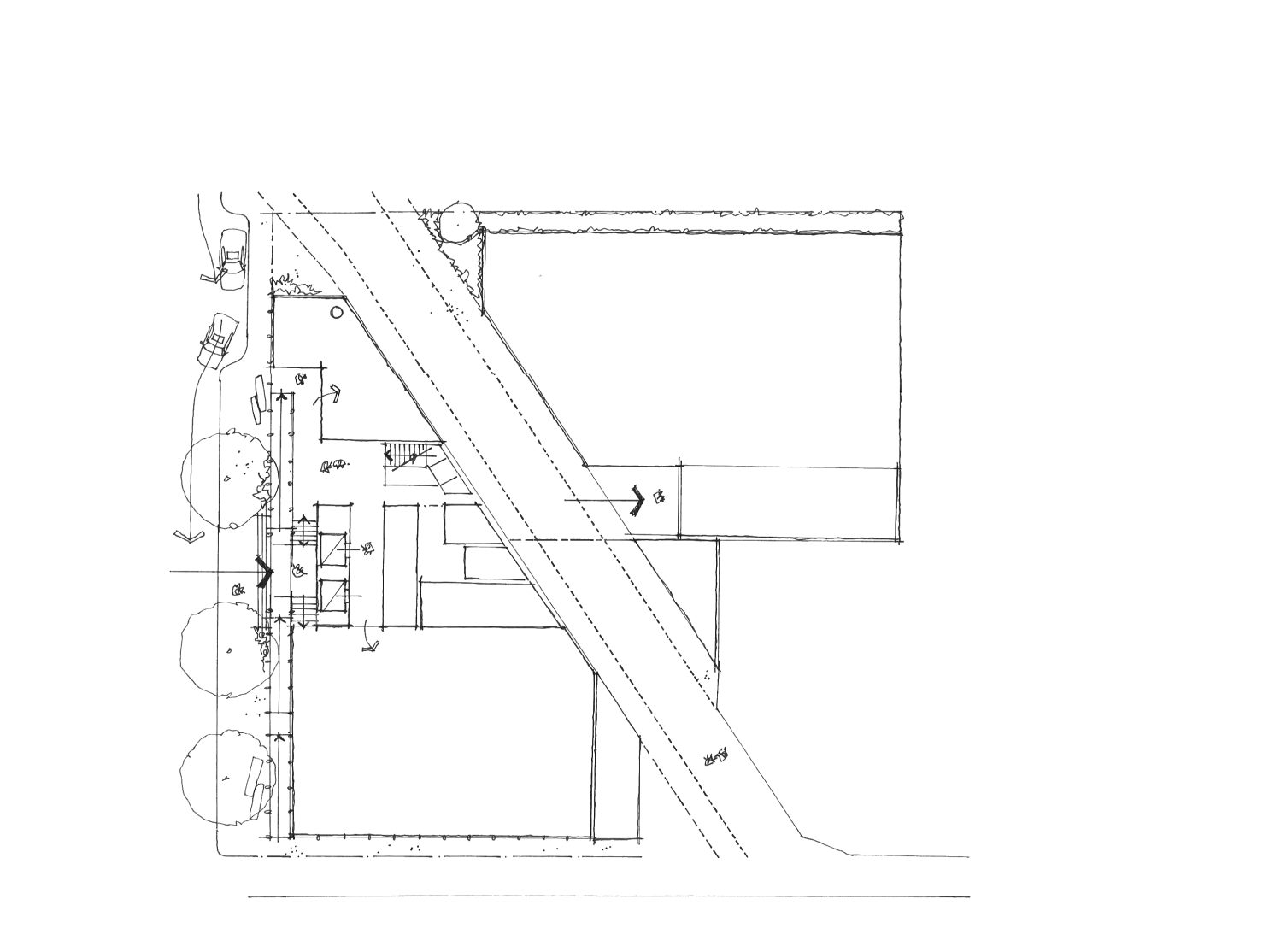 The site for 10 River is dissected by a diagonal easement, splitting the building's first two levels in half. Carr's architectural and interior design response has harnessed this unique site feature by creating an exclusive porte cochere and secluded secondary entrance along the easement. Catering for an exclusive tenant profile, this feature allows tenants to enter the building discretely with the added convenience of valet parking.
The architectural and interior design language is strongly aligned, working harmoniously when transitioning between the exterior and interior spaces. The lobby design continues the dark, reflective and moody colour palette through the spaces with textured stone, pared back materials and hints of bronze detailing. Classic furniture is positioned along the glazing overlooking the tree canopies offering the feeling of sitting among nature. The sophisticated lobby and journey between spaces is carefully curated with artworks, reflective plains and feature lighting that illuminate details and guide passageways.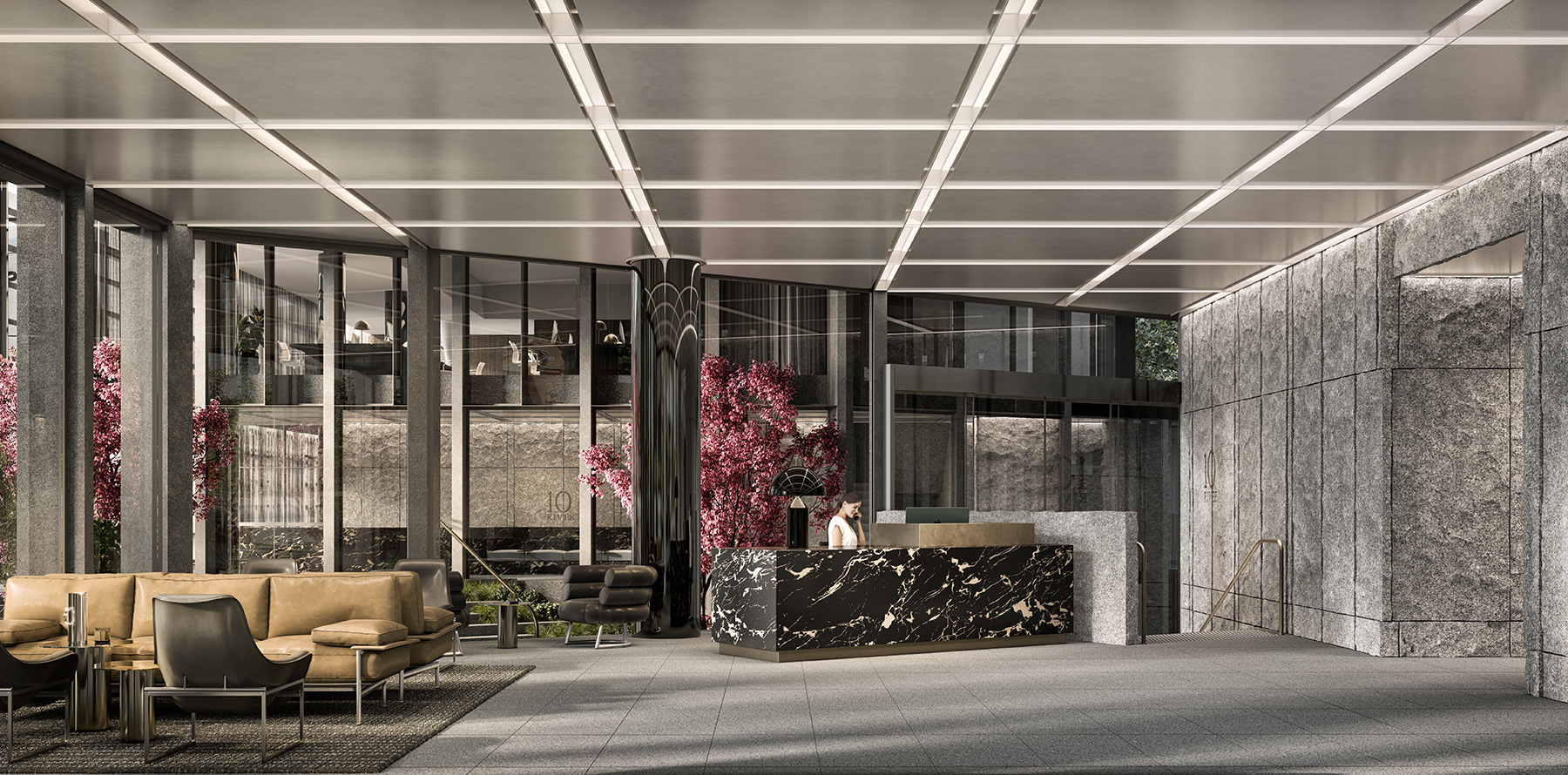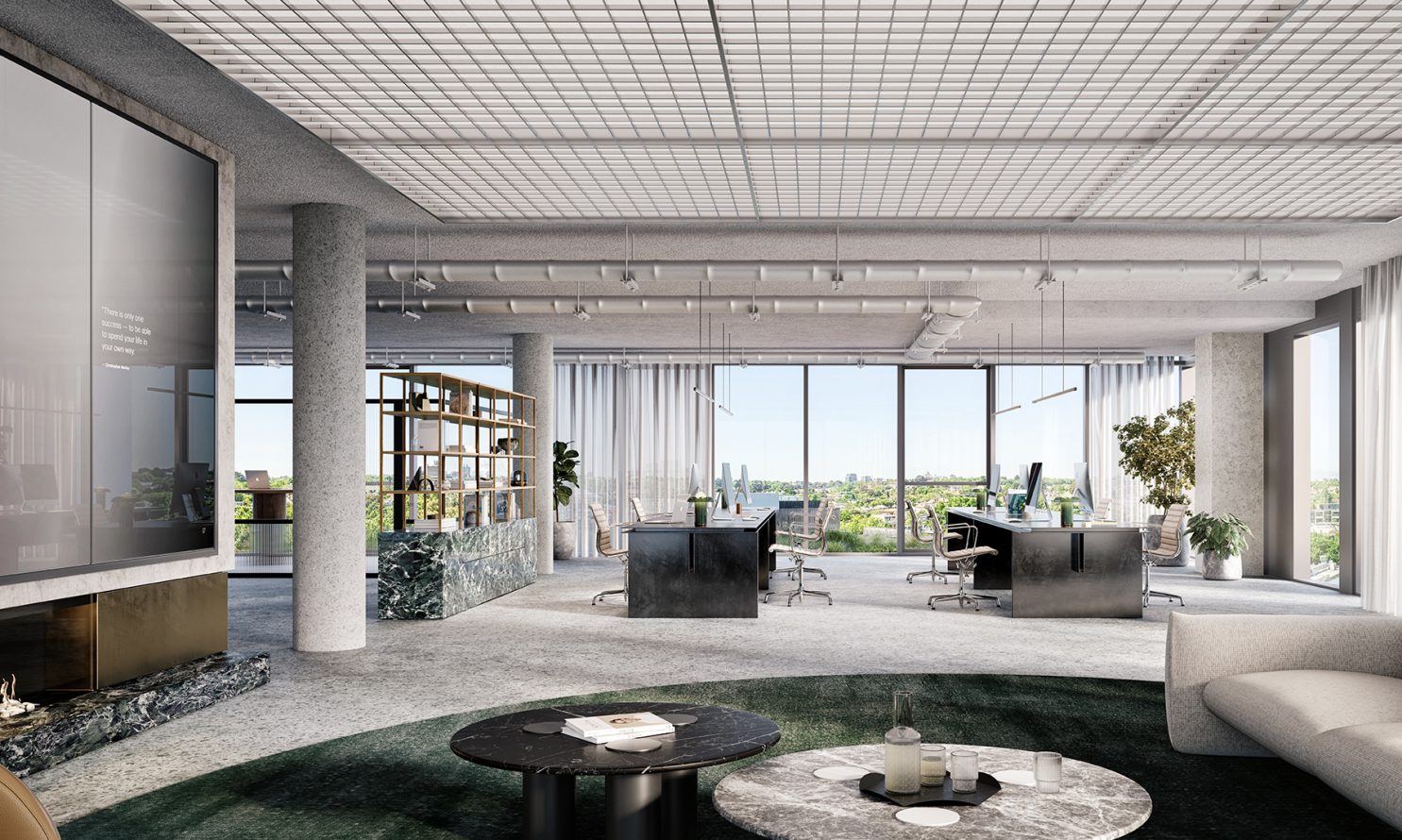 The office levels maintain a simple design to offer tenants a wide degree of flexibility and customisation – features that are fundamental to workplaces of today. Each level prioritises biophilic design principles, including access to natural light and ventilation, as well as access to landscaped outdoor space via terraces and Juliette balconies. Applying features found in one's home, the windows are fully operable, allowing tenants the flexibility to open them as they need. In the post-pandemic era, these benchmark qualities strive to entice people back into the office by creating comfortable and safe environments.
Continuing the elevated offering, tenants have access to a full suite of amenities, including end of trip facilities and luxuriously appointed bathrooms. The bathrooms ensure a high-level of comfort level through full-height privacy partitions, soft lighting and spacious planning.
The design for 10 River sees the unification of architecture and interior design principles to offer a high-end workplace for like-minded businesses and organisations. The design experience sets itself apart through its commitment to convenience, luxurious materials and hotel design principles.