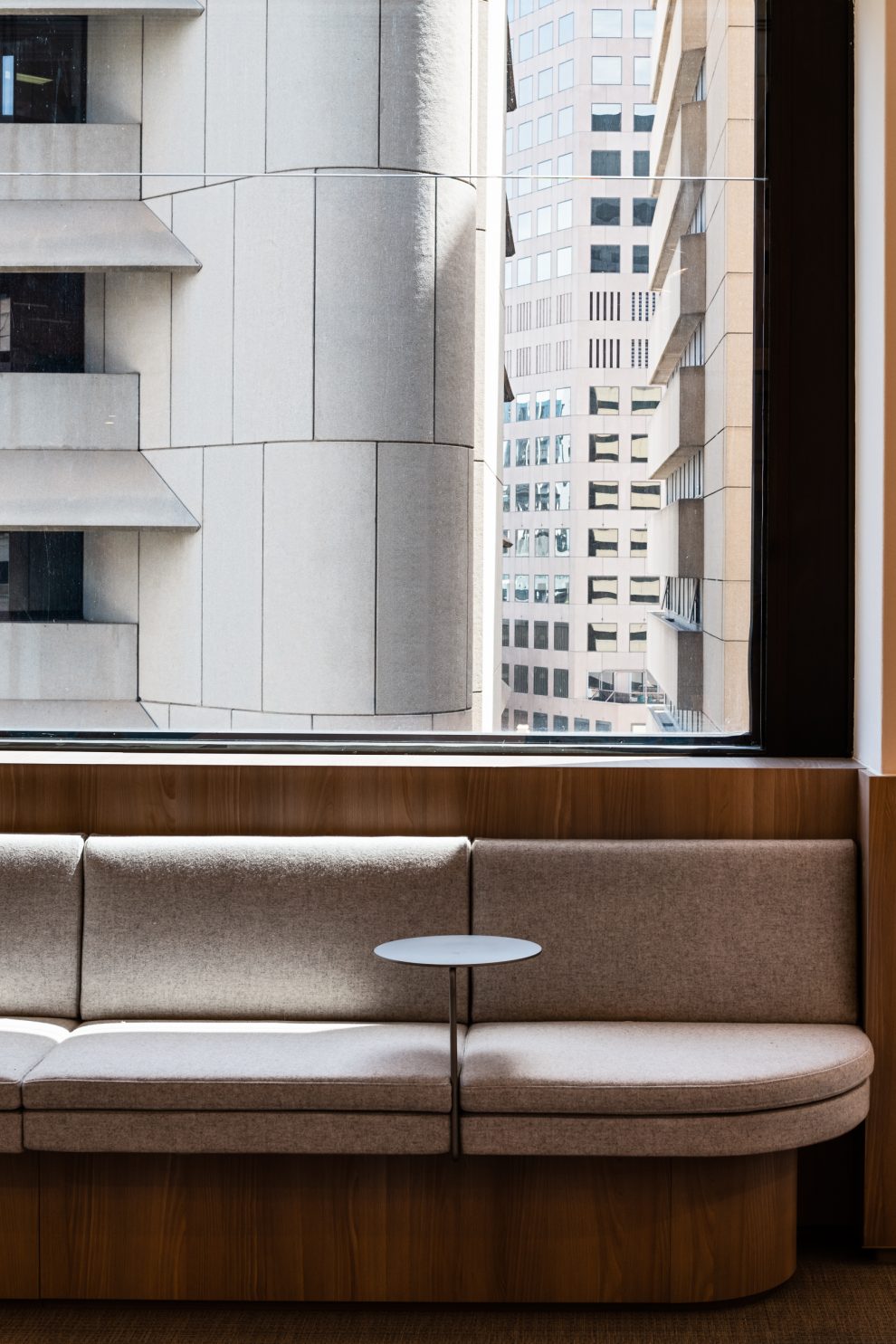 Having previously worked with MinterEllison on their Melbourne workplace redesign in 2020, a smooth and efficient approvals process was achieved throughout the project duration. Various internal stakeholder workstreams were consulted during the design development stages, allowing Carr to establish an informed and strategic brief that reflected the entire business's needs.
A clear design language was discovered during these sessions, which anchored on creating a space that was timeless, consistent, open and contextual. Capturing and referencing these concepts through each design decision led to a robust built outcome that pays homage to the essence of MinterEllison as a national, top-tier law firm – as well as the office's position among some of Adelaide's most treasured Brutalist buildings.
Located among Adelaide's well-known Brutalist buildings, MinterEllison's new workplace pays homage to its surrounding context with framed views out and interior references through materiality and form."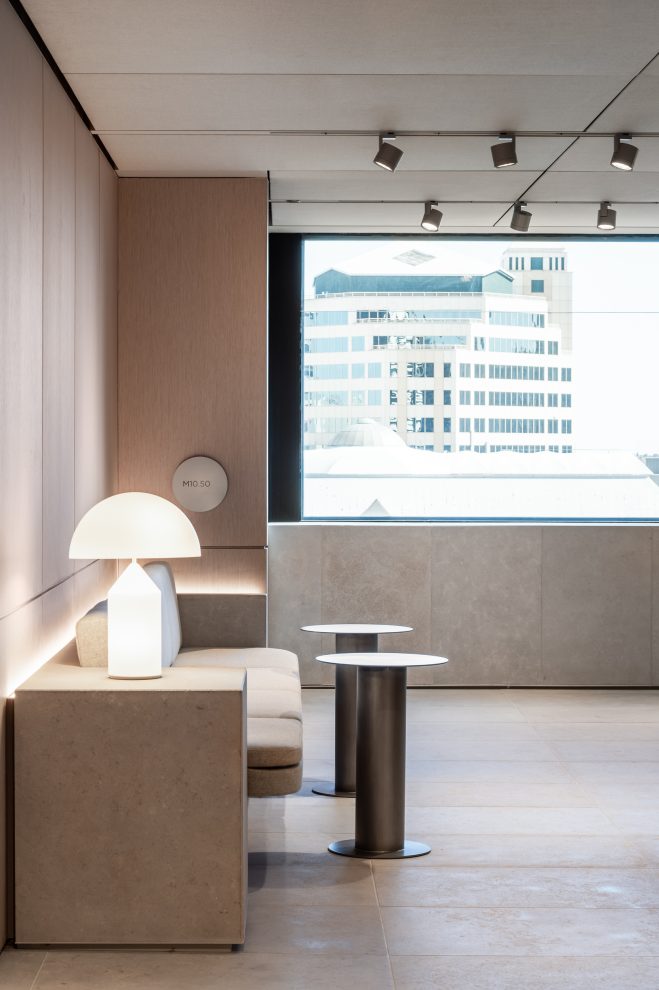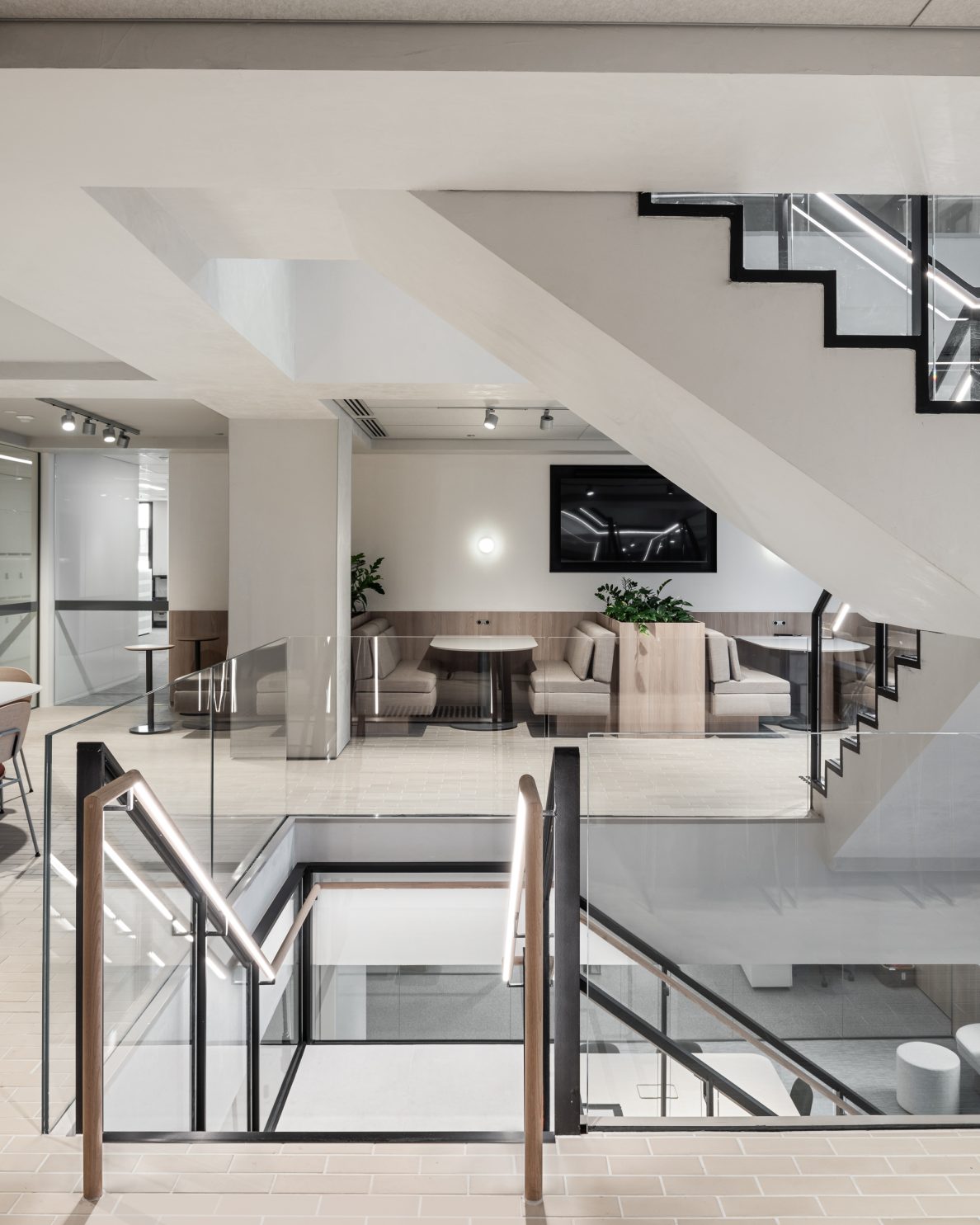 Clients and employees alike enter via the client floor on level 10 and are met with frames views across the lobby. Creating ties back to Adelaide's city grid are referenced through the framed angles and formal floor planning. The open and light space has been created by adding a popup ceiling recess with concealed LED lighting. This, along with the selectively placed ceiling mirrors, give the illusion of height despite the low ceiling.
Working within the confines of the existing building proved challenging and saw Carr creatively find solutions to introduce light, space and harmony across each level.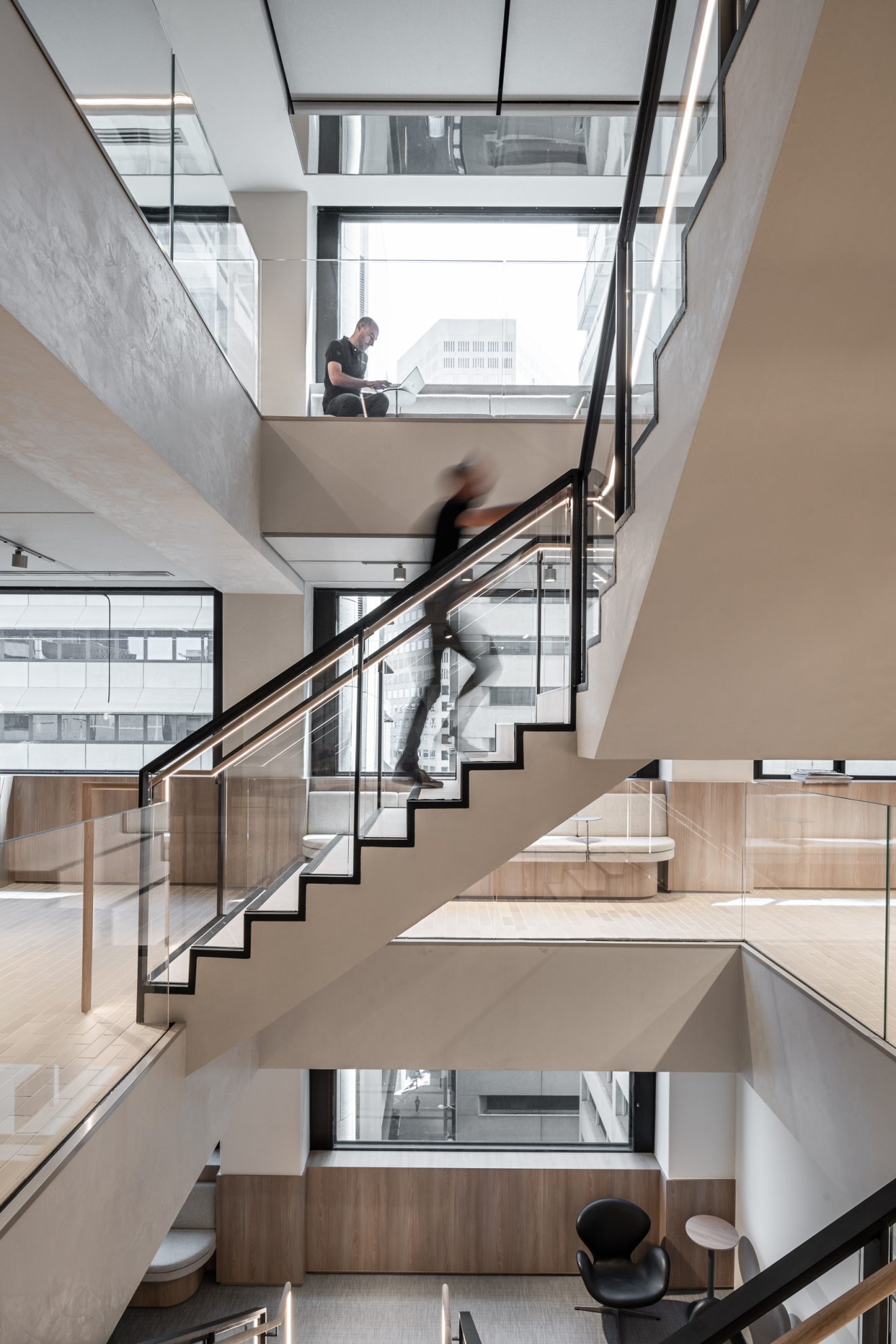 Punching through three floors, a central stair connects the entire office and creates moments for interaction, visibility and activity. The blackened metal handrail contrasts with the overall light material palette defined by sandstone. Locally sourced materials feature across the client floor, including joinery details such as the banquette seats.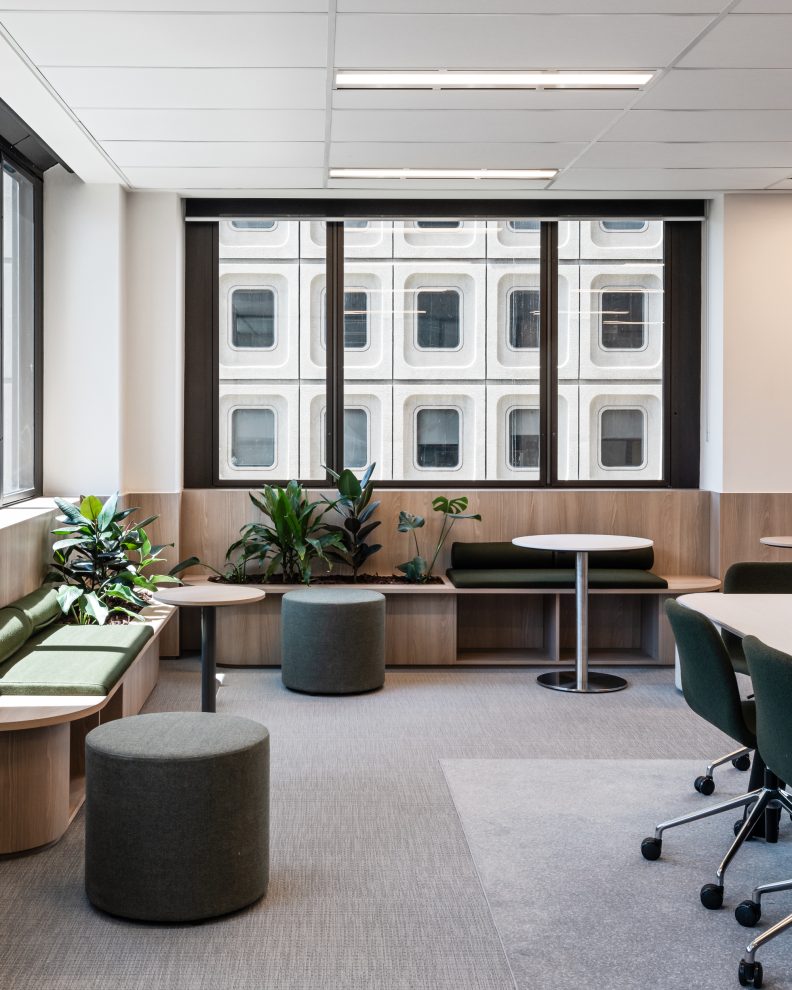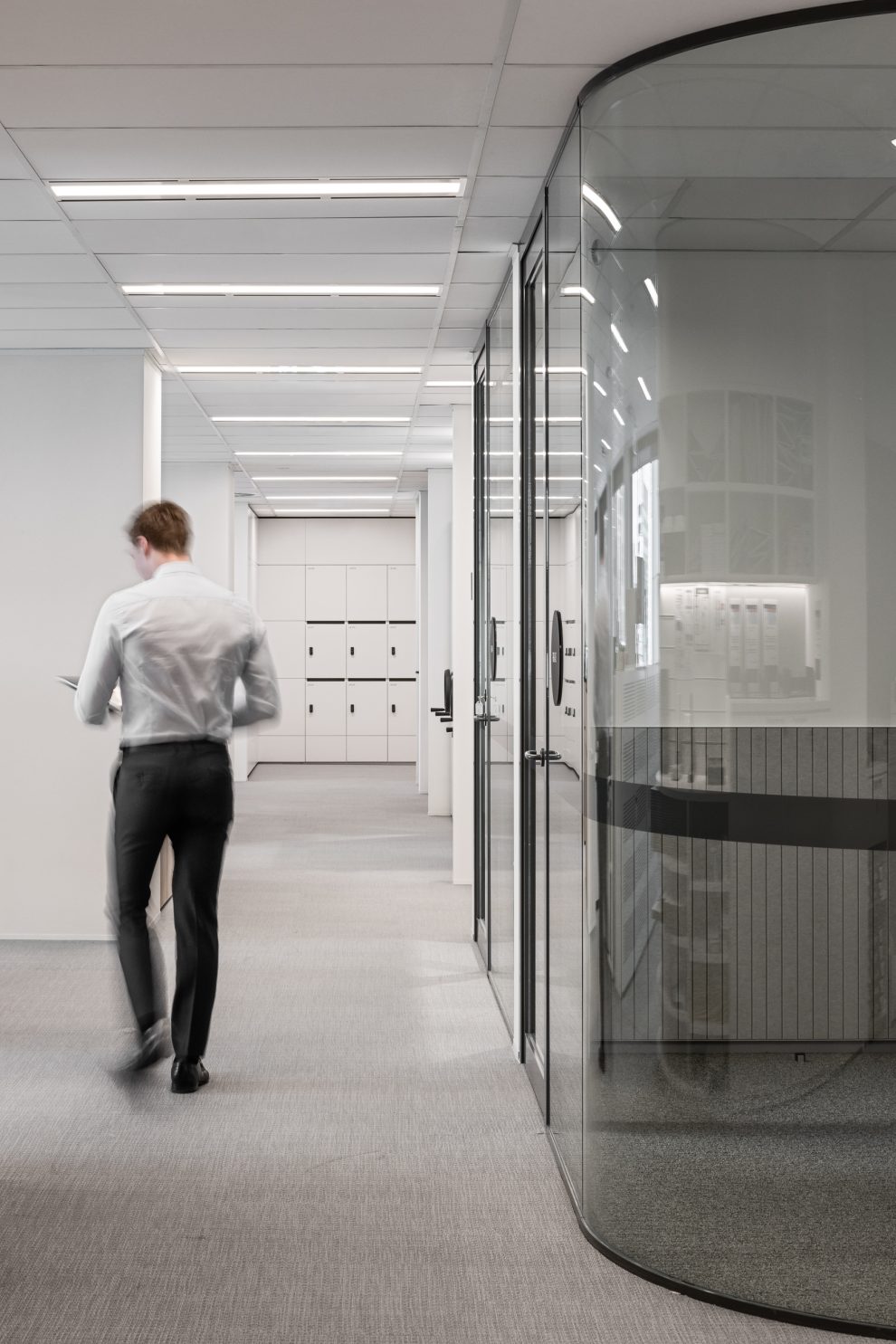 The outdated work floors called for a modernised interior plan and refreshed design language. The segmented partitions and long corridors were removed in favour of an open floor plan with long sight lines.
While partners still retain private offices, the majority of the 145 workstations are now agile, signalling a change in work style. Introducing natural light and finding ways to offer views out for all team members was a priority. Breakout spaces on level 9 offer areas for group gatherings, perch spots and individual work space.
Adelaide's pocket parks inspired small breakout and collaboration spaces shrouded in greenery around the periphery of the work floors and introduce biophilic design principles.
The design outcome is a strong reflection of the key design drivers we developed with our clients. These were timelessness, consistency, context in locality, and the enduring professionalism that is synonymous with the MinterEllison brand."
MinterEllison's Adelaide office creates a refreshed and open environment that invites and connects. Celebrating the city's Brutalist architectural icons, the workspace introduces framed vistas, strong forms, local materials and dark detailing in a homage to Adelaide's context.