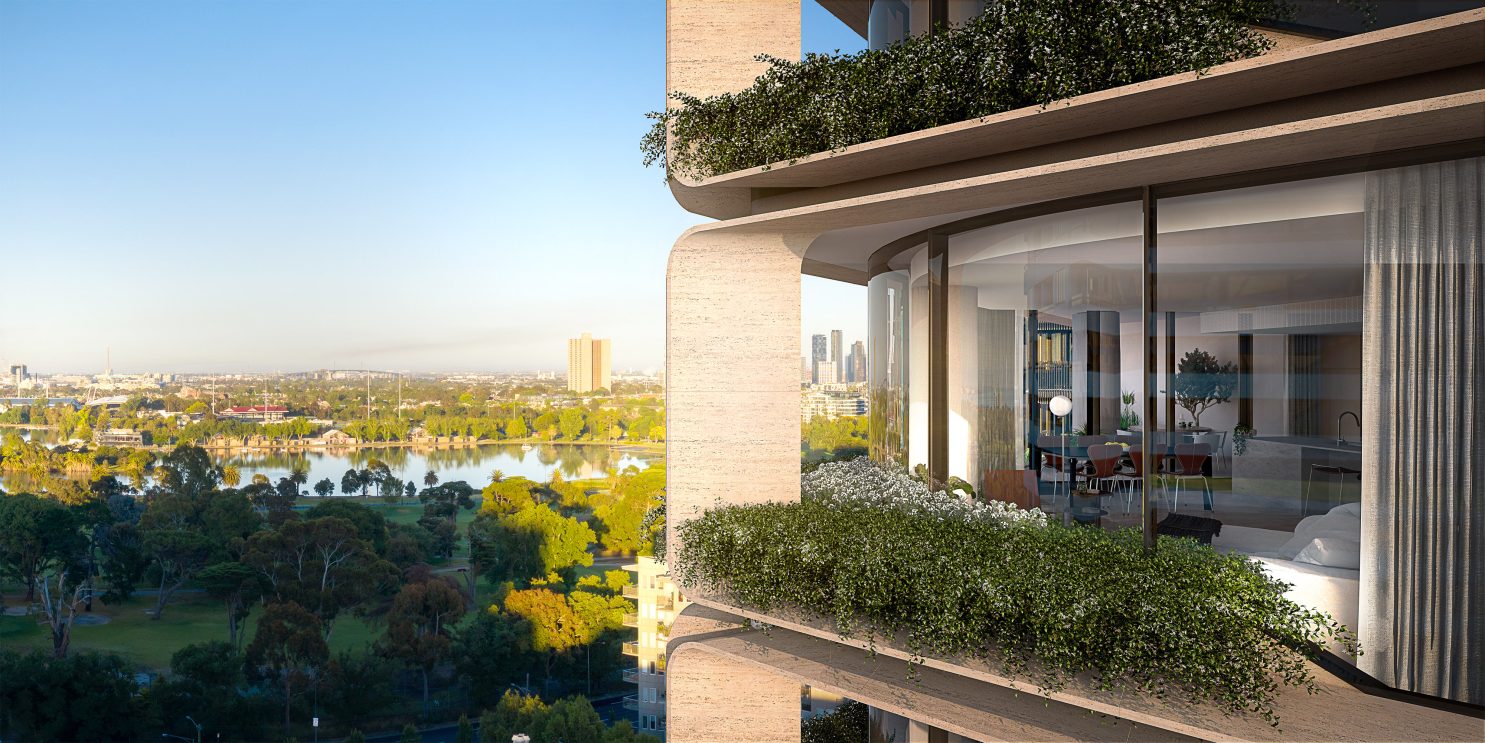 Occupying a large corner block in Albert Park, residents and guests enter the building via their dedicated entrances at ground level, St Kilda Road and Leopold Street respectively. Greeted by a concierge and a full array of premium amenities and services with universal design designed by Carr, Park Quarter offers an elevated experience for its permanent and visiting residents.
Developing the overall design language for the Garden Homes, Sky Manor apartments, and Marriott Executive Apartments (MEA), as well as communal and hospitality spaces, Carr sought inspiration from the nearby Fawkner Park and its connection to nature and cross-crossing desire paths. The internal planning and orientation takes its cues from here. Imbuing connection to site by offering guests biophilic design principles through filtered views and layering, the internal planning prioritises instinctive circulation and spectacular vistas across Albert Park and Fawkner Park.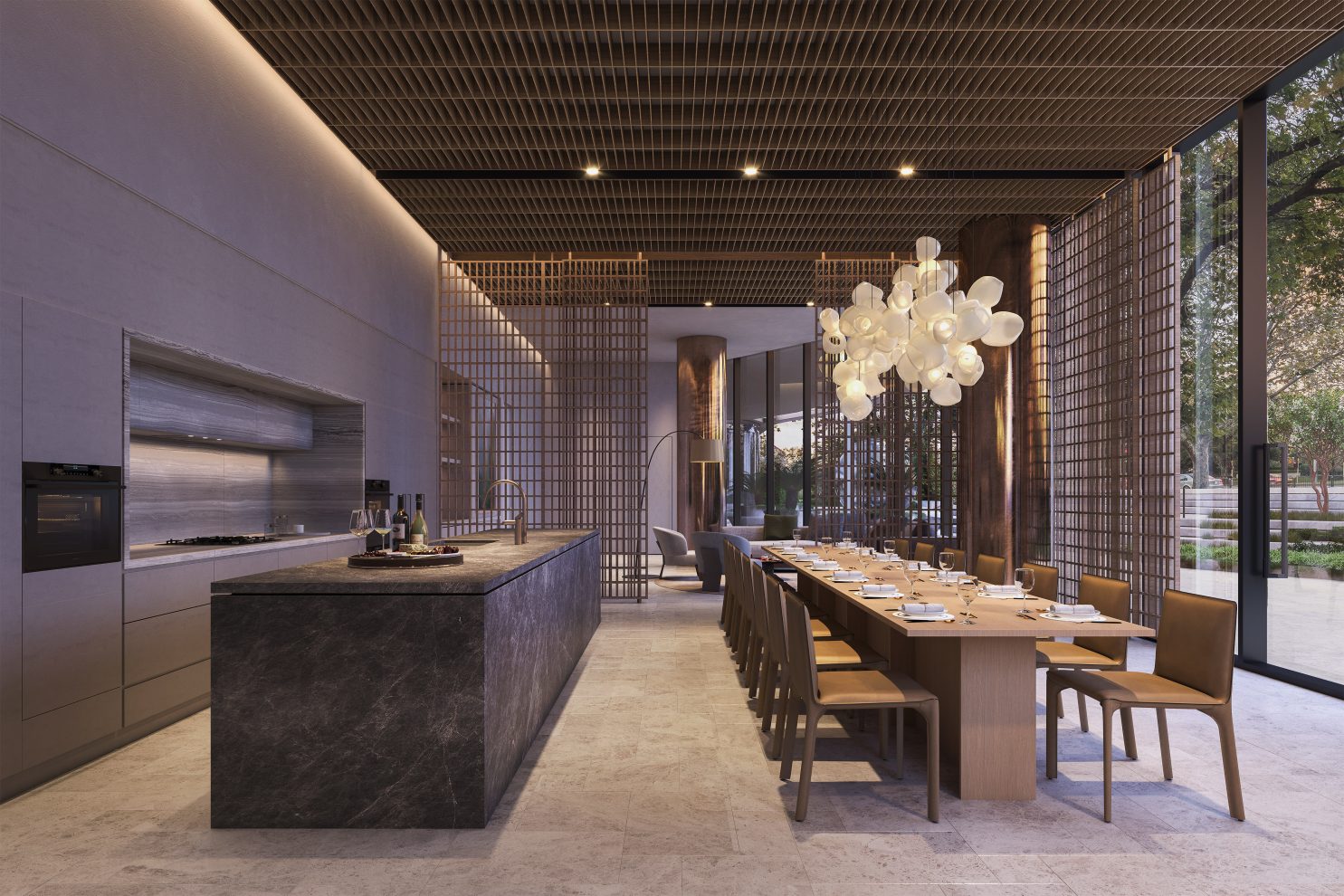 The suite of communal amenities across the ground floor utilise architectural details and a combination of screening and solid forms to anchor the spaces. Universal design principles and designing with dignity have been applied throughout. This prioritises a single path of movement, allowing guests a shared experience as they move through the building.
Stepping off St Kilda Road, residents are welcomed home by an inviting lobby with timber screening and soft, recessed ceiling lighting that runs the perimeter. The adjacent private lounge and dining room continues the soft use of lighting to offer privacy and intimacy to a luxurious setting. The spaces are anchored by natural stone and timber elements; while screening devises punctuate and define the areas, layering the journey between spaces.
Guests staying at the Marriott Executive Apartments (MEA) enter via Leopold Street through the port cochere. Flanked by reception and clustered seating, the lobby is layered to create a biophilic effect, cocooning guests and offer a feeling of intimacy and comfort.
The pool and gym are conveniently located and incorporate universal design principles to enable access to all guests and residents. The interior language continues the use of layering natural materials and soft, ambient lighting, accompanied by a darker palette with bluestone, to create a sense of drama and atmosphere.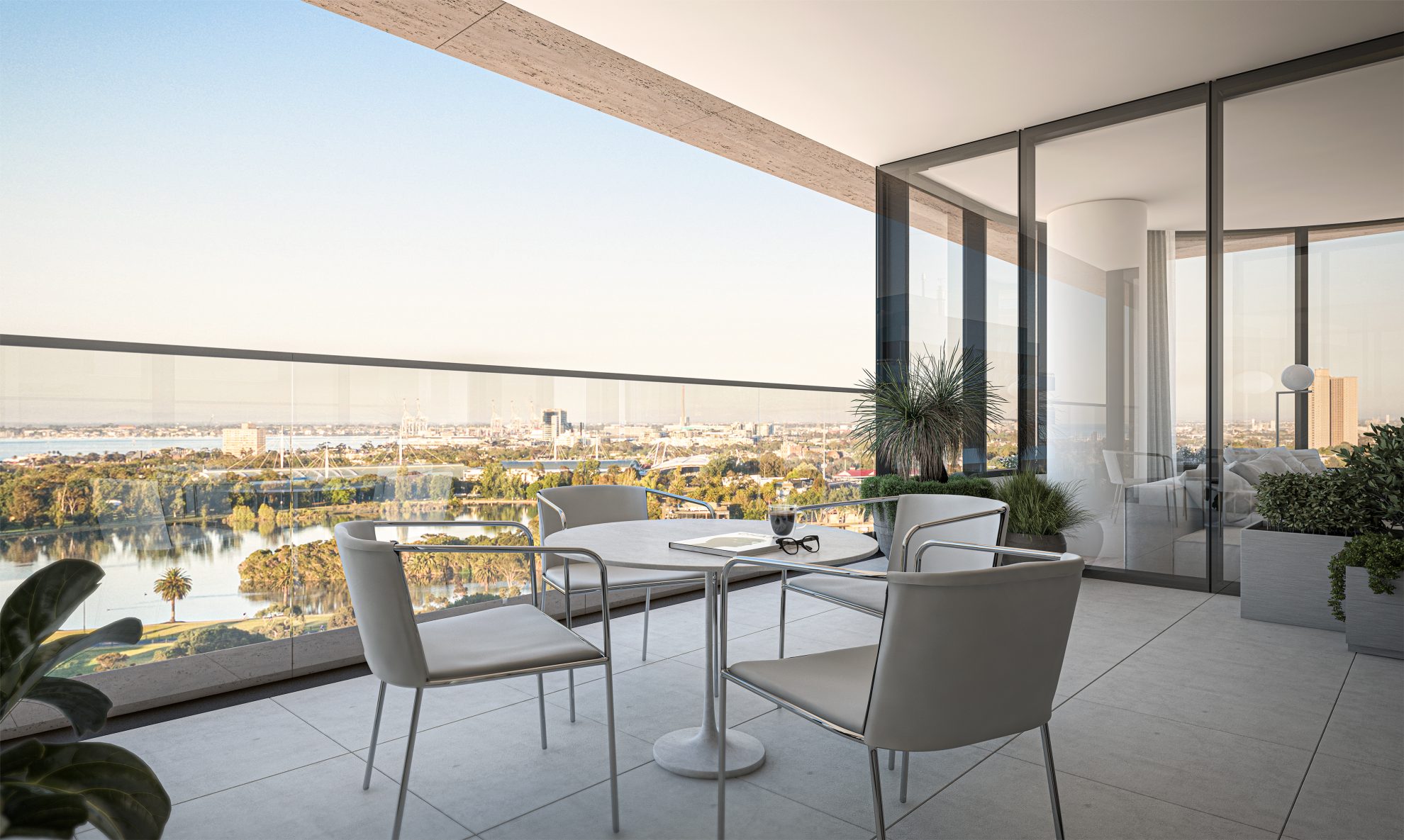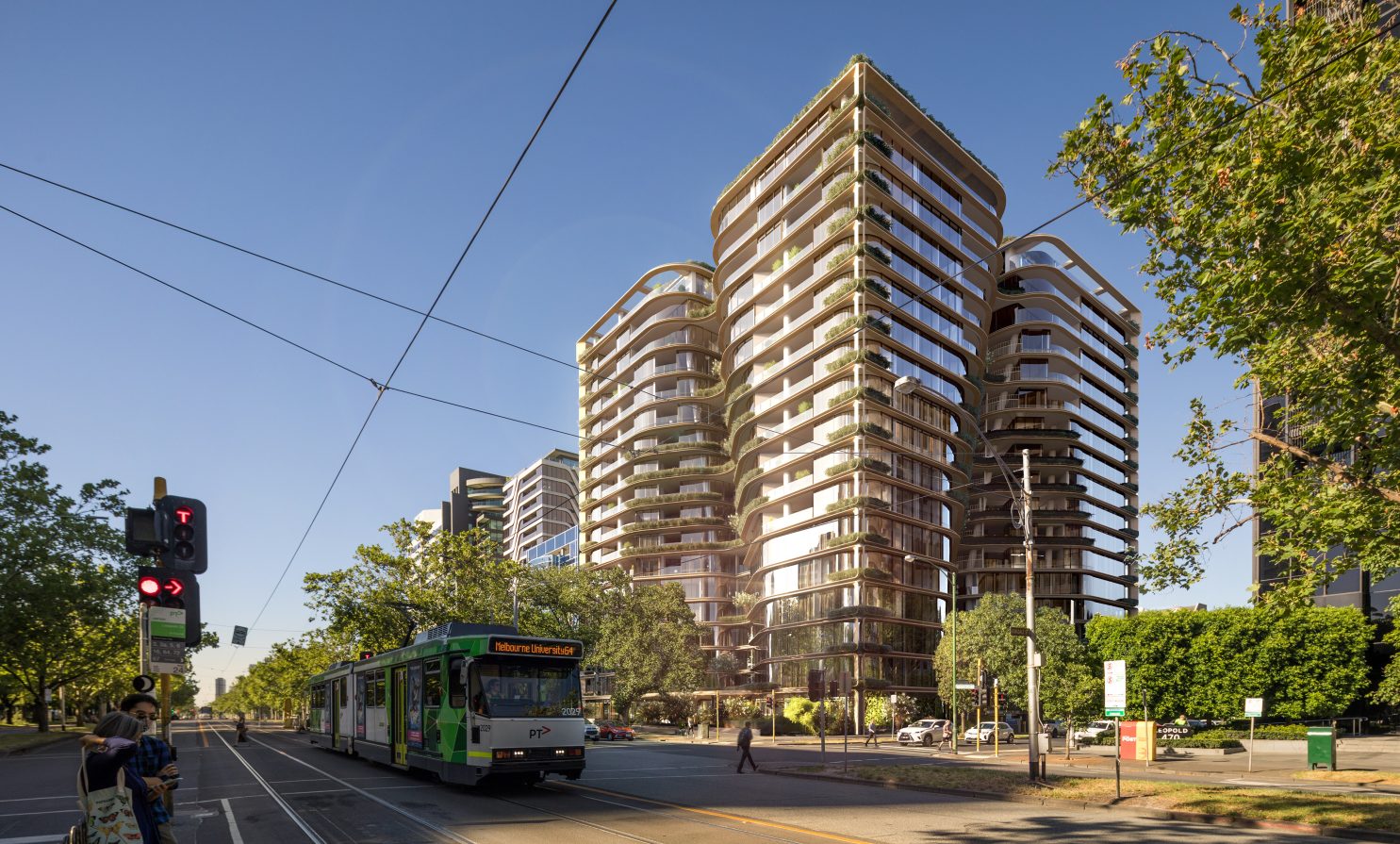 Residents make their way either to the Garden Homes, a mixture of one- and two-bed options; or to the premium Sky Manor apartments, which offer a larger footprint.
Residents are encouraged to curate their home by offering a neutral interior, with dedicated details and spaces for their personal belongings. And while the overall apartment design language is consistent, the Sky Manor homes are distinguished through their elevated features, finishes and views. Such as premium built-in living room joinery, kitchen scullery, Gaggenau appliances and separate utilities room.
Continuing Marriott International's name as a premium hotelier, MEA provide an elevated accommodation experience for business and leisure travellers looking for an extended stay. The 180 serviced apartments are configured to optimise views to the surrounding landscape, while the overall floor planning is modular and efficient by design.