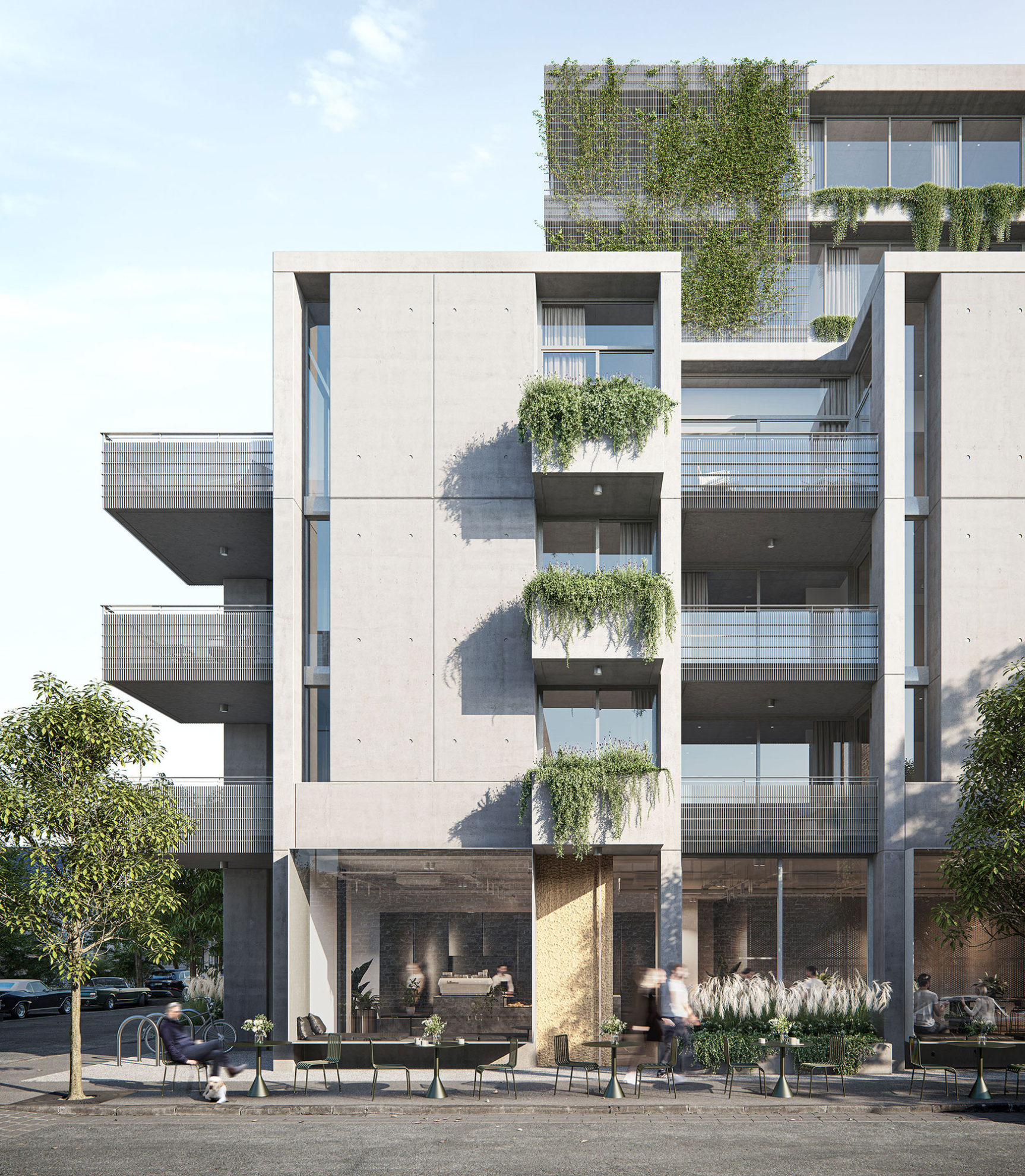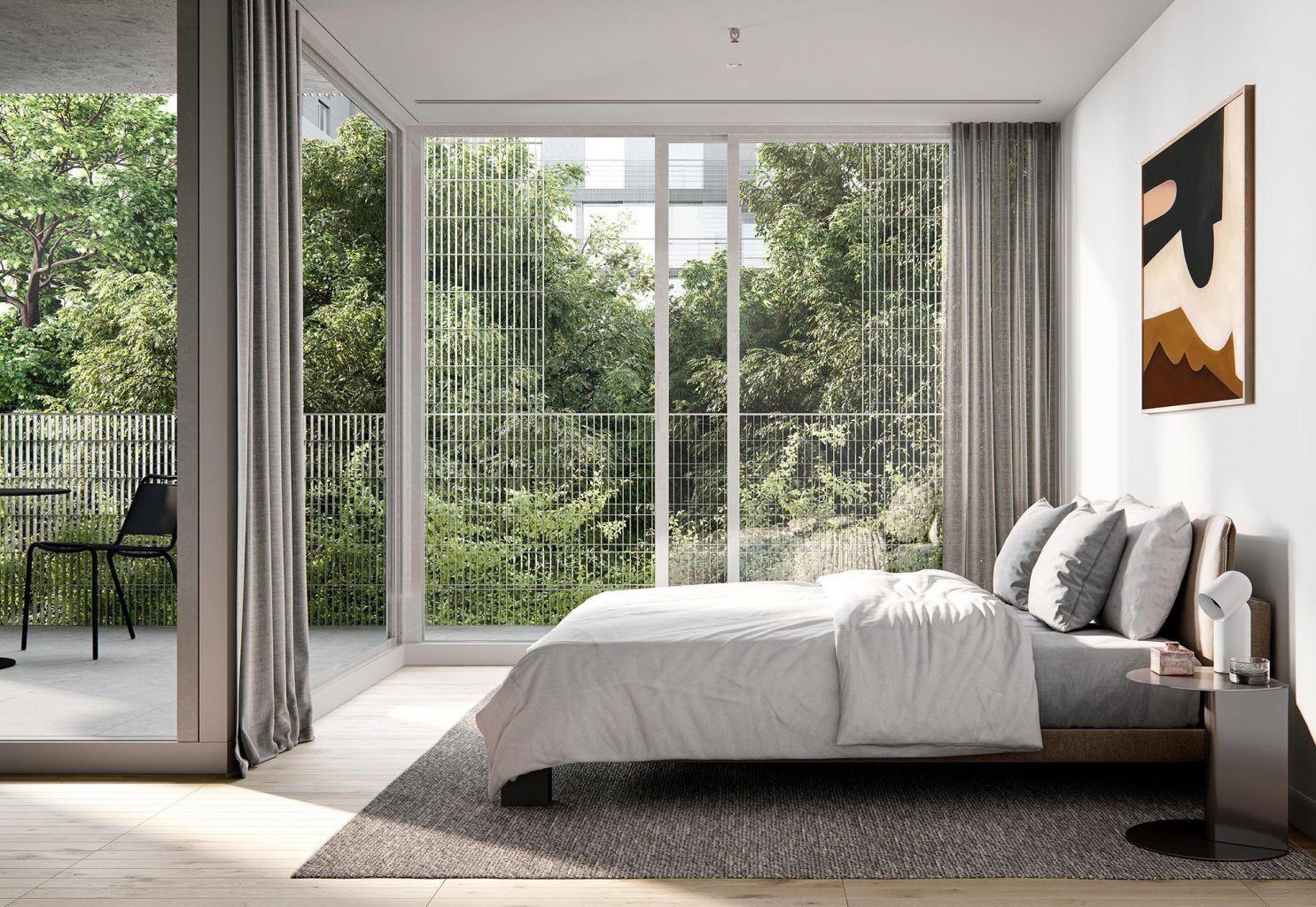 As a multi-faceted suburb with a rich history and industrial vernacular, Brunswick is a pocket of Melbourne renowned for its eclecticism. Set in such dynamic surroundings, our Brunswick Yard project draws reference to the suburbs' storied past while creating a modern building suitable for contemporary living. Key to the design of Brunswick Yard is a seamless inside out approach. As Carr worked on both architecture and interiors, there is a strong continuation from the outside through to the inside, with the interiors expressing the same clean lines and simple forms that define the exterior. Having the same design thinking extend from the exterior to the interiors means there is a consistent design language and thoroughly considered spatial experience.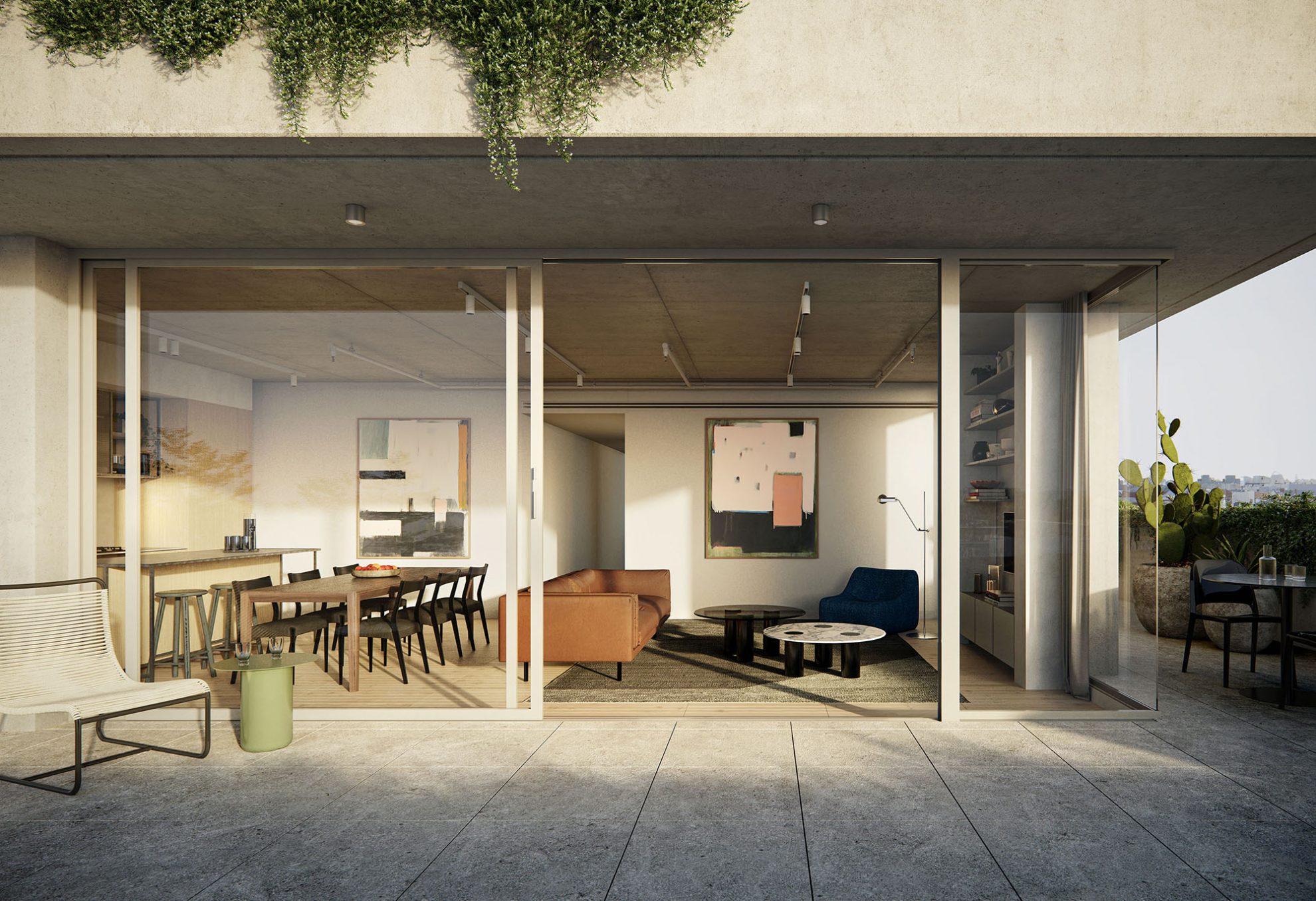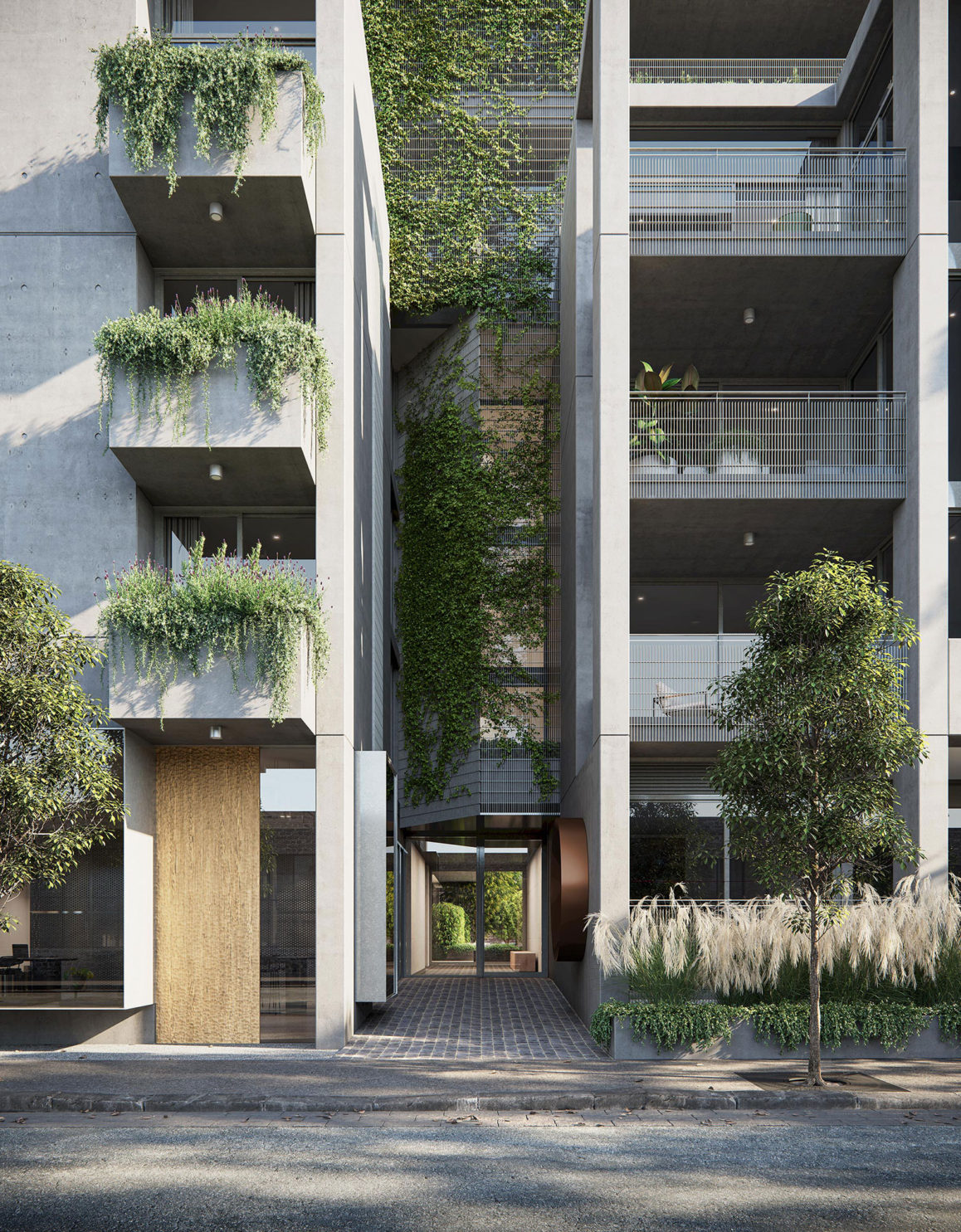 Part of that process was creating an architectural response that brings a finer grain residential architecture into a street dominated by large scale warehousing. As an area, Brunswick is undergoing rapid transformation with high to medium density residential and mixed-use projects. Brunswick Yard uses the surrounding context to inform the building's identity while bringing modernist design thinking to life.
The project is planned around a central garden space, which helps to breakdown the overall mass. "Key to the planning of this project is creating an eight-storey building but breaking it down in its scale. We've articulated the fourth storey from the street level as a recessed interstitial floor with a floating podium form. The elevation along the street is also quite long so we broke it down into a series of modules, presenting almost as a row of four-storey townhouses to the street. Breaking the scale down even further, two laneways punctuate through from the street to give each building its own identity, while functionally allowing for each apartment to have more natural light and cross-ventilation through dual aspects," explains Chris McCue, Director, Carr. Another benefit of the recessed floor with increased setbacks from the fourth level is several of the apartments have ceilings of 3.5-metres with an exposed concrete soffit.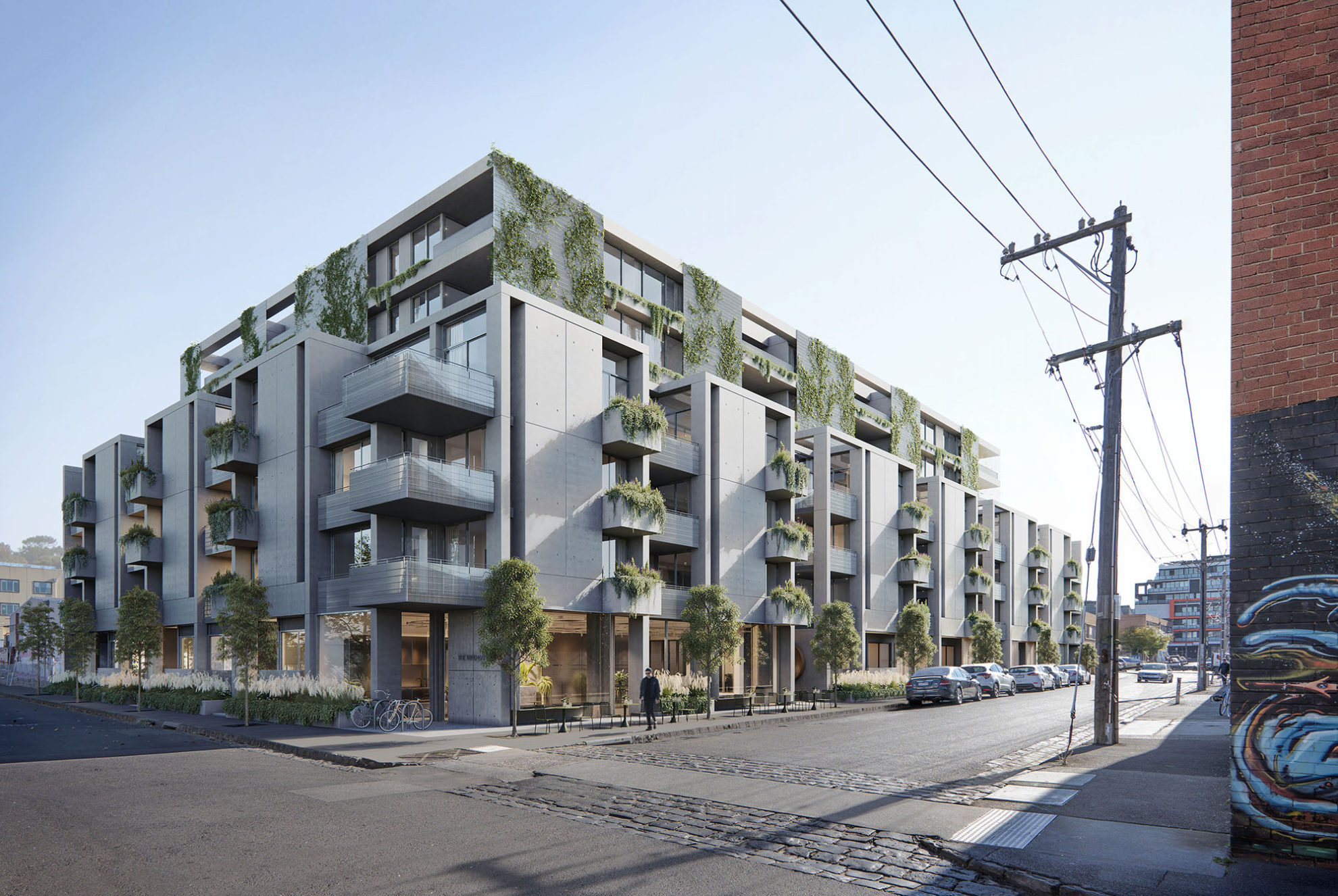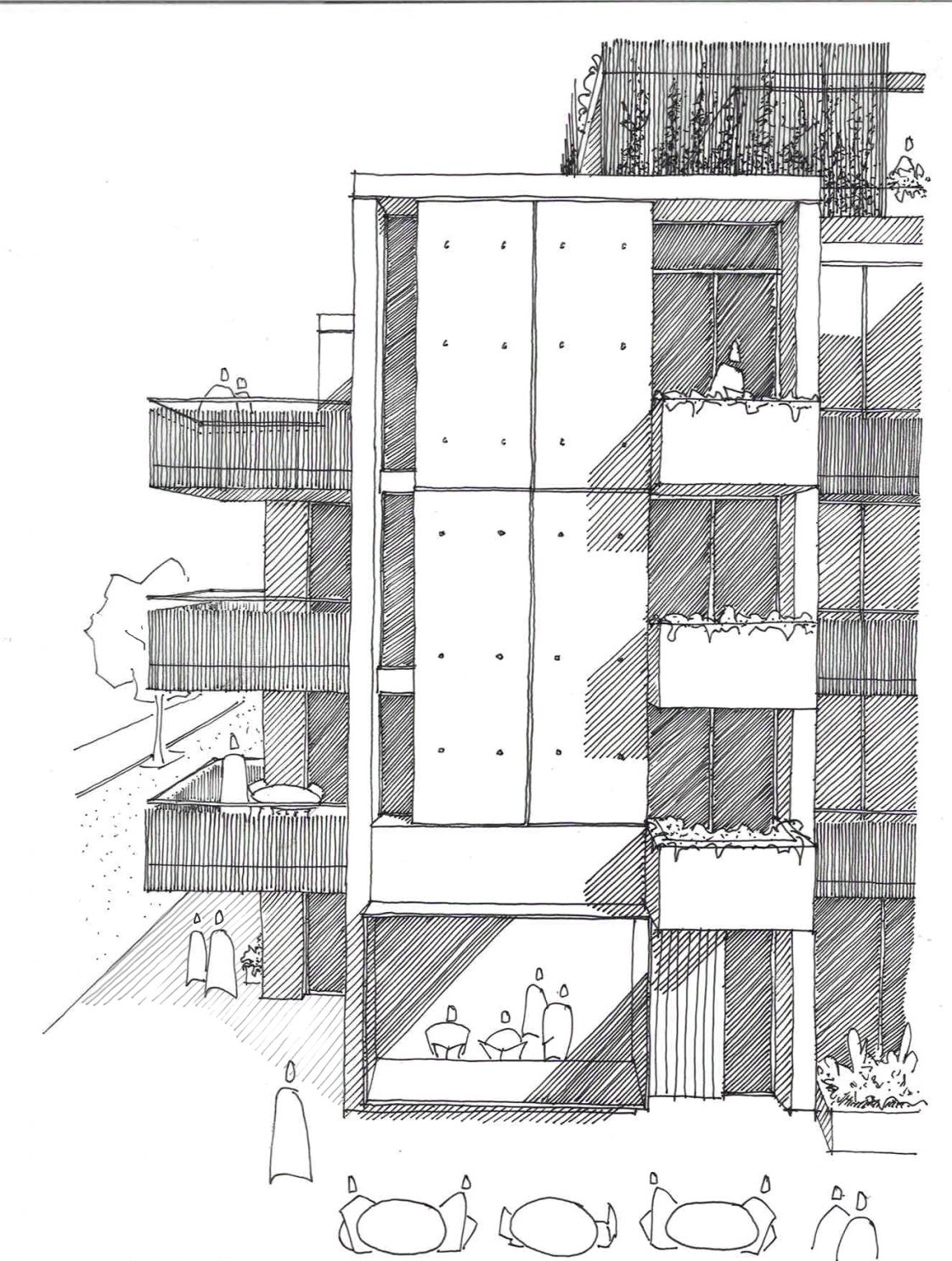 The façade expresses a rhythmic play on the vertical form. Even though each apartment is a single floor, on the façade they read as a series, with the ground floor apartments having dual access from the street, much like a mews or terrace house, but with additional internal access via the central courtyard. The 122 apartments in total have been evenly divided across two buildings, with a maximum of 12 apartments per lift core, per floor – a deliberate decision based on wanting to foster a sense of community. The project comprises a range of one, two- and three-bedroom apartments, designed under the Better Apartment Design Standards (BADS) and ensuring the best ways to utilise the square-meterage. The laneways allow for dual aspects, while many of the apartments also include a Juliet balcony.
Aesthetically the project is defined by its use of concrete and steel mesh, a brutalist design language that reinterprets the industrial character of the area. "The use of a singular material was critical on this project. It was chosen not just because of its relevance to Brunswick, but also for the atmospheric quality it expresses. Despite being a monolithic building with a heavy material, the way the façade has been broken down in its form, and softened by planting, it also shows a lightness through its raw and natural properties," says Associate Richard Beel.
Two laneways punctuate through from the street to give each building its own identity, while functionally allowing for each apartment to have more natural light and cross-ventilation through dual aspects."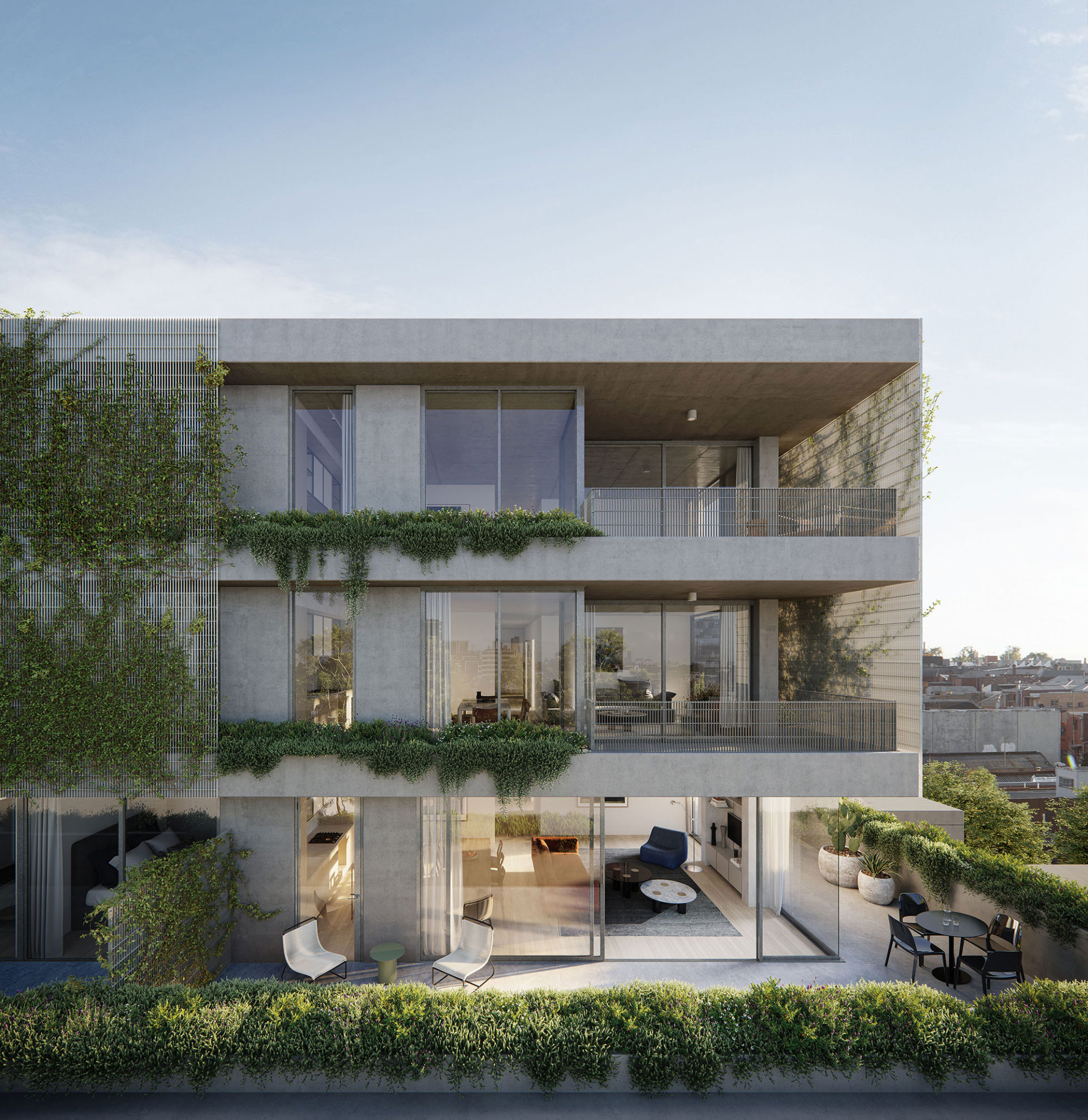 The steel mesh is deployed for functional and aesthetic reasons, used for balustrading, screening and planting. "In an earlier project we studied the web forged mesh when used to control views in and out to comply with overlooking standards. Here we have used it for the same purpose but on a much larger scale, while are also integrating it as a planting medium so that vines can grow up it," says Chris. To soften the heaviness of the concrete and steel mesh, the planting scheme is equally as important. The screens not only aid privacy, they also help with solar control and act as very low intensive green walls. "In our architecture we often seek an integrated approach to any constraints, in this case the mesh satisfied all the criteria," explains Chris. Other moments of relief come the insertion of handcrafted timber doors at ground level. In addition, the project integrates ample private outdoor areas, where canopy trees, garden beds and pathways create a sanctuary-like space with a large lawn that captures northern sunlight.
Each of the apartments has also been given the same attention to space planning and liveability, with generously planned interiors. Chris shares, "As a multi-residential project that is likely to have a large portion of owner investors, Brunswick Yard showcases how to use the BADS and create well planned apartments. There are no saddleback apartments and the living and the dining space is big enough that it could set it up in a number of different ways."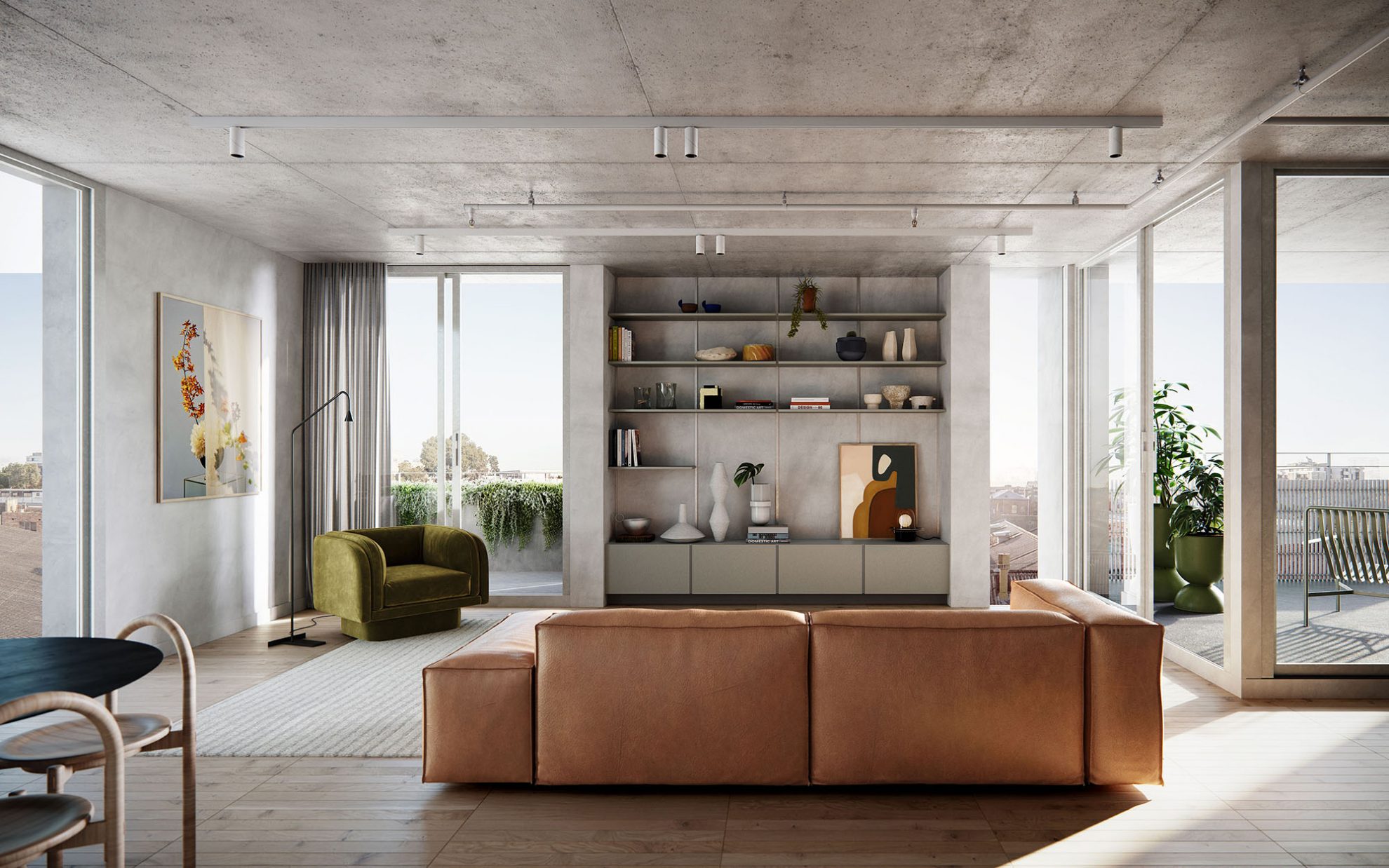 The use of a singular material was critical on this project."