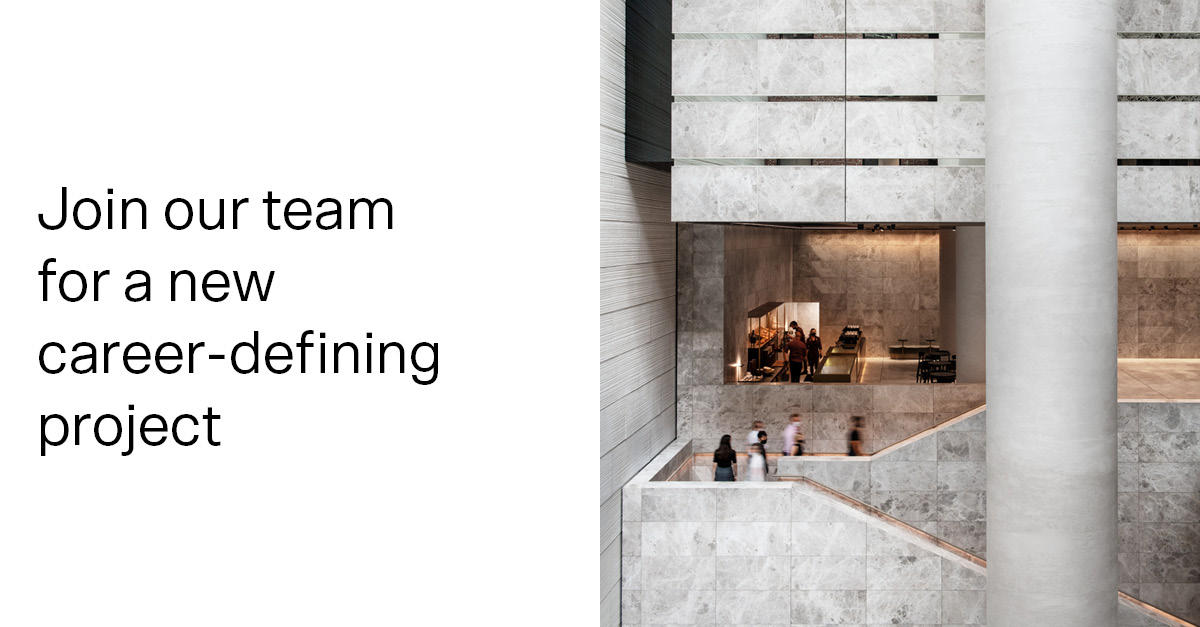 Become part of our growing design practice as we celebrate our fifth decade and join the team that are leading us into our next decade.
We have a unique opportunity to join our hospitality interiors team at Carr as an Associate.
With a focus on internal mentoring and professional development, we are looking for an individual who has a genuine passion for hospitality and workplace interiors. The successful candidate will work alongside a team of architects and interior designers on the NGV Contemporary and other exciting new hospitality projects within our practice.
Associate – key requirements
– Recognised as a leader in hospitality interior design
– 7-10 years' practical experience in managing larger scale end-to-end hospitality projects
– Recognised leader of people and seeks out mentoring and coaching opportunities within the practice
– Enjoys collaborating with a variety of stakeholders including our internal teams to deliver excellence
– Extremely organised, has a passion for the detail and a desire for learning
– Efficient Revit skills (speed and accuracy) are essential
– Tertiary qualification in Interior Design or related discipline
Why Carr
At Carr we believe design has the power to make a positive difference to people's lives. Our vision, to pursue excellence in everything we do, is a collective effort underpinned by a shared experience. We do this with integrity, humility, and clarity of purpose. Putting people front of mind guides how we work together and helps create an inclusive and enriching team environment. Our team has access to a range of benefits and initiatives including:
– 'Hybrid Working' policy supporting studio and remote work
– Training and professional development opportunities
– An active and richly diverse social calendar
– Paid 'Parental Leave' to support working families
– Paid 'Study Leave' to support professional learning
– Mentoring Program and buddy system
– Knowledge sharing forums and activities
How to apply
If you would like to explore this opportunity further, please email your CV and portfolio (link or less than 10MB) to Denise Passmore, People and Culture Manager at work@carr.net.au.
Applications close by Monday 11 April 2022.
Please ensure you put the role title in the subject line.
Carr is an architecture and interior design studio based in Melbourne with a timeless approach that fosters connection. Every detail is thoughtfully considered, coalescing in work that forges new ground while remaining true to our philosophy and vision.
We look forward to hearing from you!
The project pictured is Olderfleet, an AIA award-winning contemporary commercial tower that brings the new and old to life.