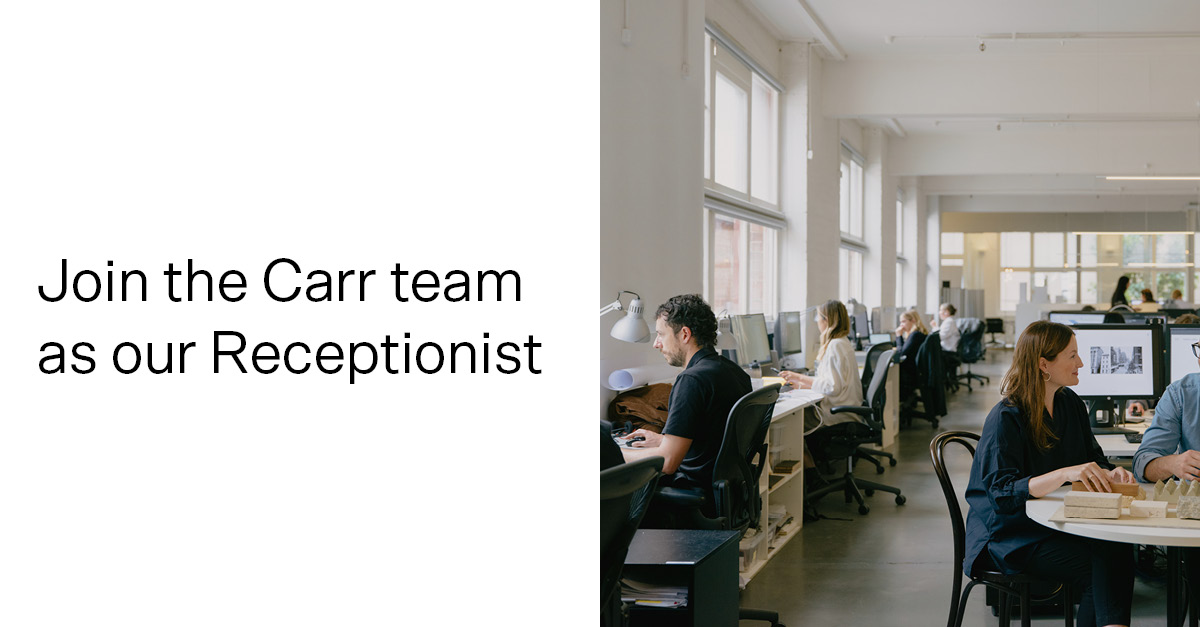 The position has been successfully recruited.
Become part of our design practice of architects and interior design professionals who are leading and shaping our sixth decade.
We have an exciting opportunity for an experienced Receptionist to join our team full time.
To be successful in this role, you will be well-presented, highly organised, and a motivated person that has a passion for being the first point of contact for our clients and our team. The role would suit a people-focused individual who would like a long-term rewarding position within our studio.
Receptionist  – description of role, which is not limited to:
Daily opening and closing of studio spaces, plus ensuring front of house presentation and superb overall studio tidiness throughout the day
Greeting and escorting all guests to the appropriate meeting room and offering/preparing refreshments
Meeting room management and AV assistance
Phone reception
Maintaining our CRM system along with monitoring generic email addresses, mail and couriers
Handling project queries
Procurement of studio supplies along with organising internal catering and events
Studio maintenance, including kitchen duties and bathroom tidiness and various administrative duties as required
Support to leadership and greater team as required
Receptionist  – key skills:
Excellent communication skills both written and verbal
Excellent interpersonal skills, highly approachable with a positive attitude
Highest standards of personal and studio presentation and attention to detail
Highly reliable, organised, and proactive
Ability to multitask as well as prioritise
Ability to achieve deadlines
Proficient in MS Office applications – MS Word, Excel, Powerpoint and InDesign
Flexible, adaptable, and responsive to challenging situations
Able to anticipate potential problems and provide proactive solutions
Intuitive and pre-emptive in providing highest level studio support
Client focused
Ensure sensitive information is kept confidential
The employee will be aware of and abide by the company policies and procedures within our Quality, Safety and Environment System
Why Carr
At Carr we believe design has the power to make a positive difference to people's lives. Our vision, to pursue excellence in everything we do, is a collective effort underpinned by a shared experience. We do this with integrity, humility, and clarity of purpose. Putting people front of mind guides how we work together and helps create an inclusive and enriching team environment.
Our team has access to a range of benefits and initiatives including:
Flexible working arrangements
Training and professional development opportunities
An active and richly diverse social calendar
Paid 'Parental Leave' to support working families
Paid 'Study Leave' to support professional learning
Mentoring Program and buddy system
Knowledge sharing forums and activities
How to apply
If you would like to explore this opportunity further, please email your CV and a supporting letter detailing what you enjoy the most about a reception role to work@carr.net.au.
Please ensure you put the role title in the subject line.
No recruitment agency applications please.
Applications close Friday 10 February 2023.
Please be aware that to apply for this role, you must be an Australian resident and reside in Victoria, Australia.
Carr is an architecture and interior design studio based in Melbourne with a timeless approach that fosters connection. Every detail is thoughtfully considered, coalescing in work that forges new ground while remaining true to our philosophy and vision.
We look forward to hearing from you!